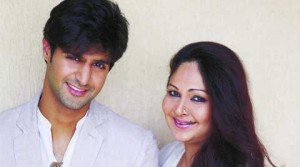 Every son is the apple of his mothers eye and Tanuj Virwani's mother i.e veteran actress Rati Agnihotri is no different.
We hear Rati Agnihotri had initially certain apprehensions of her son working with the sensual Sunny Leone!
The first time they shared screen space was for the sizzling dance number "2 Peg Maar" and Tanuj made it a point to get his mother on the set and meet Sunny Leone personally.
When Rati met Sunny she immediately felt her genuine warmth and was quite impressed with the young girl who was focused and dedicated towards her work.
When quizzed Rati Agnihotri about it she said, " I did not have any reservations with Tanuj working with Sunny ,I did have certain preconceived notions before I met sunny, but it was all fine when I met her – found her to be a fine young lady . However I did have certain reservations with the genre as the film As when I heard the title it seemed like it would be an out and out Sunny film . However Tanuj assured me that there was a lot for him to do in the film and that I need not worry
Tanuj we hear was also quite relieved with the entire episode and was happy to get his mother's approval.
Well, this surely shows that Sunny is welcome in the industry and people are more than happy to work with her!