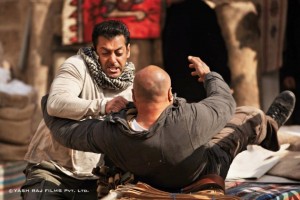 Visual Computing Labs (VCL), a division of Tata Elxsi Ltd. and a leading player in animation and visual effects announced its association with Ek Tha Tiger, a romantic action thriller, starring superstars Salman Khan and Katrina Kaif. This blockbuster film directed by Kabir Khan and produced by Yash Raj Films has close association with VCL. Scheduled for a theatrical release on 15th August'12, Ek Tha Tiger has extensively leveraged VCL's visual and special effects technologies. This film marks VCL's 24th collaboration with Yash Raj Films.
VCL has delivered 1062 visual effects shots for the movie using cutting edge VFX technology and a customized pipeline designed for the complexity of these shots. Upto 60 skilled technical artists were deployed by VCL for this project, which was completed in a record six and a half month period. The entire duration of CG/VFX in the film spans over a 30 minute duration.
The film moves between Dublin, Mardin and Cuba. Its fast paced action sequences required a lot of vfx work to seamlessly integrate into the film. In Dublin especially, the action called for tram accidents and Salman Khan running along the roof of an out of control tram. Of course the tram and most of the street had to be recreated in CGI to permit these daring stunts.
In the rest of the action sequences too, cars and airplanes, explosions and fires were all enhanced or recreated in CGI by the artists at VCL.
Mr. S. Nagarajan, COO, Visual Computing Labs, Tata Elxsi said "We are honored to be associated with Yash Raj Films, which is one of the most respected and globally acclaimed production houses. This project has helped us showcase VCL's cutting edge capabilities in the VFX domain and we are confident that this film will become a benchmark in mainstream cinema for providing viewers with a world-class experience."
"We are very excited about the release of this blockbuster film. The thrilling action sequences have been innovatively shot across continents and breathtaking locations" said Mr. Pankaj Khandpur, Creative Director, VCL. "VCL has contributed in making several action and stunt sequences in the movie even more thrilling and exciting for the audience" added Khandpur.
Please check the YouTube link to see the promo of the film Ek Tha Tiger http://www.youtube.com/user/vcltataelxsi?feature=chclk
About Tata Elxsi
Tata Elxsi's Visual Computing Labs (VCL) is an award-winning digital production studio providing Animation, Visual Effects (VFX) and 3D stereoscopic content for feature films, episodic television and advertising. It hosts world-class studios in Los Angeles and Mumbai and Bangalore and a creative team that includes Academy Award® and National Award winning professionals.
VCL's state of the art facilities provides pre-production, production and post-production services to Indian and global entertainment and media organizations, corporate houses, the motion picture, television commercial and game development markets globally.
It also offers custom content development for visualization and product marketing, and is a leading developer of mobile, online and console games and has successfully delivered projects involving diverse styles of animation.
VCL, considered India's preeminent motion picture visual effects' studio has worked with some of the leading US entertainment companies including DreamWorks Animation, Hasbro, Industrial Light and Magic (ILM), Lionsgate, Mike Young Productions, MGM, Sony Pictures, STARZ/Film Roman, and others. Some of its remarkable contributions include landmark Bollywood films like Ra-One, Arjun – The Warrior Prince, Prince, Rab Ne Bana DI Jodi, Drona, Dhoom 2, Jodhaa Akbar, Taare Zameen Par and Hollywood productions like Gulliver's Travels, The Darkest Hour, Indiana Jones 4, Spiderman 3, among others.
Recent awards to VCL's credit include a Golden Lotus and a Silver Lotus at the 56th National awards for exemplary Animation and Visual Effects in feature films, the 2010-11 INFOCOM-ASSOCHAM EME AWARDS, FICCI BAF Awards for the year 2010 and 2012 and the 10th Indian Telly Awards 2010.