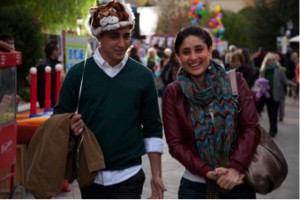 Team EMAET has a pleasant surprise in store for all the fans over the weekend. They have released the latest track 'Gubbare' from the movie, on their official Dharma Productions YouTube channel.
Songs from the movie have been well accepted by the fans all over. Tracks like 'Talli Hai Yeh Zameen' and 'Aunty Ji' have been termed as the party songs of the year. Another song 'Aahatein' is a beautiful melo-Romantic song that reminds you of all the beautiful moments shared with a loved one.
The track 'Gubbare' is no exception. Beautifully penned by Amitabh Bhattacharya and composed by Amit Trivedi, 'Gubbare is a fairly light hearted and fun song which describes the fun and carefree relationship shared between friends. A great track, it makes a great easy to listen to song which lifts the spirits up.
'Gubbare' has received a good response in a matter of minutes. It has been widely liked and appreciated on the official Facebook page of Ek Main Aur Ekk Tu. After the release of all the hit songs from the movie, Fans are eagerly waiting for the movie to release on February 10, 2012.
Check out the 'Gubbare' song!
httpvh://youtu.be/hZogYdXKmDY