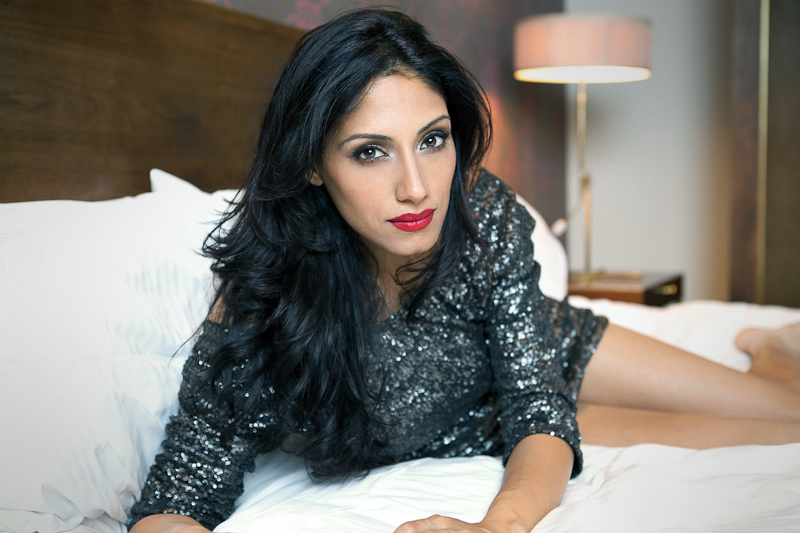 British Asian actress Tehmina Sunny is a star on the rise in Hollywood! You have seen her in notable roles in popular TV series that include Heroes, Californication, NCIS and Undercovers and most recently she was part of the cast of the Oscar Academy Award winning film, Argo with Ben Affleck. Up next for the actress, she will be seen in a recurring role in the TV series, Mistresses, where she plays the character Natalie Wade. See what she had to say about Hollywood, the Oscar winning Best Picture Argo, Bollywood and more in this cool interview!
How easy was the transition from London to the big bright lights of Hollywood?
I initially came over to LA to study with a particular acting teacher. After many trips back & forth from London to LA, I decided to make the move over. It has been a long and interesting journey with lots of obstacles and hurdles, so the transition was challenging but so worth it.
With a degree in Business Computing you could have become an IT expert today working for a big corporate but instead you chose the path of acting?
That is true…. Everything happens for a reason and I am grateful and happy with the outcome of where I am today. I love acting and I couldn't imagine doing anything else.
Most Asian parents want their children to go into professional careers. How did you parents react when you told them you wanted to become an actress?
They were supportive about my decision. I made sure I had academic subjects to fall back on if things didn't workout with acting. Of course they worry, as they understand it is a competitive industry with a lot of rejection.
Have you been offered any roles of a computer geek yet?
Haha, no, not yet!
You are also into songwriting and singing. What stopped you from becoming a singer?
There came a point where I made a decision about what I wanted to focus on and I found I had an immense passion for acting and lost the love for music.
Do you see yourself bringing out an album in the near future?
I haven't thought about it to be honest. But I guess never say never. It's not on my list of things to do, but I would like to collaborate with another artist on their album.
You starred in a movie called Elevator. Did you feel claustrophobic being stuck in an Elevator with 8 people during the duration of filming?
Oh yes, the elevator was small and there were times where it was overwhelming being in a tight space with 8 other people. Thank god no one had claustrophobia, or the shoot would have been even harder then it was.
Have you ever been stuck in an Elevator?
No I haven't. I guess I'm tempting fate now, yikes.
How was it working in Ben Affleck's, Argo?
He is a great director, very down to earth and friendly. Hats off to Ben for not only directing, but also producing and leading. I really enjoyed my time on the project.
Did you audition for the role in Argo or was the particular role made for you in mind?
I went through the audition process where I was submitted for the role, auditioned for the casting director and then the joy of hearing I had bagged the role!
Having worked in popular series like NCIS, Heroes, Californication, do you prefer TV series or prefer feature film roles?
I like working on both. TV seems to move faster with little time for rehearsals and prep, where as the film projects I have worked on, there has been time to work with the director and other actors in the rehearsal process, which is great as you discover so much within this process.
You guest starred as Darshna Yadav in the highly popular series The Newsroom, could you see yourself as a news anchor?
I am definitely a chatterbox. Yes, I can see myself as a news anchor.
What are the chances of seeing Darshna Yadav playing in love interest of Neal Sampat in The Newsroom in the future?
It would be great to go back on to the show and develop that more…
Tell us more about your character role in Mistresses?
I play a tough attorney who does what ever it takes to win. Regardless of the tactics being right or wrong. The storyline is spread over 3 episodes.
Have you thought about being the next Bond girl?
It is a dream of mine to be the next Bond Girl. I have had this obsession since I was younger.
Are you a fan of Bollywood movies?
I grew up watching lots of Bollywood movies, but since living in the states I don't get to see that many. But when I visit England, I do manage to catch up with the latest movies.
In Bollywood who would you like to start opposite and why?
I have always admired Shah Rukh Khan and Amitab Bachchan's work. It would be wonderful to work with them both.
Is it still hard for actors of South Asian descent to make a mark in Hollywood? And was Frieda Pinto lucky because of the amount of Oscars Slumdog Millionaire won?
Yes I do feel Slumdog was a platform for Frieda to rise from, people can call it luck, but she still had to audition and work hard for the role. I feel the times are changing and many Asian actors are making there mark in Hollywood, for example Aziz Ansari and Mindy Kaling are rocking it!
What is your personal favourite genre of films?
I like thrillers and dramas.
Which actors do you admire and who would you love to star opposite?
There are so many actors I would love to work with, it's a long list but a few include Johnny Depp, Phillip Seymore Hoffman, Meryl Streep, Ryan Gosling, Jeremy Renner, Matt Damon, Denzel Washington, Daniel Craig, Sam Rockwell, Christian Bale, Emma Stone…..I can go on and on.
What's an average day like for Tehmina Sunny?
An average day, if I'm not filming, would be an early start to the day, say 7am where I go through emails and anything on the 'to do list'. Breakfast whilst catching up on social media. Hit the gym and do cardio with weights, or spinning then yoga. Grab lunch and respond to emails. I may have auditions during the day. In the evenings I will usually attend an acting class or see friends.
Do you follow a strict diet to keep yourself fit and keep your body in shape?
I have never been someone who diets. I do have food sensitivities so I have to be careful with the foods I can eat. I like working out, which is the best way I keep fit and healthy.
What advice would you give to aspiring British Asian actors who want to chase the Hollywood dream?
That it does take hard work and perseverance, but the rewards are great. I love what I do, so the hard work feels like playtime to me. It's a tough industry full of rejection, but if you keep at it, it will pay off!
And finally, if there was one thing that you would want people to know about you, what would it be?
When I was younger, I really wanted to be an astronaut. Part of me still does.
FACEBOOK: www.facebook.com/TehminaSunny
TWITTER: www.twitter.com/tehminasunny
IMDB: www.imdb.com/name/nm2040091
Photographer: Brad Christopher