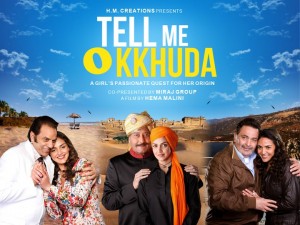 Tell Me Oh Kkhuda is what our Dream Girl, Hema Malini was thinking when she decided to make this film. Was it a comeback vehicle for beti, Esha Deol? Was it to give a second chance for her directional skills? Or was it the thought that the story needed telling…again? We will try not to look at her previous directorial Dil Aashna Hai that has pretty much the same story [DAH has the lead looking for her birth mother, TMOK has Esha looking for her dad] since TMOK has very little for the audience to be interested in, let alone excited about. And that too beyond the cast which include Vinod Khanna, Rishi Kapoor and Dharmendra as the potential fathers, and Johnny Lever as the main and possibly only comic relief.
Yet, we are going through a phase in cinema where remakes and reused stories are running at every second theatre screen so we will excuse the rehashing of the story and its resemblance to Mamma Mia. Also to be honest about it, the exploration of an adult [Esha Deol] going in search of her birth parents after finding out she was adopted does have merit. Adding in the faith, culture and society issues that she faces along the way and on paper, it could have been a honest-to-goodness readable story. But what you see on film leaves so much to be desired that questioning Khuda becomes a normal reaction, not just a title. It wasn't bad enough the story was lacking, another major setback where Hema falters is that the contemporary factor takes a backseat and what remains is whitewashed with some heavily standardized dialogue in an ancient screenplay. Yes, at an age where women have now branched out and succeeded in so many different fields, there are still some prehistoric and quite horrendous crimes like female feticide against them even now. But just like the crime itself is ancient, the screenplay is just as bad.
When the script is weak, dialogues boring and screenplay more likely to put someone to sleep and stir the feminist inside, you can't really expect the actors to be able to pull out power-packed performances from a magic hat. Esha Deol looks lovely but does not pull off a strong female in charge of her life and career as an accomplished writer, with her teenager-like fragile personality balling her eyes or giggling ridiculously at the drop of a hat. Arjan Bajwa as a doting boyfriend acts more of a sidekick with "the best friend/lackey" Chandan Roy Sanyal but neither gets much scope to play as Jai and Kuki, respectively. Potential daddies Vinod Khanna, Rishi Kapoor and Dharmendra try best to enhance the charisma that they were once famous for but don't quite make it.  As parents Farooq Sheikh and Deepti Naval are just ok while Madhoo and Sudanshu Pandey return to the screen after a break play stereotypical characters with hardly any room to make an impact.  Johnny Lever however, does induce the giggles after some time but doesn't have enough time on screen.  The rest just come and go.
By the end of it, you neither remember the music [Pritam], the camerawork, the editing or for that matter, the reason why you wanted to watch the film in the first place.