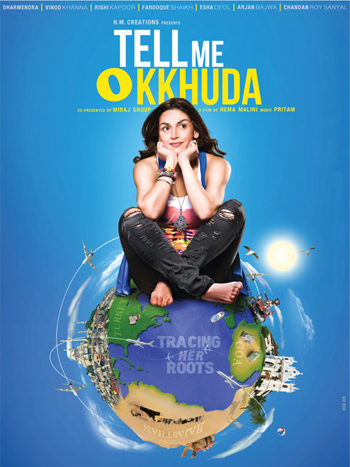 Tell Me O Kkhuda not only marks the debut of one of Bollywood's most beloved divas, Hema Malini's directorial debut, but also marks Esha Deol's return to the screen after a hefty break alongside legends such as Vinod Khanna, Rishi Kapoor and father Dharmendra Singh Deol. But whether Bollywood's once dream-girl turns dream-director is a conversation for a different day.
By the looks of the promos and trailers, Tell Me O Kkhuda tackles an unseasoned topic for Indian Cinema and therefore gives composers and in particular lyricists a whole lot of different and intense emotions to deal with. How the various composers and lyrists achieve that with Tell Me O Kkhuda "is" conversation for today.
The soundtrack consists of seven tracks, three of which have been composed by Pritam (Mausam and Once Upon A Time in Mumbai) and the reminder by other composers amongst which are DJ Aqeel and Sajid Wajid (Dabbangg). It features the vocal talents of Sunidhi Chauhan('Sheila Ki Jawani' – Tees Maar Khan), Anuskha Machanda ('Mit Jaaye Gham' – Dum Maaro Dum), Shweta Pandit and Shreya Ghosal ('Bahara' – I Hate Luv Storys) amongst other new vocalists. Mayur Puri has penned the first six tracks while Jalees Sherwani has penned the 7th track.
Someone Someday gets the ball rolling. An aesthetically composed track by Abhijeet Hegde Patil, it is equally well rendered by Sunidhi Chauhan. Puri's decent and hopeful lyrics combined with Patil slow contemporary music makes the number instantly likeable. Unfortunately, I can't say the same thing about the track's remixed version. Firstly, the rap lyrics are very off-putting, more so after you see Salman Khan doing a pathetic attempt at lip-syncing them in the music video currently on air. Secondly, it all comes off as rather sleazy. The original may have been sensually aware but it was classy in its sensuality. If you manage to get past that, it may be a decent remix, because the music is great and Anuska Machanda's vocals are awesome. However, personally, I couldn't get past the rap.
Things get desi-fied with Mera Man Jabse Racha Hai Sawariya which begins with an ensemble of Rajasthani folk artistes and then turns into a familiar, if not mediocre, romantic number well sung by Shewta Pandit. In the same line as songs like 'Bahara' (I Hate Luv Storys) and 'Saathiya' (Singham), it's girly and cute and Puri has done a good job with the lyrics so they don't sound run-of-the-mill. The folk vocals give the song a nice edge and though it reminds you of prior sufi-esque Pritam numbers like 'Tum Jo Aaye Zindagi Mein' (Once Upon A Time In Mumbai) and 'Teri Ore' (Singh is Kingg) it does not disappoint.
Next is Mile Na Tu, a fast paced duet vocalised by Sundhi Chauhan and Anupum Amod. As with the previous track, the premise of the track is nothing new. It could have easily been another song with the trade mark phrase "Tere bin(a)…" but Puri has penned it well so the same sentiments are vocalised relatively differently. George Theofanous has composed a short yet effective track. You are tapping your feet to it and bopping your head to it and before you know it the track's over, thus not giving you the time to over-analyse it. Its just long enough to be enjoyed.
Shreya Ghosal steps behind the mic for Nagma Koi Gunguna Ne Ka, obviously a journey song what with the subtle hints at self-actualisation and the like by Puri. The track is vocally potent but Pritam's music still leaves an impression, especially the musical interlude just before the end of the song.
Love You Dad, sadly, fails to impress mainly because of the overuse of English lyrics that in my opinion makes it sound amateurish. Throw in the shrill voice of Aditi Banarjee and song falters. Amod's vocals are wasted on ill-lyrics, a shock since Puri has been doing a fantastic job penning the track's predecessors. Dad/Son, Dad/Daughter numbers have been composed immensely well in the past and I was personally expecting something like the title track of Akele Hum Akele Tum or Babul or even a lose amalgamation of both, but no such luck.
The soundtrack closes with the title track, Tell Me O Kkhuda. It is a rock-chick-esque of a composition by Sajid-Wajid that has ample opportunity to be choreographed with style and oomph. Sunidhi's rendition oozes attitude that make the track even more trendy while Jalees's lyrics are strictly okay. The chorus line can be at odds with the rest of the song but it is still decent number.
In summary, Tell Me O Kkhuda does not offer any new and is not overly impressive. However, it is listenable. 'Mera Man Jabse Racha Hai Sawariya' stands out while 'Somebody Somewhere' and 'Nagma Koi Gunguna Ne Ka' are easy on the ears. And if you need a little tempo give 'Tell Me O Kkhuda' and 'Mile Na Tu' a try.