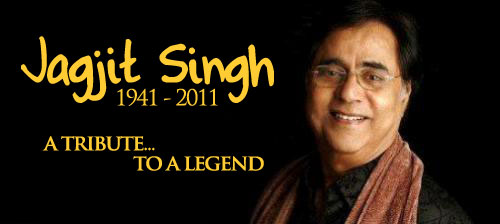 We suffered an enormous loss with the death of the veteran Ghazal singer, Jagjit Singh. Today, we're looking back at some of his best ghazals that will take you back to the times when your days weren't complete without his voice.
Chittin Na Koi Sandes
httpvh://www.youtube.com/watch?v=cslHWo4wI3A
This is one of the few ghazals that makes me cry every time I listen to it because it reminds me of people who are not with me anymore, especially the part that says "Ek Ahh Bharri Ho Gi, Humne Na Suni Hogi, Tumne Jaty Jaty, Awaaz Toh Di Hogi, Her Waqt Yehi Hai Ghum Us Waqt Kahan Thy Hum". Such an outstanding number!
Hosh Waloun Ko Khabar Kiya
httpvh://www.youtube.com/watch?v=zLGZhp14UgY
I assure you, after listening to this Ghazal, this you will be dying to fall in love and if you are already in love, you will want to be with them constantly. This song describes someone very deeply and madly in love. Simply put, "hosh waalay" have no "khabbar" what "baykhudi" is!
Hontoun Say Chou Lou Tum
httpvh://www.youtube.com/watch?v=iFsbFQCWeDA
How someone can long for love so desperately without realising that they are eventually in the world of their own encompassed with their dreams, with no clue of the world around them, especially this part "Jug Nay Chenna Mujh Say, Mujhy Jo Bhi Laga Pyara… Sab Jeet gay Mujh Say, Main Her Dum Hi Haraa.. Tum Harr Kay Dil Apna Meri Jeet Amar Kar Dou." I would love to have someone like that who wants me in that way and who could recite such beautiful poetry to me. It touches my heart to hear them from Jagit's mouth.
Woh Kaghaz Ki Kashti
httpvh://www.youtube.com/watch?v=c3Wq4q7Yygg
For me, this Ghazal takes me back to my childhood. Everything I used to do and everything I used to be has been described so well in the lyrics. I miss that "Kaghaz ki Kashti" in "Barish ka Pani"!
Koi Fariyaad
httpvh://www.youtube.com/watch?v=uUCkBIelSjM
Jagjit poured his heart out in this song with his melodious voice. Never have I ever heard such a melody before that makes me think they stole the words right out of my heart! I can honestly listen to this on repeat, 24/7! "Aik Lamhay Main Simat Aaya Hai Sadiyoun Ka Safar, Zindagi Teez Bohat Teez Challi Ho Jaisy", these lyrics force me to look back on my life and all the good and the bad moments of my life flash in front of my eyes, as if it all happened just yesterday.
Dukhi Mann Mere
httpvh://www.youtube.com/watch?v=6zLe8g9jch8
In this Ghazal, I find it tells the bitter truth like it is. Jagjit's words and his voice helped understand complicated things with ease. We used to think that we feel homesick when we are away from home, but this makes me think that it's not the being away that makes us feel that, it is the fact that we are not surrounded by the same people that make us happy every day. "Lakh Yahan Jhooli Phila Li, Kuch Nahe Dain Gay Yeh Jug Walay.. Pathar Kay Dil Maum Na Hon Gay, Chahiye Jitna Veer Baha Lay".
Tum Itna Jo Muskura Rahy Ho
httpvh://www.youtube.com/watch?v=VmoEPnty3Rk
"Jin Zakhmoun Ko Waqt Bhar Chala Hai, Tum Kyon Unhain Cherray Jaa Rahy Ho." These lines remind me of the departed souls that are no longer in my life. Each time memories of these people are brought up, I just want to break into tears but I hold back and put a smile on my face with the thought in my head that they are in a better world right now.
Tera Chehra Hai Aaine Jaisa
httpvh://www.youtube.com/watch?v=1CrngcVZpZY
I see a very innocent love in this Ghazal. Jagjit was a versatile singer and his voice had so much soul that it was easy for anyone to fall in love with it. This number talks about what someone feels like when they experience love at first sight and how once you're deeply and madly in love, nobody but they matter to you. "Tum Achanak Milay Thay Jab Pahly, Pal Nahe Hai Woh Bhoolnay Jaisa"
Jaane Woh Kaisy Loug Thay Jinko
httpvh://www.youtube.com/watch?v=25cq4o-ZsiU
I'm sure at one stage or another, we all feel that we are getting what we deserve in life while others who are getting having their dreams come true are very lucky. This Ghazal takes me back to that feeling of envy and remind me of everything I wanted but didn't have. "Iss Ko Jeena Kahty Hain Toh Youn Hi Jee Lain Gay, Uff Na Karain Gay, Lub See Lain Gay, Aansou Pee Lain Gay." Simply superb!
Khin Durr Jab Din Dhaal Jaye
httpvh://www.youtube.com/watch?v=PwV6KAE_By0
There are days when we are depressed for no apparent reason and we don't realise that we are actually missing someone very special to us. I have one too many of those days. "Kabhi Younhi jab hoi Bojhal Sansain, Bharr Aain Bathay Bathay Jab younhi Aankhain.. Kabhi Machal Kay Pyar Say chalkay Choulay Koi Mujhy Par Nazar Na Aaye" and these words fit the situation perfectly "Mere Khayaloun Kay Aangan Main Koi Sapnoun Kay Deep Jalaye." This makes me think that there is always light at the other end of the tunnel!
I hope you enjoyed my take on his best Ghazals. Let me know what you think in the comments below. I will be back to bring you more memories through music soon. Till then, stay blessed and keep listening!