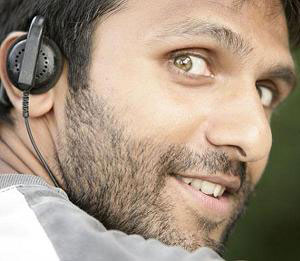 The forthcoming film 'Teraa Surroor' releases on 11th March. The film has received a stupendous response across social media for its trailer and music, and has already recovered its costs before its release! The film has been directed by Shawn Arranha and stars Himesh Reshammiya and Farah Karimaee in the lead roles. We recently caught up with the film's director Shawn, who shared with us details of his journey so far in Bollywood, as well as his experience of making 'Teraa Surroor'. Read on to find out more!
Tell us about your journey so far within the Bollywood industry.
I have been in this industry for a long time. I have worked with the best directors and producers like Farhan Akthar, Apoorva Lakhia etc. I wanted to master all genres as a film director, in order to become a versatile director. It's also very important to know the economics of making a film nowadays, in order to ensure that you make a successful film.
You have been an associate to director Apoorva Lakhia. How has this experience been?
Working with Apoorva Lakhia made me learn so many things in the film industry. I can do action films without a blink. He has been a mentor and has always guided me to do the right thing.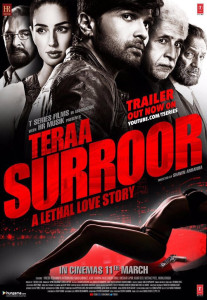 Congratulations for the amazing response of 'Teraa Surroor' and its music. How did your current project 'Teraa Surroor' come about? 
Thank You. 'Teraa Surroor' has been a rollercoaster ride. I had so much fun shooting this film and putting it together. I am very lucky to have producers like Himesh Reshammiya and Bhushan Kumar, who backed me so much and let me make a superb film. We did intense workshops with all the cast. Himesh is the surprise package in the film. He went through vigorous change to get into the skin of the character of Raghu. We both met a couple of times to shape the script and look of the film. The 'Teraa Surroor' trailer and music has received very favourable response from people all over and the music is already a hit. I am proud of the response that the trailer has generated. We couldn't have achieved this result without correct economics, detailed pre-production planning, right content in terms of writing combined with production designing and shooting in Dublin in the right weather.
'Teraa Surroor' has been shot in the beautiful picturesque locales of Dublin. How did you find the experience of shooting and working with the team there?
The country Ireland is so beautiful and picturesque and the city Dublin is amazing. The people there are so warm and great fun. They kept the unit happy and in smiles. It was so easy to shoot there. The technicians were amazing.  
How was your experience of working with Himesh Reshammiya?
Himesh Reshammiya is an amazing person; it was so good to work with him. He understands the business of Bollywood so well, that I learnt so much from him by just his conversations with me.  As a producer, he gave me everything I needed to make this film look good and nothing was compromised. He is a fantastic music composer. His music is so melodious, that I fell in love with all the songs he created. He is a wonderful person.
How was the experience of working with newcomer Farah Karimaee? 
Farah Karimaee well, she was such a sport and a hard working girl. We were shooting in minus degrees in Dublin. She was freezing, and she still did the shots. She is a very soft spoken girl, but understood all the things that I told her to do. The Surroor franchise first had Deepika Padukone and then Hansika Motwani. Farah is the next Surroor Girl. She is very focused and will do well in the future.
Teraa Surroor has an amazing supporting cast (Shekhar Kapur, Naseeruddin Shah, Kabir Bedi & more) how does it feel to be working with such an international and stellar line up? 
I am honoured to work with the finest actors in our industry like Shekhar Kapur, Naseeruddin Shah, Kabir Bedi and Monica Dogra. It's a cast never seen before in Bollywood.  Shekhar Kapur and Naseeruddin Shah are coming together in a movie so many years after 'Masoom'. Himesh and I were very clear from the beginning that the cast of this film is going to be very unique and different. That's why it's so fresh and cool.
What is your favourite song from Teraa Surroor?
When you make a musical action love story, the music has to be very strong. I cannot say if there is any one song, because I like all of them! Himesh's songs are all superb and melodious and I love them all. Shooting them too was amazing. He has made hit music with lots of big names like Salman Khan, Akshay Kumar, etc. and the response of our film Teraa Surroor also is fantastic. The whole album has been accepted so well and loved by all.
How has your experience been working with HR Musik (Himesh's own music publishing company) and TSeries?
HR Musik and TSeries are fantastic producers. They understand the story and gave me whatever I needed to make the film look great. I had such a good time working for them and making Teraa Surroor. 
Please tell us about your future projects.

As of now I am in talks with few producers and locking a film soon. I am concentrating on good stories in the right Budget which is very important. Will let you know as soon as things get signed.