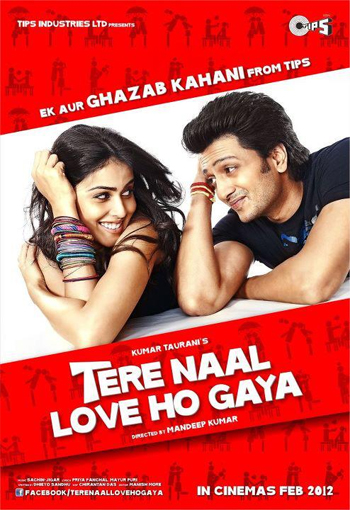 Bollywood romcoms have a bad habit of turning out stale and predictable. It has only been a fortnight since the insipid Ek Main Aur Ek Tu left a bad taste in my mouth. So it was with some apprehension that I sat down to watch Mandeep Kumar directed Tere Naal Love Ho Gaya starring the newly married Mr. and Mrs. Deshmukh. To my surprise I ended up enjoying the movie.
Viren (Ritesh) is a hard working auto driver who works for Bhatti (Tinnu Anand). Bhatti's daughter Mini (Genelia) is a free spirited girl who is unhappy with her father's choice of bridegroom for her. On the day of her engagement Viren turns up at the venue in a drunken state demanding the money he feels Bhatti swindled from him. Mini sees this as an opportunity to escape the unwanted wedding and flees with Viren, making it look as if he has kidnapped her. By the time Viren realises what has really happened it is too late to turn back. Mini advises him to keep up the charade and get his money back from her father in the form of ransom. While waiting for the ransom to come, Mini and Viren develop an unlikely friendship which gradually turns into love.
Tere Naal Love Ho Gaya is neither a great script nor is there anything unique about its storytelling. Yet the film has freshness. Mandeep Kumar's direction may lack sophistication but there is an endearing earnestness in it. Maybe that is the reason that some pretty illogical cinematic liberties did not bother me much. Though there are no 'laugh out loud' moments in the film, the light humour and cuteness of all the characters kept a smile on my face throughout the movie.
A little attention to detail (especially the portrayal of Ritesh's Haryanvi family) could have elevated the film a lot. Some scenes look a bit shoddy and there are times when one feels that the director was in a hurry to wrap up the shot. The item number by Veena Malik was not only unnecessary, it also comes as a bad surprise in a clean family movie. However, these are small complaints.
Sachin-Jigar's music is in keeping with the spirit of the film. The songs are well choreographed and also well placed in the film. Cinematography deserves a mention for giving the film its fresh look. Editing is good too. So are the dialogues though I wish they had a little more punch.
One has to give credit to Ritesh and Genelia for bringing in just the right amount of sweetness to their roles. Ritesh is restrained though he looks awkward in romantic scenes. Genelia has the bigger and better role and she does justice to it. While she doesn't manage to reach the level of Kareena in Jab We Met (in a similar role), her vivaciousness somewhat makes up for the flaws in her dialogue delivery. The supporting cast of Om Puri, Tinnu Anand, Smita Jayakar and others is quite good too.
Tere Naal Love Ho Gaya delivers what it promises – a cute little romcom. Don't go expecting path breaking cinema and you may end up spending two very pleasant hours.