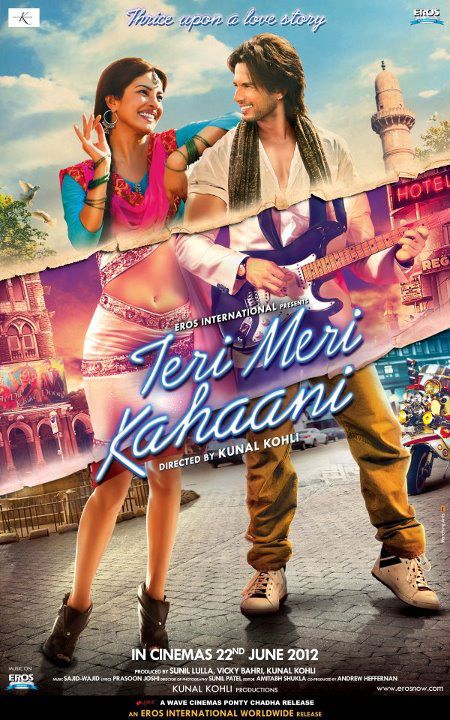 On June 22nd, Kunal Kohli's thrice upon a love story Teri Meri Kahaani starring Shahid Kapoor and Priyanka Chopra will hit theaters. It is a story of soul mates, but soul mates not through one love story but throughout many lives. We see the couple meet and fall in love in 1910, 1960 and 2012 and with each new love story we see Shahid and Priyanka play a different role.  A couple of weeks ago we asked Shahid Kapoor fans to tell us which character Shahid plays in Teri Meri Kahaani is their favorite.
Did they love 1910's Javed and his smoulder?
Or does 1960's Govind make their heart dance?
Or was it the cuteness of Krish who won the modern girl's heart?
Well, the answer is all three (this is Shahid we're talking about!) but Javed and his smoulder seemed to be the one many fans loved!
We asked the fans to also tell us why they chose Javed, Govind or Krish and let me tell you, we got some really fabulous entries and one of the coolest things is that they were from all over the world. The entries were so good that it made our job really, really, really, really (did we say really?) hard! But finally we narrowed it down and we now proudly present the 12 winning entries!
Ayushi Gupta
It was really very difficult to choose among the three as Javed is extremely hot,  Govind is too adorable and Krish is too cool & cute…But I'm gonna go with JAVED (it is Sasha's favourite too). I loved his tapori kinda attitude, his charm, his flirting nature, and specially his Shayari…. masha'allah it's so beautiful.. In short, I loved Sasha as naughty Dil Fek Aashiq.
Calena Cos
Judging from the trailer of Teri Meri Kahaani all three characters portrayed by Shahid Kapoor have their unique traits that make them loveable. However, the instant I saw Javed I knew he'll be my favourite. He oozes confidence without being arrogant. Even while teasing his lady love, he's still being respectful. I imagined Javed to have a great sense of humour as well as a sense of responsibility. He certainly has the Han Solo-esque bad boy with a heart of goal appeal – qualities of a real hero.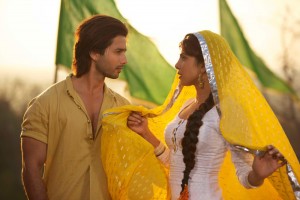 And of course I can't write something about Javed without mentioning that he's just smoking hot. I love the long hair.
I'm very much looking forward to June, 22nd.
Parul Rajwanshi
I undoubtedly love the Javed of 1910, pre-Independence India. He has the aura of that bad, flirtatious man yet he charms a woman to the point after which she loses her heart to him. Though he barely shows any sign of being 'blessed' with required mannerisms towards a woman, I think he barely suffers from situations when a woman, trying to be wooed by him, doesn't feel 'blessed' herself!
Dressed as a rowdy and proud hillbilly without a care for the world, he walks with the gait of a man who can not only charm a woman as and when he wants to, but can also scale great heights until he gets her. Whether it is casting a spell with his lovely shayari decorated with eyes brimming with love (now whether the 'love' is true or not, he better knows of that), showing his awesome dance moves to gain attention and appreciation from the lady love, following her to various locations in varying situations only to say that "following your routine has become my routine", containing an undying spirit to win her so much so that he even books a seat below her 'khaat', complementing the lady on her beauty shamelessly and last but not the least, leaving his love with a restlessness in her heart, begging for more of him (and this applies for the viewers alike!). He leaves her weaving her own Teri Meri Kahaani!
Without a doubt, Javed is the best of the other three characters for he is man who doesn't need any era to fit in. Rather any era should be qualified enough to incorporate him in it. He works up such an inescapable magic that ladies are left reiterating: "Aap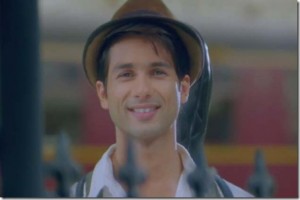 hamen bhool jao hame koi gham nahin; Aap hamein bhool jao hame koi gham nahi. Jis this din hamne aapko (Javed) ko bhula diya, samajh lijiyega theatre mein se ek seat kam ho gayi."
Nish Bhat
Where do I start from..? I've fallen for all three… Javed, Govind & Krish! But I think I love Krish more than the other two characters! Well, Krish is from the modern world – the 2012 guy! He likes partying & stuff and so do I. And Krish is the cutest! It makes me go *dhak dhak*  over it! Also the name "Krish" is wonderful. Krish will always be my favorite & I want Shahid to flaunt his cuteness (like Krish) more than his sexiness!
Coming to Javed…we all know he's a big flirt!  Hahahaha! The Shayari and all that…OMFG! Killer man! And Javed reminds me of Charlie from Kaminey. And Govind is like Peter Pan. Cute, adorable & the way he walks in the trailer is like Charlie Chaplin! Teri Meri Kahaani will be a BLOCKBUSTER HIT.
Panuga Pulenthiran
Javed from 1910 is my favorite portrayal of Shahid. Javed is a man who every girl wants to meet in her life. He is outspoken, honest, poetic, a true lover. He is a true man, proud and kindhearted, and somehow, these qualities are missing in today's boys. He makes you dream, forget the whole world and most importantly, he will make you fall in love the moment you'll see him. He creates the magic of love and its depth only by his presence and words. I love the way he woos her, he is charming and behaving like a true gentleman! I am a bit old fashioned, and the chemistry between the 2 is beautiful and it's rarely seen nowadays. I think I miss those kinds of love stories, and obviously people like Javed who brings you love at his purest and simplest form.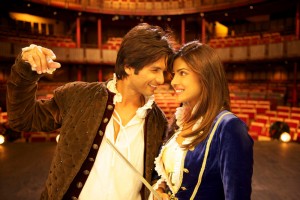 Mahezabeen Tariq
Govind captured and held my heart from the moment he appears running after the train with a ticket held between his lips. In every frame after that, his innocent, sweet smile, his simple dressing, his cute Charlie Chaplin walk, his carefree walk in the rain with all his worldly possession held in a small suitcase and the love of his life, his guitar, on his back, spelled…Gentleman!! In Govind I found the 'innocence' and 'romance' of love that girls dream of. To me he defines my prince charming. Despite being a pauper he has a positive outlook to life, is always happy and smiling, full of zest for life, always ready to help others and willing to work hard to become someone. For me, Govind defines LOVE! <3
Jacqueline Friedman
I love Shahid as Javed and his smoulder. The character looks fun, romantic and a poet which would definitely steal my heart. I love the costumes as well, as it brings back an old nostalgic feeling of the India that was, where a young man had to woo a girl with words of endearment before she would give him the time of day. There is more passion and Shahid looks dashingly handsome without trying too much.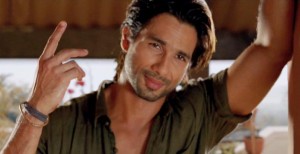 Linda
My favorite character Shahid plays is Javed cause he makes my heart beat with doing Shayari.
1. I totally love his smoulder. Javed just has surprised everyone with doing Shayari.
2. Yeah! Govind is cute, funny and he makes my heart dance with his trumpet 🙂
3. Krish is very amazing, cute and modern. He makes every girl blush.
I just can't wait till 22nd of June to watch the movie. It will be a Blockbuster 🙂
Shahid rocks in every character.
Mehran Abul
All the three characters of Shahid Kapoor in Teri Meri Kahaani are really nice and well sketched. Javed's a little rough but the very lovable look of the early 1900 is very real and the very cool and subtle style of Krish perfectly reflects today's youth, but the character I envy most is that of Govind's.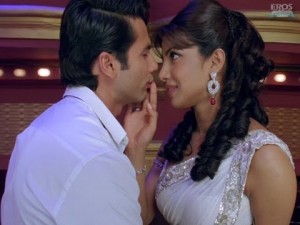 Govind's easy going nature, the boy-next-door-look has suited Shahid Kapoor perfectly. The simple shirt with suspenders and neat trousers reminds me of Jack of Titanic. To add to that, the cute and street smart look brings to surface the vintage Shahid Kapoor, and the shy Aradhna in Priyanka Chopra complements Govind inch by inch. In a nutshell, the lead pair Govind and Aradhna and the entire setup gives me the feel of the 1960's and sinks me in the mood of that era.
Anais Condor Huaman
I have seen the trailer for TMK thousands of times, and thanks to some friends from India who could translate it into Spanish.
The character I liked most was definitely Javed, I love hearing that he recites poetry to his beloved, it is so romantic, also makes every effort to see her, though her father objects.
In an interview Shahid Kapoor was asked which character he identified with, and he responded Javed. Javed also revealed that could be the kind of person that every girl dreams of, and for me that is enough to love that character, although will not see in theaters like you.
That is main reason that I love Javed, besides his physical style.
One more, I am writing from Lima, Peru, I am very excited about the movie and it would be wonderful someday if it released over here.
Oviyya V
I love the character Javed (1910) because of his romantic words which can make any heart melt & this is also the first time Shahid Kapoor plays a Muslim character. Shahid carries his style perfectly through the character Javed. The Punjabi accent, dress & the language suits him than anything in the world. No actor can carry this role as perfect as Shahid Kapoor. The simplicity in this role makes Shahid look handsome.
Ishita Bhojwani
It's really hard to choose one character, because it's Shahid after all. But, my favorite is Krish. I just love everything about him. The time I saw pictures of him shooting, was exactly when I knew, yeah he's my Krish! & when the trailer came out OMG! He looks so adorable…I mean how does he manage to be so effing cute!? He's the new age guy, who wouldn't wish to be with him hahahaha!? His style especially & his hair…the whole look…everything just too perfect…the way he parties, like an animal does literally…with two beer bottles shows how fun to be around he must be. The song 'Muktasar'…that's already stuck in my head.. I think Krish is truly one in a million…he's got the touch of love. Adore him in every way!
We would like to thank everyone who entered and say we wish we could have picked you all, you truly are Shanatics and we think that rocks!