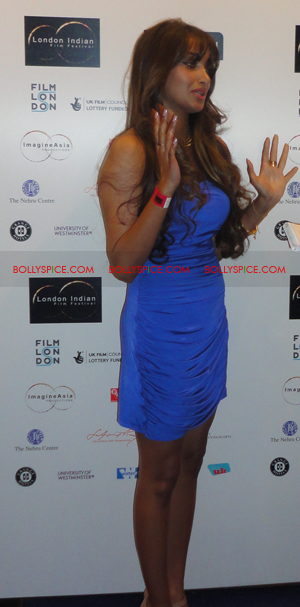 Jiah Khan made a bold debut in Bollywood with Ram Gopal Varma's Nishabd opposite Amitabh Bachchan. She was then chosen to play an important role in Ghajini, which went on to become the biggest blockbuster of all times. The young actress was last seen in Sajid Khan's Housefull opposite Akshay Kumar.  Jiah, who has worked with Aamir Khan came out to support him at the World Premiere of his latest production Delhi Belly in London.
When questioned what the 23-year-old star has been doing recently, she said: "Well, you should know as you follow me on Twitter. You know what I am doing constantly. (Smiles) I am working on a project, a feature film which is based on saving the tigers. It is a cause that is close to my heart, as I work with PETA quite a bit."
Jiah has been working with PETA for some time and recently did a photo shoot for them posing as a tigress. Talking about her love for animals she said: "I have always loved animals. When I was in India, I used to pick up stray animals and bring them back home and my mother used to get so angry at me. But I just have this sort of compassion because they can't really speak and there are a lot of issues. PETA approached me when they realised that I have passion for animals and I have been working with them since."
Khan does not talk about the films that she is working on. The Housefull star explained: "I don't talk about my films so much because I let my work speak for itself. The film I am currently working on will show me in a completely different avatar. That's the Hollywood project everyone was talking about. I am still reading scripts of Bollywood films. I wouldn't say I am picky but I just feel that the right film will come to me and that's when I will do it."
Talking about the different projects Aamir Khan is producing, she commented: "I think it's amazing that Aamir Khan is producing films like Delhi Belly. He is definitely someone who drives our films forward with originality and I am excited to see the film and what he has done with that."
A lot of people claim that one doesn't get the same work in Bollywood if one doesn't live in Mumbai.  Speaking about this issue Khan responded: "I do live in Mumbai and I spend my time between Mumbai and London. Depending on what I am working on at that moment, I spend most of my time at that place. Once you are known and you have done a couple of films, it doesn't really matter where you are based."
With many festivals screening Bollywood films in the UK she said: "I think it's amazing as we have so many Indians in the UK. To have something like an Indian Film Festival, where they can see something that is not just a Bollywood film, but original is wonderful."
The actress was being mobbed at the World Premiere of Delhi Belly but did not mind it. "I love meeting people. People have a different impression of me when they meet me", the young actress said.
You can find out more about Jiah Khan by visiting her official website: www.jiahkhan.com