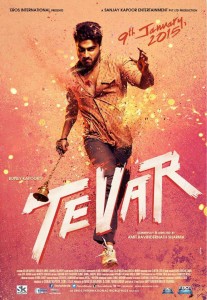 Tevar is the fourth remake of 2003 Telugu blockbuster Okkadu originally starring Mahesh Babu, Bhumika Chawla and Prakash Raj. Arjun Kapoor (2 States), Sonakshi Sinah (Lootera) and Manoj Bajpai (Rajneeti) take on the respective pivotal roles for the Hindi remake under the banner of Sanjay Kapoor Entertainment Pvt Ltd.
It features music by Sajid-Wajid (Wanted, Dabangg) and lyrics by Kausar Munir with the vocal talents of Shafqat Amanat Ali ('Manchala' – Hasse Toh Phasse), Shruti Hasan ('Alvida' – D-Day), Ritu Pathak ('Jalebi Bai' – Double Dhamaal) amongst others.
Superman introduces our larger than life protagonist with much fan fare that is not far from typical. It is a decent enough number but suffers from two drawbacks. Kausar Munir's lyrics are rife with the right amount youthful arrogance but the line, 'jo leve panga, kar doon maa behn', is arguably in bad taste if not down right disrespectful to women. Secondly, the track is right up Wajid's alley and he does a fair job of it but it is not unreasonable to hope for a newer voice for a newer face, Arjit Singh ala 'Tera Hero Idhar Hain' (Main Tera Hero) comes immediately to mind. Musically, the track is a good blend of techno, Punjabi and Sajid-Wajid's signature vocal percussion. The remix of the track turns it up a notch with Mika behind the mike instead. While Mika packs a lot more attitude than Wajid, the need for fresher vocals remains. Ultimately the chaotic arrangements overpower the track and it looses its appeal.
Radha Nachegi is a musical fusion delight, both audibly and visually. Ritu Pathak weaves between contemporary and traditional vocals well, in step with Sajid-Wajid's outstanding arrangement. The Sabris interlude gives the track a trendy edge. Munir's lyrics are strictly satisfactory given the simplistic signature hook being at odds with the later nuanced lines. Also, history enthusiasts would note Radha Rani precedes Meera in Krishna-Lila so a reference by Her of Meera is arguably incorrect. Otherwise, the track is quite enjoyable and incredibly well choreographed as well.
Madamiya fails miserably as what sounds like an item number. It sounds fragmented and the lyrics make little sense. Mamta and Mika also fail to work their magic. Music is just loud and fast with little finesse. In a word: dismal.
Joganiya serves as a powerful romantic ballad as well as strong background score. Shruti Hasan, who we have not heard since D-Day, takes the mike and bowls you over within minutes. Wajid compliments her well during the song's signature hook, but it would have sounded a lot better with a softer and smoother male voice that does not drown out Shruti. Alternatively, it can be chalked up to poor programming and mixing but there is something amiss there. Ajay Gogavale, Jigar Saraiya and Rahet Fateh Ali Khan 'Saathiya' (Singham), 'Piya Kesariyo' (Hum Tum Shabana) and 'Teri Ore' (Singh Is King) respectively are tracks that managed this flawlessly.
Main Nai Jaana Pardes is a stunning reimagining of 'Khaireyan De Naal' originally composed in Shafqat Amanat Ali's debut album Tabeer. It is as beautiful as the original, if not better and is easily the best track of this album. The orchestration is particularly impressive demonstrating that Sajid-Wajid and produce sophisticated pieces of music if they put the effort in.
Imran Khan's Let's Celebrate is yet another party number in a long line of party numbers and it does little to distinguish itself from the crowd. Lyrics are hardly audible due to the overuse of techno and what little you do hear is not impressive. It is spectacularly ordinary.
The Tevariffic mash-up is relatively well mixed and listenable but ultimately rather pedestrian and forgettable.
Sajid-Wajid have definitely fared slightly better with Tevar in comparison with their last outing Dawaat-e-ishq which was quite dated and ordinary. The fantastically arranged 'Radha Nachegi' and 'Main Nai Jaana Pardes' is testament to that. Even 'Superman' and 'Joganiya' sees them deviate a little from their comfort zone, but there is still a lot to be desired. 'Madamiya' and 'Let's Celebrate; in conjunction with the remix and mash-up arguably discount the album's general appeal heavily.