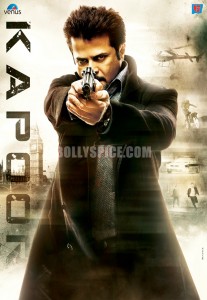 For Anil Kapoor life may be real fast but the actor still believes in the age old adage "slow and steady wins the race" when it comes to his career.
The 49-year-old actor who has done over more than hundred films says that like his forthcoming movie Tezz, life is ultimately about being fast. "The youth of today want everything fast. There's fast information which is downloaded with a twist of a finger, there are fast cars, fast food, fast education, fast medication that's why people no longer believe in Ayurveda and Homeopathy. So much so that people want fast films too."
Talking about these fast films he says, "The audience does not like to sit in a theatre for more than three hours. Hence the duration of a movie has changed to two hours. The screenplay has to be crisp and entertaining too."
Fast, crisp and entertaining… he has to be talking about Tezz, which releases on April 27th. Mr. Kapoor has nothing but praise for director Priyardarshan, "A lot of hard work went into the making of the film. Priyadarshan has done a fantastic job and am confident about his talent. We have reached a stage when we work without questioning him. That's the confidence that we have in him."
Starring Ajay Devgn, Anil Kapoor, Mohanlal, Kangna Ranaut, Zayed Khan, Sameera Reddy & Boman Irani, the action thriller Tezz will hit theaters on April 27th. The story: One man is out to get back what was unjustly taken away from him… the other is willing to do whatever it takes to stop him in order to serve justice; both are pitted against each other…and both are pitted against time. Lives have already been destroyed and more lives are about to be devastated as a train speeding from Glasgow to London holds the fate of Aakash Rana (Ajay Devgn) and Counter Terrorism Command Arjun Khanna(Anil Kapoor), and only one of them will succeed.