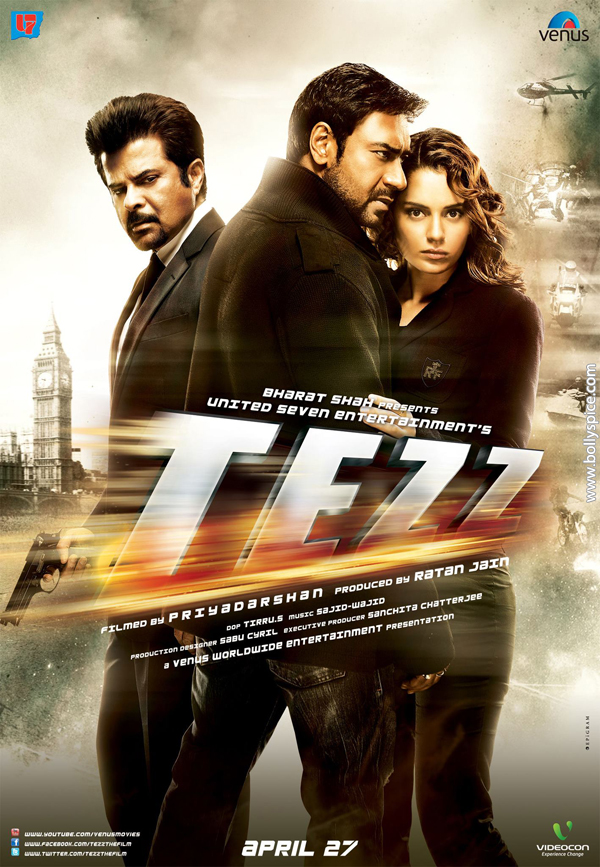 Tezz marks the return of Priyadarshan after quite some time, his last release being Aakrosh that did not fare so well. Like Aakrosh, Priyadarshan has divested of his usual comical outings (Hera Pheri, Chup Chup Ke, Hungama and Hulchul) and gone for an action-suspense-thriller starring Anil Kapoor and Ajay Devgan as leads. Zayed Khan, Sameera Reddy, Kangana Ranaut and Boman Irani bring up the supporting tier of the ensemble with a rumoured appearance by Malayalam acting legend Mohanlal. Trailers and promos of the film thus far have looked more than promising and therefore one expects the music to reflect same.
Sajid-Wajid (Dabangg, Housefull 2 and Wanted) have composed for Tezz while Jalees Sherwani and Shabbir Ahmed have penned the lyrics. The 10-track soundtrack features the vocal talents of Shreya Ghosal ('Chikni Chameli' – Agneepath), Shaan ('Behti Hawa Sa Tha Woh' – 3 Idiots), Mohit Chauhan ('Sadda Haq' – Rockstar), Sunidhi Chuhan ('Ishq Sufianna' – The Dirty Picture) and Rahat Fateh Ali Khan ('Teri Meri' – Bodyguard).
Tezz is slated for release on 27 April 2012.
The album commences with Tere Bina by Rahat Fateh Ali Khan which in short is a relatively average and unremarkable track. This is mainly because it is more or less like the other 100 Rahet songs before this. Moreover, Sherwani's lyrics aren't anything to email home about, particularly the use of the phrase 'tere bina', which has been extremely overused recently. Musically, Sajid-Wajid have done a good job with fusing contemporary and sufi, thus giving the number its first lifeline. The other lifeline is undoubtedly Rahat, who one would expect to sing such run of the mill numbers mechanically, but he does the song ample justice, a credit to his talent and grace. Naturally, the track has three other versions, a female version by Shreya Ghosal, which is equally if not more unremarkable than the first, a desi version by Rahat for the sufi purists and sad version thrown in for good measure.
Tezz, the title track, sounds like it was more or less forced into existence. The music is outdated and coupled with cringe-worthy lyrics. As if the torture was not sufficient, the track is featured twice, a female and a male version rendered by Sunidhi Chauhan and Shaan respectively whose talents have been grossly undermined by this tacky and mediocre number.
Mohit Chauhan's Main Hoon Shab suffers from the same fate as 'Tere Bina', it being a number one has heard countless times before. However, Ahmed's lyrics are relatively good, the sufi-esque music is easy on the ears and Mohit's charm is all-pervading, so one will give it ago, if one is not feeling particularly critical. Thankfully, there are no perverse remixes or alternative versions of Main Hoon Shab to endure.
The influx of Munni, Sheila, Jalebi Bai and Chikni Chameli has mistakenly created a precedent that an item number is a necessity. Hence the next track of Tezz, Laila. As with the title track, 'Laila' is another product of coercion, something that is apparent in its bad lyrics and its obvious yet ill attempt to splice what sounds like 'Sheila Ki Jawani' and 'Jalebi Bai'. If one didn't know better, one would think Sajid-Wajid weren't the creators of 'Munni Badnaam'. Once again, Sunidhi's innate talent to deliciously devour any item number is wasted. Further, by the looks of the track's TV spots, Mallika Sherwat isn't doing a very good job to make the track more appealing either. As expected Laila re-surfaces as a remix which is also a write-off.
In conclusion, the music of Tezz is mediocre and average in every sense of these terms. Sure 'Tere Bina' and 'Main Hoon Shab' aren't horrible numbers, but these tracks are insufferably devoid of any form of innovation and ingenuity. Indian Cinema has come a long way. Now art-house cinema and mass blockbusters stand shoulder to shoulder, the line between them has blurred if not non-existent, which is why seeing a filmmaker of Priyadarshan's calibre resort to cheap item numbers and even more tacky title-songs is severely off-putting.