Thalaivii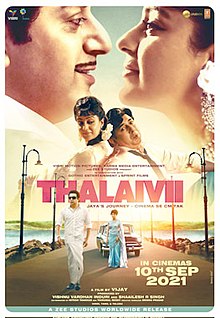 Starring Kangana Ranaut, Arvind Swamy,Raj Arjun,Nassar
Directed  by A L  Vijay
This is truly a momentous occasion. A  bio-pic that tells the  truth about its subject in an objective but never disrespectful tone. Hats off to writer  K Vijayendra Prasad  who proves  himself the true Baahubali of screenwriting. He  eulogizes  the controversial chief minister  of Tamil Nadu Jayalalitha  without turning the  film into a sugary hagiography. It's  a complimentary  to the  subject matter, but not obsequious.
As  seen  by the  insightful team of   Thalaivii, Jayalalilthaa  is scheming  and  conniving, iron-clad in her determination to be – to use  a definition applied to Mrs Indira Gandhi—the  only man in her cabinet. But she is  also a woman hopelessly and helplessly in love, with , who else,  the 1950s and 60s' Tamil matinee idol M G Ramachandran, played with such fragile flourish by Arvind Swami  that if MGR were alive to see  this  bio-pic he would have wanted to be the way he's played  by the actor.
I wonder what  Jayalalithaa would have thought   of this bio-pic! As portrayed by Kangana (in her most  humane  performance since Queen)  Amma is  atrophied  by her  ambitions  and  stumped by her love for the man who cannot love her back. Not in the way she wants. Her performance in several details reminded me  of  Kirthi Suresh in Mahaniti. But Kangana plays  her  actress-in-love-with-married-actor role with a  lot more agonized vulnerability. She is so much in love that  she  would forsake her dreams to just be near her man.
It all changes mid-way, though. And we can actually see Ranaut transform into  a far more formidable  woman. Gone are  the  giggles  of  the earlier  phase when to show her screen the director uses some  of the well-known songs from MGR-Jayalalithaa starrers  to show the pair's growing proximity. I have  to confess I didn't enjoy  the  recreation  of  the  song sequences. They are too  selfconsciously retro. And there is this  whole elaborate  dance  in the first-half  where Jalyalalithaa does a classical dance performance in  front of  government  officials and  Tamil film industry bigwigs. It seems out of place.
Once Jayalalithaa's political ambitions kick in, the  narrative assumes a  kinetic force, palpable  and  unstoppable. Towards  the end  Ranaut  actually begins to resemble Amma. Director A  L Vijay exercises a firm grip over both the love story and the politics of  Jayalalitha's life. Her telephonic conversations with MGR just before his death, and the stunning cremation sequence where she  gets jostled and  molested, are  outstanding in projecting an  aura  of  doom and  chaos.
Kangana Ranaut goes through the  film with a commanding exuberance, never excessive in her expressions  of love and desire,  always  in the right proportions. Arvind Swami is as  good, if not better. The other stand-out performer is  Raj Arjun  as MGR's trusted lieutenant and  right-hand man who spends  all his  life hating the woman who he thinks compromises his  mentor's reputation.
There are dark patches  in the  storytelling, passages where  the high energy-level  of the  storytelling flags. But isn't that how  it is in life?