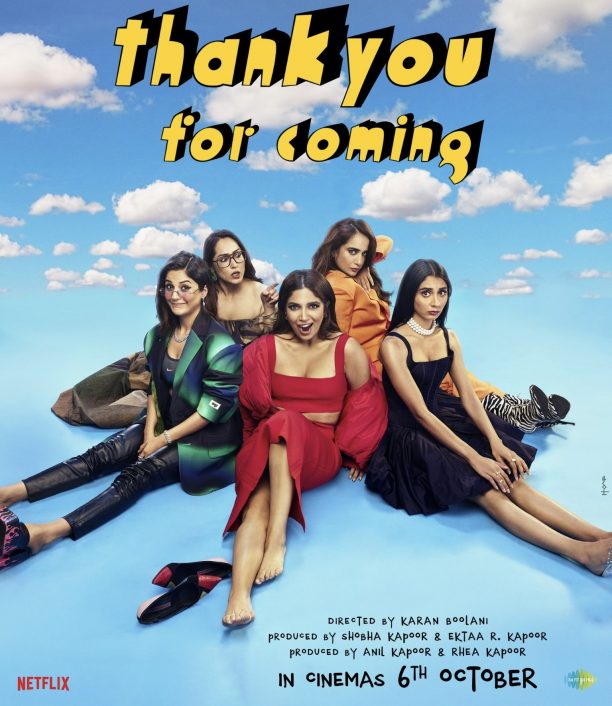 Thank You For Coming
Starring Bhumi Pednekar, Shehnaaz Gill, Dolly Singh, Kusha Kapila, Shibani Bedi
Directed by Karan Boolani
In my favourite moment in this amiably anarchic rom-com, the well-behaved utterly devoted fiancé to out uncontrollable tantrum-throwing heroine, after she breaks their engagement , says to her, "Don't worry about me. I am happy the way I am. It is you I am worried about."
What does one do with the craziness of Kanika Kapoor?
Amidst all the beery, blaring bacchanalia and shrieks of inebriated joy Thank You For Coming has a sensitive heart beating gently, reminding women that the biological clock need not dictate the way they lead their lives.
Bhumi Pednekar, in a rousing performance, plays Kanika Kapoor the youngest in a family of women where the grandmother (Dolly Ahluwalia) is chilled out but in a restrained way. The mother played with passionate intensity by Natasha Rastogi is the wild one. Sadly, or not so sadly—depending on which way your spirits spill—Kanika seems to have taken after her mother. She dates several men but doesn't get anywhere close to a physical or emotional closure.
And when she finds a decent man (Pradyuman Singh, excellent) she doesn't find him physically exciting. In its highly whimsical world of unpredictable temperamental femininity (these tantrum-throwing women of all ages and shapes, behave as it is their time of the month all year round) Thank You For Coming seeks out its own central theme from its temporal design : should woman seek stability or excitement in their life partners?
I am not too convinced by the conclusions that the erratic but exhilarating script draws from its heroine's clearly uncontrollable life. But yes, Kanika does find her mojo at the end, though the do-it-yourself formula seems more a compromise than a victory.
Bhumi Pednekar in her most uninhibited performance play a character who tests everyone's patience , without testing the audiences' patience. She is vulnerable, bratty, over-pampered and ill-prepared for the vicissitudes of life. But she admits to her failings, falls with her follies and gets up to start again.
Kanika is a fighter, and more power to her. The men come out surprisingly weak in the story, barring Sushant Divgikar who is a hoot as a crossdresser. His dance to Pari hoon main is a showstopper. I can't say the same for the entire film which tries to say much more than Kanika Kapoor and her gang of aggressive friends can handle. There is as a teenage victim of a sexual crime (Saloni Daini) whose pain doesn't quite fit into Kanika's scheme of things. Kanika, you see, is an incorrigible attention-seeker. But once she gets it,she doesn't know how to handle it.