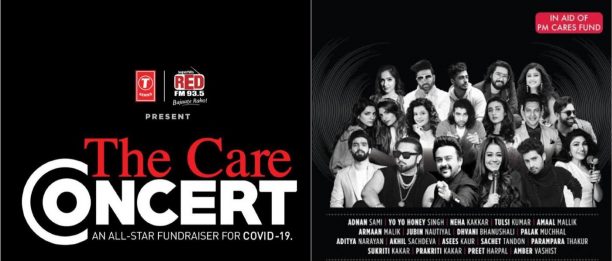 The all-star fundraiser digital concert 'The Care Concert' which took place on 11th April 2020, was a huge success. A collaboration between 93.5 RED FM and T-Series, was held to raise funds for PM CARES Fund to help fight the spread of COVID-19 and the people affected by it.
T-Series and RED FM's 'The Care Concert' was viewed by millions of people and saw the audience wholeheartedly donating to the PM Cares fund. The response showcased the country's unconditional love for music, the power of unity and spreading positivity amidst the nationwide lockdown.
With a stellar line-up of 18 artists and a massive online presence, the digital concert had renowned artists such as Yo Yo Honey Singh, Adnan Sami, Neha Kakkar, Tulsi Kumar, Armaan Malik, Amaal Mallik, Dhvani Bhanushali, Sachet Tandon, Parampara Thakur, Prakriti Kakkar, Jubin Nautiyal, Aditya Narayan, Akhil Sachdeva, Sukriti Kakkar, Palak Muchhal and Amber Vashishth come together to give the audience an unforgettable experience during the Care Concert.
About the response for 'The Care Concert', Mr. Bhushan Kumar, Chairman & Managing Director, T-Series, said, "It has been a memorable journey to curate a digital concert along with RED FM which received an overwhelming response. 'The Care Concert' successfully united everyone, bringing happiness and positivity for millions of people. All the artists performed from their homes with as much passion as they do it while they do so on the stage. Moreover, it always feels empowering when we help each other and stand with each other. The concert saw enthusiastic contribution towards the PM CARES Fund for which we would like to thank everyone who stepped-up and donated."
Nisha Narayanan, Director and COO, RED FM and Magic FM, added, "It is very heartwarming to receive such positivity and love from our listeners and audience from across the nation. In times like these, every bit counts and solidarity is our only hope in these times. This was a humble effort by T-Series and Red FM to make a difference in our own way with the support of these talented artists who agreed to perform for us. We would like to thank all those who attended and contributed to PM CARES Fund, helping many people who suffer the most during such challenging times. We are continuing to pray for everyone affected by COVID-19 and hope that everyone is doing their part to help fight this pandemic."
ICYW to watch

It is over 3 hours so check this list out to find your favorite artist or as we have dhne listen/watch the whole incredible concert!
♪ Palak Muchhal ► 04:40
♪ Aditya Narayan ►18:08
♪ Sukriti Kakkar & Prakriti Kakkar ► 27:43
♪ Preet Harpal ► 36:55
♪ Sachet Tandon & Parampara Thakur► 45:14
♪ Asees Kaur ►55:50
♪ Akhil Sachdeva►01:09:30
♪ Amber Vashist ►01:21:44
♪ Dhvani Bhanushali ►01:30:42
♪ Tulsi Kumar ► 01:45:54
♪ Amaal Malik & Armaan Malik ► 02:01:45
♪ Jubin Nautiyal ► 02:20:12
♪ Neha Kakkar ► 02:35:24
♪ Honey Singh ► 02:47:30
♪ Adnan Sami ► 02:59:34