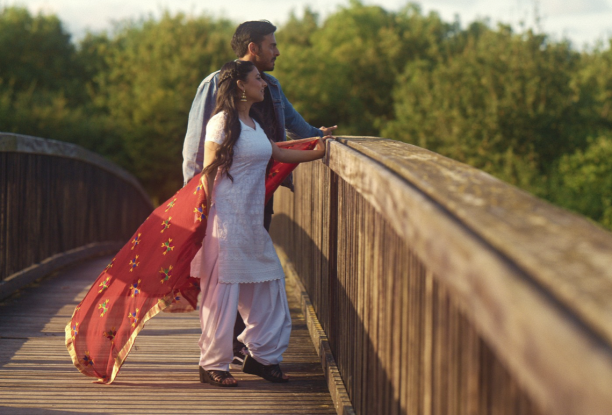 The prestigious London Indian Film Festival begins next week and once again boasts an incredible line-up of indepant films featuring thought provoking and inspiring stories.
One of the films being showcased is the amazing British-South Asian romantic comedy Little English. The UK Premiere of LITTLE ENGLISH is at the Blue Orchid Hotels London Indian Film Festival on 24th June at BFI Southbank. It also will be screened at the Manchester Indian Film Festival on June 26th and the Birmingham Indian Film Festival on June 29th.
Written and directed by Pravesh Kumar, Little English stars emerging talent Rameet Rauli and Viraj Juneja as Simmy and Harry. A fun romp through Asian taboos, set against the romantic backdrop of suburban Slough the film also features Seema Bowri, Madhav Sharma, Goldy Notay, Ameet Chana, Nikki Patel, along with Sanjeev Kohli, Yasmeen Khan and Shin Parwana.
Set in sunny Slough, Punjabi newlywed Simmy, unexpectedly faces disappointment when her British Asian husband does a runner on the wedding night. With only a basic grasp of English, she is unable to leave the house, surrounded by her kooky in-laws. She finds an unlikely ally in her wayward brother-in-law, Harry, and a secret romance blossoms. Will Simmy find the courage to honour her heart and pursue her dreams?
Check out the trailer!

Director Pravesh Kumar, said: "It feels incredible to have made a first feature film that is an authentic romantic comedy from within the community, from our own lens. Making a film on a micro-budget is tough and I've had to make some compromises but I've been blessed with an incredible cast and creative partners. We've made this film with everything we've got and it's got a big heart. It's not often a film like this is made and I cannot wait for the audiences to see it, because this is for them!"
Producer, Dominique Unsworth said: "We are so pleased to have been selected by LIFF for their British gala screening at the BFI. South Asians make up almost 8% of the UK population and globally they are an under-served diaspora. This is a film for everyone, but it's important to us that we have our UK premiere at a festival that engages with an audience that the film represents."
Produced by Resource Productions, shot by Leigh Alner, designed by Andy Kumar, edited by Kam Parmar with Philip Moroz as sound editor and music by Niraj Chag, Little English was developed and shot during the pandemic, through the support of partners including HOME Slough and Rifco Theatre Company (Arts Council England), UnLtd and The Rothschild Foundation who invested in the accompanying 'Kickstart into film' programme for those made unemployed through COVID – which under-pinned the ethos of the production. Industry partners also provided support, most notably indie kit hire company ZX Records who acted as Executive Producer, alongside the likes of MBSE UK, VMI, Digital Orchard and Pinewood Studios.
Tickets for the premiere on Friday 24th June 2022 are now on sale via https://londonind ianfilmfestival.co.uk/ and BFI. The event includes a special Q&A with the Director, Cast and Crew.