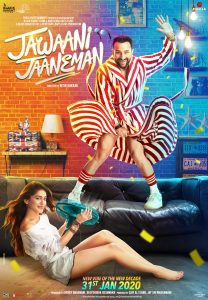 Jawani Jaaneman
Starring Saif Ali Khan, Alaya F, Tabu, Kubra Sait
Directed by Nitin Kakkar
Going into it, expecting one more film showcasing Saif Ali Khan's roguish charms, you come away surprised at the walloping punch that this punch-drunk celebration of a midlife crisis brings to the table.
First things first. Jawani Jaaneman is a whole lot of fun. It's like a casually but immaculately cut suit designed to fit and flatter the wearer without looking over-tailored. It's a story that opens its heart to human flaws, an over-sexualized (okay, horny) 40-plus Londoner who thinks life is a bed of….well, just a bed where you 'sleep' (actually not a wink) your way through as many women as humanly possible.
Straightaway, let's just say Saif Ali Khan is a delightfully self-deprecatory actor. He is never afraid to look ridiculous on screen. If you've seen him in that dark underrated satire on hedonistic mortality Kaalakaandi, you will know exactly what I mean. Here in Jawani Jaaneman when Saif's Jazz Singh launches into an impromptu jig in his London apartment (oh, didn't I tell you the film is set in London, though it could be any city of the world) to the 'inspiring' beats of Husn hai suhana, that upbeat Govinda number from David Dhawan's Coolie No.1, Saif moves with an aphrodisiacal androgynous ambivalent stealth. Is a cat on the prowl. It is a stunningly inspired improvised moment of self-adulation rendered slightly kinky by the fact that, unknown to him, Jazz's biological daughter (the very lovely debutante Alaya) is watching him move to his own groove .
Jawani Jaaneman is a beautifully curled-up comforter about a hedonistic man finding his bearings when a daughter, 21 years after 'sambhog' (a word that perkily crops up later on in this craftily written cocktail) suddenly pops up, pert pristine and pregnant. So poor Jazz must curb his libido, ration his hedonism and deal with becoming a father and a grandfather at the same time.
It's a classic notion for a rom-com. Director Nitin Kakkar blends a streak of wickedness with a bedrock of unalloyed intelligence in the storytelling. Hussain Dalaal and Abbas Dalal's writing is bang –on, and rightly so as so much bang-bang is going on.
Saif and Alaya as the newly bonding father and daughter are so comfortable in their camaraderie I forgot they've just got to know each other. Their scenes together are choreographed like a shadow dance, tantalizing but restrained, suggestive but spiritual. Reminded me of Sanjeev Kumar and Sharmila Tagore in Mausam.
I would go back to see the film just to see this father and daughter together. While Alaya is hands-down the best discovery since her namesake (Bhatt, seriously!) Saif holds the nubile narrative together lending a blend of irony and charm to the role of an eminently unlikable Lothario. His closing monologue with his newly-born grand-daughter is moving in its sincerity. Sadly the ever-dependable Tabu playing a flower-child long after the flowers have withered, is woefully miscast. But the rest of the cast, including Fraida Jalal as Saif's mom, are not short of any brilliance. Watch out for the beautiful model Rameet Sandhu purring her way into Saif's bed as one of his conquests. She is priceless.
Special mention must be made of the very evolved Kubra Sait as the Saif's confidante and hairdresser …It's a performance to 'dye' for.
There is a marvellous sub-plot about an octogenarian Kamlesh Gill who relents and sells her property to real-estate sharks Saif and gang, on condition that a large green tree on her property won't be uprooted, That tree, a symbol of the Saif's Jazz's endangered conscience, becomes a variation of Terence Mallick's Tree Of life.
Don't let the surface prettiness of Jawani Jaaneman fool you into believing that this is a film awed by its own glamour and gloss. This is actually a much more thoughtful and relevant film than it would appear to be at first sight. Like its frivolous protagonist, the film hides a huge heaving heart. All you need to do is look for it.