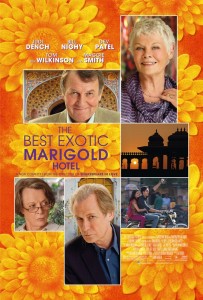 He called it his super hero movie and it seems that John Madden's The Best Exotic Marigold Hotel did very well opening opposite the superhero movie The Avengers. The all-star dramedy The Best Exotic Marigold Hotel starring Judi Dench and Dev Patel generated a strong opening in North America as it debuted in limited release with an estimated $750,000 from only 27 theaters for a per-theater average of $27,789 – second best among all films after The Avengers. Set in Rajasthan and directed by the Oscar-nominated filmmaker John Madden (Shakespeare in Love), the international hit film played to packed houses in a dozen major cities in the U.S. and Canada and will now expand to additional cities on May 11 and beyond. Hotel ranks among the Top 15 at the North American box office, despite other films playing in thousands of theaters, and has won critical acclaim with Roger Ebert calling it "a charming, funny and heartwarming movie."
Outside of the U.S., the ensemble hit also had an excellent opening in Mexico helping to raise the international total gross to an impressive $72.4 million thanks to incredibly successful runs in Australia, New Zealand, Russia, Germany, and the United Kingdom. Hotel will surpass $75 million in global box office by the time it releases in India on May 18.
Be sure to check out our 4 star review and interviews with Tena Desae and director John Madden!
In case you haven't seen it yet, check out the trailer!
httpvh://youtu.be/JZwXZte_ctk