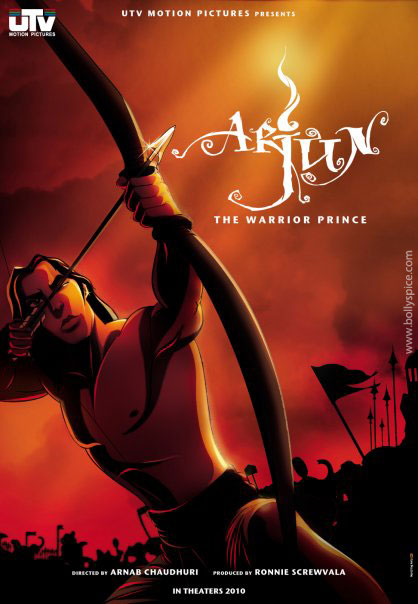 When you think of animation films in India, most likely what comes to mind is the cartoons for children, or perhaps the fun animation in Hum Tum. There has also been the full length feature films like Toonpur Ka Superhero and Roadside Romeo. However, those mostly have been geared towards kids. Well, now Disney, UTV Motion Pictures, and director Arnab Chaudhari are looking to change this perception and create a new world and genre with Arjun – The Warrior Prince. Based on the greatest Indian Epic, the Mahabharat, it tells the legendary tale of Arjun. The epic animated feature is the heroic journey of a young prince from the days of his youthful innocence to his emergence as a valiant hero who single handedly took on an entire army in the battle for justice and peace. Three years in the making, this action film features the voice talents of Yudhveer Bakoliya, Ashok Banthia, Ravi Khanwilkar, Vijay Kashyap, Ila Arun, Sachin Khedekar, and Rajeshwari Sachdev as well as music by the great Vishal-Shekhar! We got the chance to chat with the director and had a fascinating, educational and fun conversation about the creation of this cool film, what he hopes it will do for animation in India and what he thinks audiences will love! Read on!
Tell us about how the project came about.
It all started in about 2006 when UTV came to me with the idea of an animated feature on Arjun. I was living in Hong Kong at the time and they sourced me out. It seemed like just the perfect thing to do, because I'd trained as an animator and had been working with animation most of my life. So just the opportunity to make something with scale and like a big action movie just seemed rude to say 'no'. (Laughs)
Tell us how you are telling this epic story through animation.
See the thing with the Mahabharat and stories from there is there is lot of familiar reference points for a lot of people. You know, they say that nobody ever reads the Mahabharat ever for the first time, because whenever you are reading something about it or watching something that represents it, it's always touching familiar chords. So within that framework to distill and to create a 90-minute linear story was one of the big challenges. We created a frame within that framework, using the frame of a narrator, and then went through the familiar incidents, all the familiar events through that framework. As well as we focused all the story telling on Arjun, because the Mahabharat is quite sweeping and chapter-to-chapter or event-to-event the focus shifts entirely to different groups of people. It's an extremely non-linear narrative. So we made all attempts to bring the focus back to Arjun, because there are some big events that don't necessarily have him at the center. We had to create those putting him in the center. The storytelling style is done very straight, we haven't added parody or we haven't added a lot of unnecessary humor – we've not gone down that road. We've tried to treat the subject kind of really straight. Create a visual spectacle that creates that splendor of the Mahabharat .
How would you describe the style of animation that you have used? Watching the trailer it reminded me a bit of Studio Ghibli…
Yes, Miyazaki. The style we went after was that we wanted everything to look handcrafted and hand finished. We used a lot of technology to get us there, because at the same time we wanted to ensure that the camera work is not stinted by the fact that the things are handcrafted or handmade. So the idea was to create this world were the cameras could move freely – like it can move in the regular world but yet have this hand painted – hand finished quality to that world. I wouldn't peg it with anything, but yeah Miyazaki and Disney and all of these are inspirations. We are hoping with this it will create a sort of Indian anime style.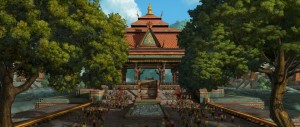 When you think of animation in India it is the cartoons, or geared towards kids or the little bits within movies. Something like this has never been done before has it?
No, it's not been done before. There's been one feature many years ago in the 90's by Ram Mohan, which was the Ramayan story and it was done by Ram Mohan with Yugo Sako, a Japanese filmmaker. That was an Indo-Japan collaborative effort and it has this Indo-Manga cross-bred look to it. Since then there's been nothing. Most of the Indian product has been and the attempts has been to create comedy for kids. This is just not that at all, at all… as you can see from the trailer.
Do you hope this will change how animation is seen and done in India?
Oh totally. I mean there's a big hope that this one can for once and for all dispel the myth that animation equals kid's comedy, which is popular perception. All the screenings we've done so far have proved that to be true because we've had audiences where there've been very few kids, like four or five kids in the auditorium. This auditorium full of adults are interested right till the end, which gives me a lot of hope and pride that you can hold an adult's attention with this medium over 90 minutes.
Seems the whole world is going in that direction, where it is not just for kids, these films are for everyone…
Absolutely. All the US box office success on the Pixar product – they are family successes. It never isolates kids from it, but it's got something for everyone. Adults appreciated as they get different layers of it and kids appreciate different layers of it. That's how it should be because animation has the power of providing that depth.
How long does it take to create a film like this?
It took us three years.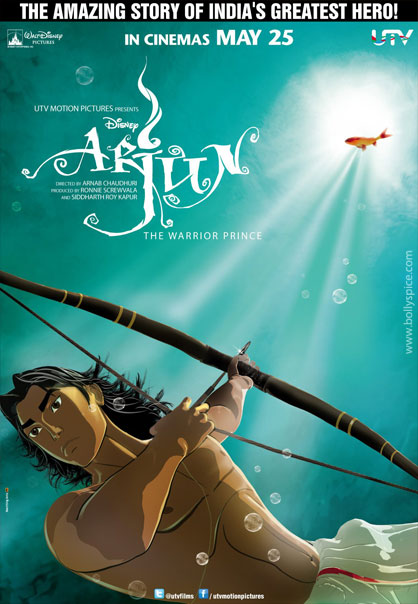 This is an action film, so how do you create that in animation? Walk us through a bit storyboard to final scene.
Sure. What we did was for the fighting we had two different workshops. One we went to a horse farm in Rajasthan where we spent two weeks working with horses in chariots and stuntmen on those horses. We filmed it all on basic very cheap cameras. For the fighting styles, we used a very ancient Indian martial arts form called Kalaripayattu and another Indian martial arts form called Thang-ta. We got two troops of these fighters and we took them to a mountaintop and they fought each other basically over the two weeks over loosely choreographed directions. We filmed that as well and that formed the basis of the storyboard. We thumb nailed it out first, but then we provided all these video references as well and we based all of the action and acting over that. Similarly with the dialogue track we worked with the theater troop for four weeks. We performed the whole film like it was a play on a sound stage so that people were actually interacting with each other you know, sitting, standing, running, jumping. We miked that and we got all the audio out of that, as well as a lot of video reference. So the pre–production was very complicated process but very, very valuable.
How do you go about casting actors for the roles in the film?
It was a tricky one because you gotta go with the voice texture first, because you're not going to have their faces on. We went by voice primarily because when you are doing character definitions over such a wide range of characters you have got to have the textural difference with the sound. Especially because with the Mahabharat, what happens is you tend to have a lot of people who are these very strong, upright, upstanding individuals. There is very little descriptor. It's not like out and out evil – it's not so black and white. Most descriptions tend to have most people sort of equally super human. So you can end up with a problem where you have eight or ten sort of equal people on screen. So while discerning character, as well as selecting voices, you have to be very careful to create personality differences within that, from whatever descriptions you have. So it's quite tricky, but it was fun.
The music for the film by Vishal-Shekhar is really cool. How did you reference and work with them to create the sound?
That was again a really fun brief. There was also the lyricist Piyush Mishra. So again usually what happens is when you deal with Mahabharat, things tend to get a bit lofty and very formalized with the Sanskrit slokas and the big grand divine kind of music. We wanted to go very earthy, very contemporary, but still retain that folk instrumentation – a feel of folk instrumentation. So there is one track called 'Daanav', which sounds like drum and bass piece but you know but it's all done with dhols, these ancient folk instruments and it was laid down like that. The lyrical approach was similar. All of the songs were written from the perspective of common people who'd been living at the time. You know villagers, common folk on the street who would be reacting to these events. The effort was to ground it to that reality, because it's very easy to get carried away and you also tend to do voice of god type narrations. We were very clear we wanted to avoid that.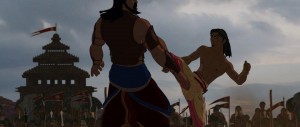 Yes, I listened to 'Daanav' and thought it was cool and unexpected that it had that rock flavor to the vocals…
Yeah, I mean Vishal is a rock singer you know and he's got a rock band as well… he's quite a singer. Between him and Shankar, it's great. Then there is a Malayalam piece in the middle so it's mad! It's mad. It's like you know a clubby dance track from like pre-history. (Laughs)
You are also releasing the US, what are your hopes it will show to the US Market?
I am hoping people will get a nice grasp of an Indian aesthetic, because we've really explored that. And really exploded that in all of the architecture, the costumes – the basic spectacle is very, very Indian and very grandly India. We are hoping we'll find an audience of people who can get absorbed in this world. We are not looking at dubbing it in any American accents. I'm not sure. I can't hear it. If they do the pronunciation I'm not sure it will work but I think subtitles would do well. It's also a different kind of film, even for audience that I guess are used to having seen a lot more anime than we have here in India. This is just another type of film I guess.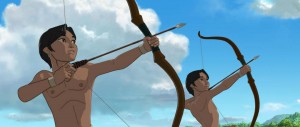 It has gotten some great early reviews…
It feels great because it's been a while in the making. So to get recognized by peers and critics and people out there who recognize the effort is so huge. I'm 10 feet off the ground. (Laughs)
What do you think audiences are really going to love about this film?
I think it's the epic nature of the storytelling, because there's a lot of it which is not done through dialogue rather it's done through visuals. Like there's a big scene in the middle where he wins the hand of his bride through a tournament where he has to dive into the tank of an ancient stepwell and shoot a fish. It is a five or six minute scene with very few words in it. So that lyrical nature of the story is what I think people will enjoy the most.
Arjun- the Warrior Prince is in theaters now! Be sure to check out this cool anime film, we think you will enjoy it!
httpvh://youtu.be/7tqBnA7d9P4