Based on a real life romance, The Big Sick is the love story of Kumail Nanjiani and Emily V. Gordon, who, by the way, also wrote the script. Kumail Nanjiani, perhaps best known in the US for playing Dinesh in HBO's Silicon Valley stars as himself in the Michael Showalter directed film. Also starring Zoe Kazan (Emily), Holly Hunter, Ray Romano, Anupam Kher, and Zenobia Shroff, the film opens in NY and LA on Friday, June 23rd.
Kumail, a standup comedian, has an instant connection with grad student Emily, despite the fact that she heckled him during his set. However, what they promised would be just a one-night stand blossoms into true love. Complicating this love story is the life that Kumail is expected to live by the traditions of his Muslim parents. The pressure to make a choice between his two worlds become too much for Kumail, and he and Emily break up. When Emily gets sick with a mystery illness and is put into a coma, it forces Kumail to get lost in the world of medicine, hospitals and a medical crisis with her parents Beth and Terry, who he's never met. It is a journey of his emotional tug-of-war between his family and his heart.
There are movies that can either make you laugh, or can make you cry, or can touch your heart and sometimes really make you get lost in the world and the lives of these characters, but not many movies provide all of these experiences at once: The Big Sick does all this and more! The story, the performances of every cast member, the cinematography, the laughs and all the feelings it evokes, makes The Big Sick honestly one of the best movies I have seen this year.
One of the greatest things about the film is that it shows just a moment in time of these characters and that is brilliant. The rich little vignettes that make up this big moment of Kumail and Emily are done perfectly. Every scene feels real and true and you are completely involved and invested in their story.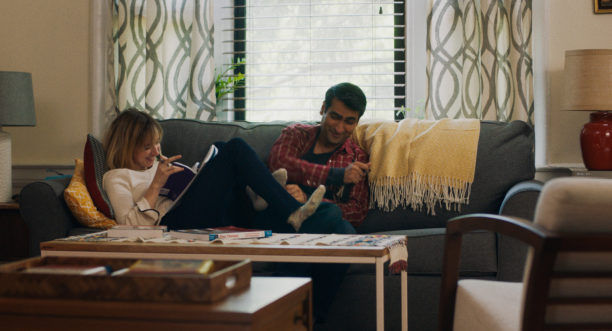 The fact that it is a real story makes it even more poignant and happy, but if you did not know that was a real love story going into the film, it still would make you laugh, sigh, cry, be frustrated and hope for a happy ending.
The cast; oh, that cast is perfect! All the actors make their scenes play true and work together to create some amazing glimpses into Kumail and Emily's story.
It must have been hard for Kumail Nanjiani to revisit this story. Perhaps going back to that time really brought his feelings to life, but I feel that it might have been a burden for him as well. I have always thought that funny actors make the best dramatic actors when given the right material and he certainly proves that to be true. From his funny lines, to his burgeoning love, his frustration and confusion, his pain, and his realization of what really matters, he speaks volumes. He is brilliant.
From the first moment she appears on screen, Zoe Kazan sparkles. Full of quick wit with a twinkle in her eye, she shines in the early part of the picture. However, it is the more serious scenes that really blow you away. The pain she conveys will break your heart as hers is breaking and it is astounding.
The two of them together are cute, funny, loveable, awkward, heart warming, at times wistful and melancholy. You so want them to stay together forever. They are a perfect jodi!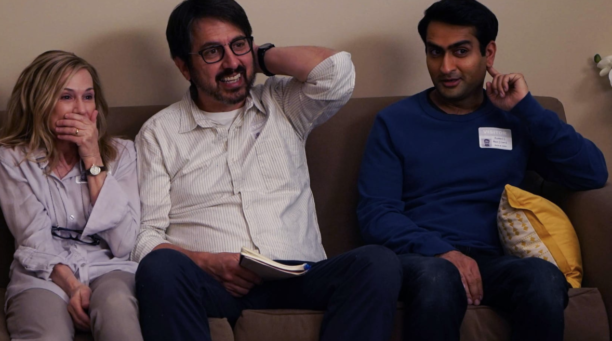 Ray Romano as Terry is funny, doleful and wonderful. He brings gravity but at the same time lightness to the part and the movie. Loved his performance in the film.
Holly Hunter takes over the focus when she is onscreen with her total fierceness and full commitment to the role and her story. I always love Holly Hunter and this just made me love her more!
Anupam Kher brings a layer of depth to the film. He plays Kumail's dad in some great comic as well as serious moments, but also with so much feeling. He brings a lot of heart and caring.
Zenobia Shroff is fabulous. She plays Kumail's rather eccentric mom perfectly with no trace of caricature. I loved her wonderful feigned surprise at the seemingly endless parade of potential daughter-in-laws. Then her pain and anger near the climax of the movie is fully true and we believe it.
We also have to mention Bo Burnham as CJ, Aidy Bryant as Mary and Kurt Braunohler as Chris. As I was watching it, I kept thinking, they should get a comedy troop along with Kumail together, it would be so good! I would watch that tour or show! That speaks to their talent, their realism and their funny.
Adeel Akhtar also has some fabulous moments on screen and delivers his quiet lines with a lot of impact.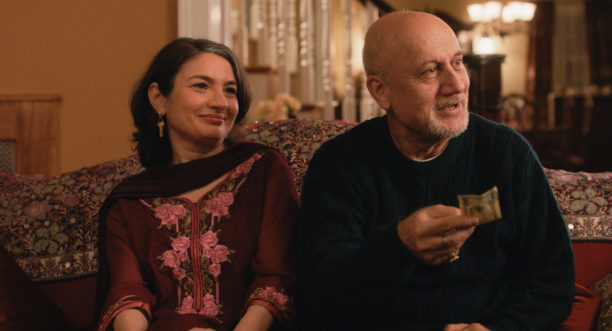 Also a shout-out to Myra Lucretia Taylor, though her part as the nurse was small, I see her and the looks in her eyes in my mind when I think of this film.
There are probably nitpicky things I could say but they paled in comparison to the greatness of this film.
The Big Sick is a romantic comedy but it is more. It is a modern rom-com but presented in an honest way rather than being gimmicky, and that makes it even more special. It is everything that a good romance, a good comedy, a good drama, a good film should be! Perfect! I highly, highly recommend that you go see it! I can't wait to watch it again, even with the sad parts!
An Amazon film, produced by Judd Apatow (Trainwreck, This is 40) and Barry Mendel (Trainwreck, The Royal Tenebaums), The Big Sick opens in limited release in NY and LA tomorrow June 23rd and the opens nationwide on June 30th!
Did I say you must see this excellent film? Oh well … it must be said again: go experience that brilliance of the moment in time of The Big Sick!