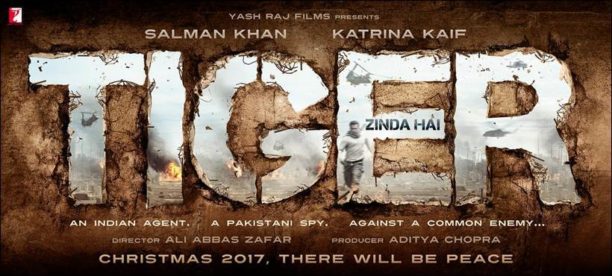 The highly anticipated mega flick from Yash Raj Films, Tiger Zinda Hai will shoot for 65 days in Abu Dhabi. The film will have its longest shoot schedule in the Emirate, and this is the longest a Hindi film will be filming for in Abu Dhabi.
A Yash Raj Films production, Tiger Zinda Hai is a sequel to the blockbuster film Ek Tha Tiger and will be directed by Ali Abbas Zafar. Salman Khan and Katrina Kaif will star in the larger than life production, along with a strong supporting cast.
Tiger Zinda Hai will begin filming in the Emirates on May 4. twofour54's Film and TV Services division will provide production services and as part of the agreement, twofour54 and Yash Raj Films have already begun construction of a 20,000-sq. metre backlot. The set is being designed by Rajnish Hedao from Acropolis DMG. More than 150 workers will be on site for a total 100 days to create the film's main set, many of whom helped to build the Star Wars set in Abu Dhabi in 2013. The production will also film at several other locations around Abu Dhabi before moving onto the set.
Salman Khan, who plays the title role, said. "Tiger Zinda Hai is a film of sizeable scale and context. Abu Dhabi, with a variety of locations, and gracious hosts, is ideal to shoot for a film like this one. I hope that the entire unit will enjoy our time here."
Katrina Kaif, said "Tiger Zinda Hai shifts to different locations across the globe, and Abu Dhabi fits in perfectly with our story. Additionally, it provides all the comforts and conveniences that a film unit needs. I look forward to shooting in eye-catching locations and on the impressive set here."
A crew of 300 is expected to work on the production, with Abu Dhabi-based freelancers working alongside crewmembers from India, the US and the UK. Demonstrating the government's support for Abu Dhabi's growing production industry, the UAE military is providing military equipment, including choppers during the shoot.
CEO of Media Zone Authority – Abu Dhabi, Maryam Al Mheiri said: "Abu Dhabi is gaining traction in India as the emerging new home of Bollywood, as a result of what we can offer this dynamic industry: a generous 30 percent rebate, a huge variety of locations, and crew with Bollywood experience. As YRF brings one of India's most awaited films, Tiger Zinda Hai for an extensive shooting schedule here, we display considerable understanding of this unique format and we look forward to working with this star studded film on a smooth, successful and visually enriching shoot while they are with us."
Ali Abbas Zafar, the film's director, said: "A film like Tiger Zinda Hai requires a certain scale, which we found in Abu Dhabi. Keeping all the practical measures in mind, the kind of support we got from twofour54 on the infrastructure was phenomenal. That along with some stunning real locations makes shooting in Abu Dhabi special."
Stay tuned for more!