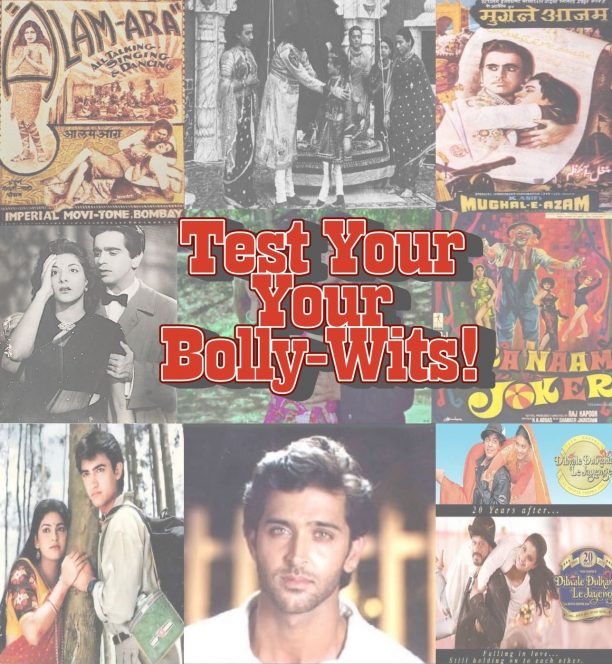 By Rima Bhatia and Stacey Yount
So you think you know Bollywood? The glamour, the gossip and all the secrets? Do you consider yourself a Bollywood expert? Well, to test our research skills to find some of the most hidden and obscure facts, we have put together a list to test your Bolly-knowledge.
So settle down with a warm drink and read away… and don't forget to comment how many facts you knew… and which fact blew your mind!
The first short film from India was 1898's Hiralal Sen's The Flower of Persia.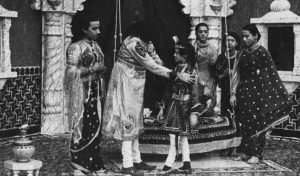 Dadasaheb Phalke's Raja Harishchandra is known as THE first full length feature film from India. The black and white film released on May 3, 1913 in Mumbai. It was only 40 minutes long.
Ram Chandra Gopal "Dadasaheb" Torne's Shree Pundalik was the very first film; it was shown in Mumbai on 18 May 1912. However, it was processed overseas and is only 22 minutes.
The Ardeshir Irani directed film Alam Ara that released in 1931 was India's first "talkie" aka India's first sound movie. Not only does it claim that honor, this movie was also the first movie to feature songs. In fact, Alam Ara set the template of songs in Hindi movie.
Released in 1932, Indrasabha featured over seventy songs – yes 70! Originally an opera, it was released in cinemas as a full-on musical with only songs, no dialog with a duration of 211 minutes long. Jamshedji Framji Madan's company, Madan Theatre, made the movie. Indrasabha holds the world record for the most songs (72) in any musical ever made.
In the 1970s, India cinema overtook America as the world's largest film producer and the term 'Bollywood' was coined.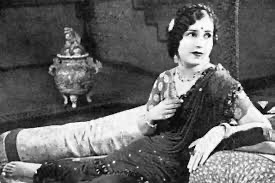 Fatma Begum became Indian cinema's first female director in 1926 with Bulbul-e-Paristan.
The Walk of the Stars in Bandra, Mumbai, honoured Bollywood film stars. Many famous Indian actors are honoured with an autograph, tile or statue. Sadly the promenade of stars has now been removed.
In 2007, it was announced there would be a Bollywood theme park. The park planned to include a Bollywood Hall of Fame and a museum that would showcase famous film props, costumes and a history of the Hindi film industry. It supposedly was to have Bollywood themed cafes, rides, and gaming booths. There were to be movie sets in the park with walk through and simulation experiences and Bollywood tours. Sadly, it never came to be, much to the regret of many fans.
Here are some star nicknames: Govinda is Chi Chi, Hrithik is Duggu, Kareena Kapoor is Bebo, Shah Rukh Khan is known as SRK and King Khan, but Juhi Chawla calls him Lucky Ali, Amitabh Bachchan is Big B, Shahid Kapoor is Sasha and Akshay Kumar is called Raju by his closest friends, based on his real name Rajiv Bhatia.
The longest ever kiss in a Bollywood film stands at four minutes. Devika Rani and her real-life husband Himanshu Rai shared the embrace in the 1933 film Karma. The movie is also credited as having Bollywood's first song in English.
Amitabh Bachchan is known for his punctuality for film shoots. In fact, the legendary actor used to open the gates of Filmistaan Studios himself since he arrived before the watchman or gatekeeper.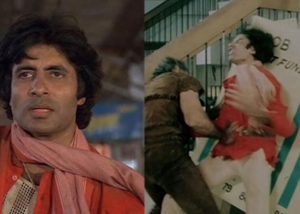 Amitabh Bachchan was seriously injured on the sets of during a stunt for the film Coolie (1983) and was in the hospital battling for his life. The entire country rallied around him visiting places of worship to pray for his recovery. The scene where the accident took place was highlighted in the film when released. It is also said that the ending was changed, that his character was supposed to die but that was changed after his injury. Bachchan Senior now considers 2nd August as the day he was reborn and celebrates it as his 2nd birthday. To express his gratitude to his fans Big B has a Sunday Darshan where fans are given the opportunity to see the actor.
Dimple Kapadia was only sixteen-years-old when Raj Kapoor introduced her in the film Bobby (1973). That year, yes at 16, she also married to Bollywood superstar Rajesh Khanna who was 31.
Director David Lean offered noted actor Dilip Kumar the lead role in the international project Lawrence of Arabia (1962). However, the actor did not accept the offer for reasons only he knows. Of course, Egyptian actor Omar Sharif then played the iconic role.
Not one but two Bollywood songs, 'Ye Mera Dil Yaar Ka Diwana' (1978) and 'Ae Nujawan Hai Sub' (1972) are the inspiration to The Black Eyed Peas' epic track 'Don't Phunk with My Heart'.
The incredible Japanese filmmaker Akira Kurosawa said about the great Satyajit Ray, "I feel that he is a "giant" of the movie industry. Not to have seen the cinema of Ray means existing in the world without seeing the sun or the moon."
Heroine was originally going to star Aishwarya Rai but she became pregnant and had to bow out. Kareena Kapoor – Khan took on the role in the very expensive film and actually wore 130 different outfits by 130 different designers.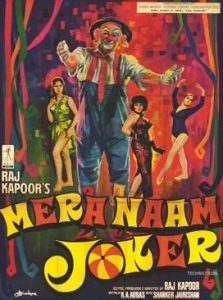 Raj Kapoor's Mera Naam Joker (1970), which runs for 4 hours and 4 minutes, was the first Hindi movie to have not one but two intervals!
The song 'Ab Tumhare Hawale Watan Saathiyon' in the film by the same name is the longest Hindi film song to date. The length of this iconic song is 20 minutes and is featured in 3 installments in the film.
Bollywood actress Kalki Koechlin's great-grandfather Maurice Koechlin, was the Chief engineer for the construction of the Eiffel Tower in Paris, and also the iconic Statue of Liberty in New York City.
Lata Mangeshkar, also known as the Nightingale of India, is one of the best-known and most respected playback singers. She has recorded over a thousand Hindi film songs and has sung songs in over thirty-six regional Indian languages and foreign languages.
Mangeshkar's song 'Ae Malik Tere Bande Hum' from Do Aankhen Barah Haath (1957) which was an original composition by Vasant Desai, was adapted by a Pakistani school as the school anthem.
Style diva Rekha wears only crimson or chocolate colored lipstick when making public appearances.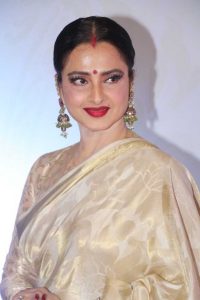 Music director Naushad was introduced by his parents to his bride as a tailor because in the 1940s working in the cinema industry was considered a low profession for a prospective husband. In a twist of irony, the music that played in his 'baraat' (groom's wedding procession) was one of his compositions. It was from the movie Rattan (1944).
Mohammad Rafi was a boxing fan and when he was on his tour in Chicago and found out the great Mohammad Ali was there he wanted to meet him. When the legendary boxer found out that the legendary Indian singer wanted to meet, he actually came through and paid Rafi a visit at the hotel.
For the dance in 'Duniya Pagal Hai Ya Phir Main Deewana' from Shagird (1967), actor Joy Mukherji went the extra mile. In fact, many of his steps he learnt from a dancer in a Hong Kong nightclub. He stopped there on the way to the shoot of his of Love In Tokyo (1966) and was inspired by her moves and asked her to teach him the style and steps of the dance.
Dharmendra debuted in 1960 in the movie Dil Bhi Tera Hum Bhi Tere and his salary was only 51 rupees.
Known as the first lady of Indian cinema, Devika Rani, whose career lasted from 1933 until she quit in 1944, was the first actress with a degree in filmmaking.
When Anil Kapoor's family first moved to Mumbai they actually lived in Raj Kapoor's garage. Later they moved on up to a room in one of Mumbai's middle-class suburbs. They now live in an opulent but at the same time comfortable bungalow in Juhu.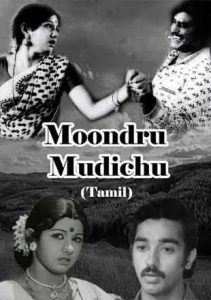 The late Sridevi was only 13 when she played Rajinikanth's stepmom in a Tamil film called Moondru Mudichu. She made over 300 films. She sadly died at the age of 54 in 2018.
For his movie titles and story lines, Dev Anand drew from newspaper headlines and stories of the day.
Indian Film industries make and produce the most movies in the world averaging 800-2000 movies per year. However, for a country that is obsessed with films, there are still very few cinema screens. India has fewer than 13,000 screens compared with nearly 40,000 screens in the US.
Indians buy 2.7 billion movie tickets annually. This is the highest in the world! The flip side of the coin is that the tickets are also amongst the least expensive so the revenue is incomparable to Hollywood.
Akshay Kumar is so superstitious that on paper, unless he first heads it with an 'Om', he won't take pen or pencil in hand and write.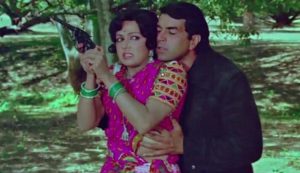 It seems Dharmendra wanted to embrace Hema Malini again and again and again and again… so the actor paid the light boys to make mistakes during the Sholay shoot.
Paving the way for Indian women in the film industry Patience Cooper, an Anglo – Indian from Kolkata, played lead roles for more than a decade.
The first film to reach an international audience was 1952's Aan. Not only that, it was the first film that introduced colour to Bollywood.
India's first female stunt star 'Fearless Nadia' aka Mary Ann Evans was introduced to audiences in Hunterwali in 1943.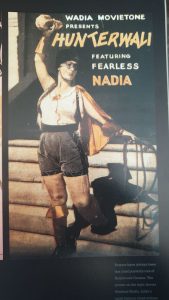 Kismet was one of the earliest blockbusters of Hindi cinema. It ran for 3.5 years at the Roxy Cinema in Kolkata.
1946's Neecha Nagar was awarded the Grand Prix at Cannes; the first Indian film to receive this honour.
Mother India (1957) was the first Indian film to be nominated for an Academy Award.
K. Asif's epic period drama Mughal-e-Azam first began in 1946, but after many trials and tribulations, shooting cancelations, and more the final film was finally released in 1960. Also it was 15 years after it was first advertised that the film hit cinemas.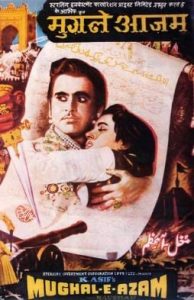 Noted filmmaker K Asif directed just two films: his directorial debut Phool in 1945 and the aforementioned Mughal-e-Azam.
Before his first hit film, Shammi Kapoor who became known as the Elvis Presley of India had 20 unsuccessful films.
For Raj Kapoor, his first venture into the world of Technicolor was Sangam. Starring and also directed by Mr. Raj Kapoor, it was also one of the first Hindi films to be extensively shot abroad including Switzerland, Paris and Venice.
Pakeezah actress Meena Kumari was an accomplished Urdu poet. A collection of her work compiled by Gulzar was published under the title Tanha Chand posthumously.
The song 'Chingari Koi Bhadke' from the film Amar Prem was shot at Natraj Studios in Mumbai. It is said that the smell of the stagnant water became so fetid that Sharmila Tagore used to keep chewing gum in her mouth to prevent her being sick.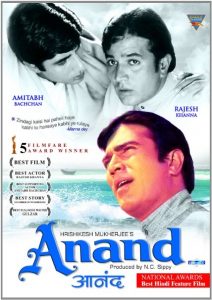 The 1971 film Anand is said to be inspired by the friendship between Hrishikesh Mukerjee and Raj Kapoor.
Salim – Javed hired a painter to stencil 'written by Salim Javed' since early posters of Zanjeer did not mention the writing duo.
The first film to celebrate a Silver Jubilee was Amar Akbar Anthony. Not only that, Amar Akbar Anthony holds the record of registering 87% collections in the week of its Silver Jubilee in the Mumbai territory in eleven theaters. This was repeated by Hum Aapke Hain Koun…! 17 years later.
Two different endings were shot for Qayamat Se Qayamat Tak. Wonder what the second ending was and if it were used would it still be a blockbuster hit?
The pilot of a TV serial Bombay Hai Meri featured Madhuri Dixit. However, Doordharshan rejected the show because of the cast.
In 1986's Akhree Raasta, Rekha dubbed for Sri Devi.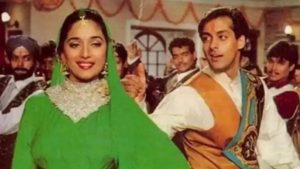 Salman Khan was not the first choice as Prem in Maine Pyar Kiya.
Aamir Khan was offered the role of Rahul in Yash Chopra's psychological thriller Darr, but turned it down. The dark role was played by Shah Rukh Khan.
For the film Jo Jeeta Wohi Sikhander, Akshay Kumar unsuccessfully auditioned to play Shekhar.
Milind Suman actually bagged the role and shot some scenes as Shekhar in Jo Jeeta Wohi Sikhander before Deepak Tijori was finalised for the role.
In Hum Dil De Chuke Sanam, the scenes set in Italy are actually shot in Hungry.
Exotic locations were a hallmark in Bollywood especially within songs. We bet you can see Kajol and SRK on the mountain in Switzerland in DDLJ. Other scenes were filmed in Scotland, the US especially New York, Australia, Amsterdam, New Zealand, and South Africa.
Bollywood movies apparently inspire the Baz Luhrmann's style.
Many people advised people against casting Aishwarya Rai in the role of Nandini for Hum Dil De Chuke Sanam but she proved them wrong!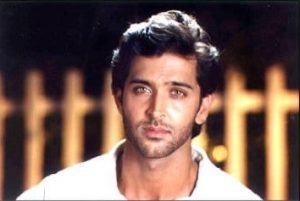 Post the success of his debut film Kaho Na… Pyaar Hai; Hrithik Roshan received 30,000 marriage proposals.
Hrithik Roshan went on to become the first actor in the history of Bollywood to win a Filmfare Award for Best Actor and Best Debut for Kaho Na… Pyaar Hai.
The role of Akash in Dil Chahta Hai was offered to Hrithik Roshan, Abhishek Bachchan and Akshaye Khanna.
Director Ashutosh Gowariker couldn't find a producer for Lagaan: Once Upon A Time in India and so it almost didn't get made.
Karan Johar fainted on the sets on 'Bole Chudiyan' from Kabhi Khushi Kabhie Gham (K3G). He directed the song while lying in bed. Along with the other incredible songs the soundtrack to K3G sold 2.5 units in 30 days. Adding a feather to his director's cap the film was a super hit both in India and overseas. All together now… bole chudiyan bole kangana….
The film title for 2006 release Omkara was decided by public vote. The choices were Omkara, Issak and O Saathi Re.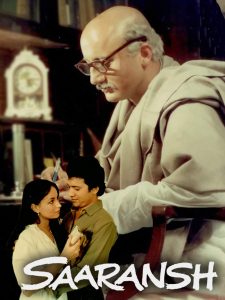 Anupam Kher has starred in over 500 films in Hindi cinema alone, his first role was that of a 79-year-old man He was 29.
Anupam Kher holds the record for winning the Filmfare Award for Best Comedian five times in total for: Ram Lakhan (1989), Lamhe (1991), Khel (1992), Darr (1993) and Dilwale Dulhaniya Le Jayenge (1995).

Yaadien (1964) has a rather small cast for a Hindi Movie with only Sunil Dutt plus a Nagris Dutt silhouette is seen. Produced and directed by Sunil Dutt, the movie was awarded a Guinness Book of World Records for the fewest actors in a narrative film
The climax of Rockstar was shot first. Why? The continuity of Ranbir Kapoor's long hair in the final scenes of the film.
Mother India (1957) was India's first nomination at the Academy Awards. The classic was nominated in the Foreign Language Film category at the 30th Oscars in 1957. Federico Fellini's The Nights of Cabiria beat Mother India for the Oscar statue.
The first Hindi Film to win the prestigious Caméra d'Or (Golden Camera) at Cannes was Mira Nair's Salaam Bombay! in 1988. The Caméra d'Or is given for the best first feature film. Salaam Bombay! is also the second Hindi Film to be nominated for the Oscar for Best Foreign Language Film.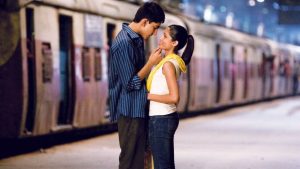 'Jai Ho' from Slumdog Millionaire was the first Hindi song to win an Academy Award for Best Original Score for A. R. Rahman and Gulzar (lyricist). Longinus Fernandez did the choreography for the song in the closing scene. He was left off the credits and director Danny Boyle mentioned him in his acceptance speech for best director.
The first Indian actor of American descent was Tom Alter. He worked in Hindi cinema from 1975 to his death in 2017.
Dilwale Dulhania Le Jayenge (DDLJ) starring Shah Rukh Khan and Kajol was and still is the longest running film in theaters; from its October 1995 debut, the film ran until 2015 at Maratha Mandir. It also is considered by many to be their favorite Bollywood movie.
Shah Rukh Khan's Mannat has the title of 'The most expensive house'. Located in Bandstand, Mumbai it is worth 200 crores. It has been declared a heritage site. which means it can never be torn down.
Saif Ali Khan is the 10th Nawab of the Pataudi family and owns Patudi Palace in Pataudi, a town in the Gurgaon district of Haryana. Situated on 10 acres it has over 150 rooms. Julia Robert's Eat Pray Love, Mangal Pandey, Veer Zara, Gandhi: My father and Mere Brother Ki Dulhan were all shot on location at the palace.
Numerous Jane Austen books have been successfully adapted to Indian cinema. There is the Hindi film Sonam Kapoor's Aisha aka Emma, directed by Rajshree Ojha. The Tamil film Kondukondain Kondukondain, (I Have Found It) is fabulous version of Sense and Sensibility starring Aishwarya Rai and Tabu. And since it stars Aishwarya Rai plus Anupam Kher and is an ode to Bollywood we should include Gurinder Chahdha's Bride and Prejudice… (Stacey is eagerly hoping for a Persuasion adaption… HINT Rajshree… but this is off topic)
According to Forbes, Akshay Kumar earned 65 million USD (Rs 444 crore) from June 2018-June 2019, Akshay Kumar is the highest-paid Indian entertainer in the world. Akshay Kumar was the only Indian to feature in Forbes' list of World's Highest-Paid Celebrities of 2019. As for the actresses, Kangana Ranaut was the highest paid actress and earns 14 crore per film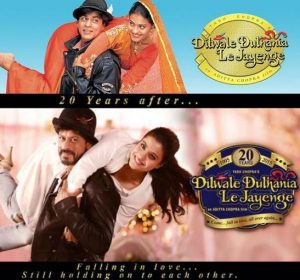 Reclusive filmmaker and producer Aditya Chopra has only given two interviews spanning over 2 decades. One was for his superhit DDLJ and the second was for Befikre.
Indian stars that have crossed over to English films include Deepika Padukone, Priyanka Chopra, Anupam Kher, Aishwarya Rai, Tabu, Shabana Azmi, Anil Kapoor, Irrfan Khan, Amitabh Bachchan, Om Puri, Amrish Puri, and Naseeruddin Shah.
Shah Rukh Khan was supposed to be the original Munna Bhai but declined because of a back injury. However, he did give some script inputs and he was thanked in the end credits.
The longest Bollywood film is LOC Kargil, which clocks in at 4 hours and 15 minutes.
Shakti Kapoor has appeared in the most movies in Bollywood with an incredible 700 performances to his name. He debuted in Khel Khilari Ka in 1977 and is still going! The Bollywood actress with the longest film career was Lalita Pawar (India, 1918–98), who acted continuously for 70 years. She made her debut at the age of 12 and appeared in more than 700 films.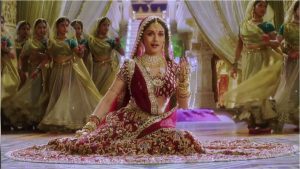 For Devdas, in the song 'Khaahe Chhed Mohe', Madhuri Dixit wore a Ghagra that weighed 30kg. It was so heavy that it would continue swirling long after Dixit would stop dancing.
Saif Ali Khan was the original choice for Shah Rukh Khan's role in Dilwale Dulhania Le Jayenge. Not only that, but, Tom Cruise is said to have been considered for the iconic role of Raj in the film. Can you imagine?
Kaho Naa… Pyar Hai was added to the Guinness Book of World Records 2002 edition for winning the most number of awards for a movie – 92 awards!
Shah Rukh Khan was the first choice for Anil Kapoor's role in Slumdog Millionaire.
Jab We Met's song 'Yeh Ishq', featured of 180 dancers from different parts of Himachal Pradesh. Choreographed by Saroj Khan there were local troupes from Tibet, Chamba, Bilaspur, Kinnor, Dharamshala, Hamirpur and Kullu, according to director Imtiaz Ali.
Jodhaa Akbar's 'Azeem-O-Shaan Shahenshah' was absolutely spectacular in music, singers, scenery, costumes, cast and especially dance. Choreographer Chinni Prakash featured over 400 dancers and over 2000 people in the crowd. It took 15 days to shoot the epic scene.

For Farah Khan's film Om Shanti Om, she took on the massive project of using 29 superstars in one song. It included Saif Ali Khan, Salman Khan, Sanjay Dutt, Dharmendra, Jeetendra, Tusshar, Karisma Kapoor, Tabu, Urmila, Sunil Shetty, Govinda, and Mithun, who flew from Hyperbad to shoot his segment for the song. Also appearing are Bobby Deol, Zayed Khan, Arbaaz Khan, Dino Morea, Ritiesh Deshmukh, Aftab Shivdasani, Rekha, Shabana Azmi, Rani Mukerji, Preity Zinta, Kajol, Priyanka Chopra, Shilpa Shetty, Lara Dutta, Vidya Balan, Juhi Chawla, Malaika Arora and Amrita Arora.
Some notable Hollywood remakes Satte Pe Satta – 7 Brides for 7 Brothers, Pyaar Toh Hona Hi Tha – French Kiss, Chori Chori – Housesitter, Bang Bang – Knight and Day, Sangharsh – The Silence of The Lambs, Heyy Babyy – Three Men and A Baby, Partner – Hitch, Players -The Italian Job, Kaante – Reservoir Dogs, Black – The Miracle Worker Yeh Dillagi – Sabrina, Hum Tum -When Harry Met Sally, and Chachi 420 – Mrs. Doubtfire. Coming up is Aamir Khan as Laal Chaddha Singh – Forest Gump.
Since 1947, Asha Bhosle has recorded 11,000 songs in over 20 Indian languages. In 2011 she was awarded a Guinness Book of World Records as being the most recorded artist in music history.
The pilot jacket Tom Cruise wore in Top Gun apparently inspired Salman Khan's leather jacket look in Maine Pyar Kiya.
Priyanka Chopra was afraid of Farhan Akhtar while they were shooting for Don? Yes, you read it right! She was so in awe of him she had trouble talking with him. Fortunately they have gotten over that and have made some great movies…most recently The Sky is Pink.
Director Yash Chopra considered several titles including Yeh Kahaan Aa Gaye Hum before he finally settled on Veer Zaara for the film starring Shah Rukh Khan and Preity Zinta.
Helen, whose name is Helen Anne Richardson Khan; one of the most iconic actresses and dancers was born in Burma. During the Japanese occupation during WW2, she and her family trekked, yes walked, to Assam, moved to Calcutta and then Bombay. She began work as a back up dancer in 1951, and since has appeared in over 700 films.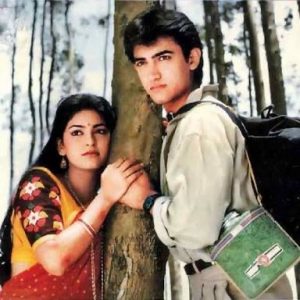 Though it's an iconic moment that was in many a love song in many classic films the dancing around tree was actually to hide the stars bad dancing.
Foreign actors who have been in Bollywood movies include Rachel Shelley and Paul Blackthorne (Lagaan) , Antonia Bernath (Kisna), Lauren Gottleib (ABCD, ABCD 2), Mehdi Nebbou (Englsh Vinglish), Mish Boyko (Queen), Erika Kaar and Abigail Eames (Shivaay), Giselle Monterio (Love Aaj Kal), Alice Pattern (Rang De Basanti), Toby Stephens (The Rising: Ballad of Mangal Pandey), Sylvester Stallone, Whoopi Goldberg, Denise Richards and Brandon Routh – (Kambakht Ishq), Ben Kingsley (Teen Paati), to name a few. As a special mention Akon, sung 'Chammak Chalo' for Ra.One and it was a super, super, super hit.
Tiger Zinda Hai's 'Swag Se Swagat' was the first song from India to touch the massive milestone of 500 million plus views on YouTube. Along with stars Salman Khan and Katrina Kaif, the song, shot on Naxos in Greece, featured 100 dancers including ballerinas, hip-hop and Afro-dance hall performers from Greece, France, Trinidad and Tobago, among other countries.
Lage Raho Munna Bhai (2006) was the first Indian film to be screened at the United Nations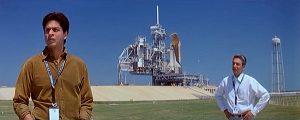 Swades was the first Indian film ever to be shot at NASA's Kennedy Space Center in Florida.
Highest box-office films of all time with adjusted gross: Baahubali 2: The Conclusion (2017) ₹1429.84 crore, Sholay (1975) ₹697 crore, Mughal-e-Azam (1960) ₹695 crore, Hum Aapke Hain Koun…! (1994) ₹1,197 crore, Dilwale Dulhania Le Jayenge (1995) ₹915 crore, Ganga Jamna (1961) ₹793 crore, Raja Hindustani (1996) ₹691 crore, Mere Mehboob (1963) ₹665 crore, Naya Daur (1957) ₹652 crore, Dangal (2016) ₹604 crore, Gadar: Ek Prem Katha (2001) ₹596 crore, Bahubali: The Beginning (2015) ₹587 crore, Kuch Kuch Hota Hai (1998) ₹565 crore, 2.0 (2018) ₹565 crore, PK (2016) ₹565 crore, Muquaddar Ka Sikandar (1978) ₹550 crore, Bobby (1973) ₹517 crore, Karan Arjun (1995) ₹516 crore, and finally 3 Idiots (2009) ₹515 crore.
Besides being an actress, Priyanka Chopra, is also a singer and released English language singles including 'Exotic', 'I Can't Make You Love Me', and 'In My City'. She has also sung on Bollywood soundtracks like Barfi, Mary Kom, Dil Dhadakne Do and more
Farhan Akhtar is also a singer who first showed his vocals in Rock On, then appeared on more OST's including Zindagi Na Milegi Dobara, Dil Dhadakne Do, and Rock On 2. He also released an English language album Echoes.
Amitabh Bachchan has done many voiceovers for films including Bhuvan Shome (1969),Bawarchi (1972), Balika Badhu (1975), Tere Mere Sapne (1996), Hello Brother (1999), Lagaan (2001), Parineeta (2005), Swami (2007), Jodhaa Akbar (2008), Zor Lagaa Ke…Haiya! (2009), Ra.One (2011), Kahaani (2012), Krrish 3 (2013), Mahabharat (2013), Kochadaiiyaan (Hindi Version) (2014), and The Ghazi Attack (2017).
Big B has also sung for the movies many times including Bol Bachchan, Kahani, Cheeni Kum, Bhoothnath, Delhi 6, Sisla, Wazir, Don, Kabhi Kabhhie, Sarkar, Thugs of Hindostan, Baghban, 102 Not Out, Kabhi Khushi Kabhie Gham, Te3n, Shamitabh, Paa and many more.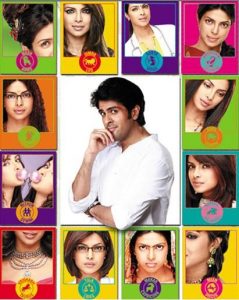 Priyanka Chopra played 12 different roles in What's Your Raashee.
Besides directing such epics, his Koffee with Karan and producing many a Bollywood film, Karan Johar wants to add another job. The acting bug also bit Karan Johar. He even had a small speaking role in DDLJ. In 2007, he said would love to do more roles in film.
Salman Khan is a brilliant artist with many of his painting being sold and the proceeds going to his NGO Being Human.
Parineeti Chopra has triple degrees in Business, Finance and Economics, Vidya Balan has a degree in Sociology, Amitabh Bachchan has double degree in Science and Arts. SRK has a Bachelor's degree in Economics, Ayushmann Khurrana has a Bachelor's degree in English Literature and Master's Degree in Mass Communication, and Ritesh Deshmukh – Architecture!
Many stars have been awarded with honorary PhD degrees including Big B, Akshay Kumar, SRK, Shabana Azmi, Javed Akhtar, AR Rahman, Lata Mangeshkar, Aamir Khan, Preity Zinta, Sharmila Tagore and Vidya Balan.
Anurag Kashyap, Zoya Akhtar and Anupam Kher were invited to be a part of The Academy of Motion Picture in 2019. Shah Rukh Khan, Naseerudin Shah, Tabu and Madhuri Dixit are also members.
Waheeda Rehman has played both mother (Trishul) and love (Adalat) to Amitabh Bachchan.
Alka Yagnik and Ila Arun shared the best female playback award for the song 'Choli kay Peechaye kya hai' in Khal Nayak, the only time this has happened. This song was also protested by as many as 42 political parties and gained the most international fame at the time for its double meaning.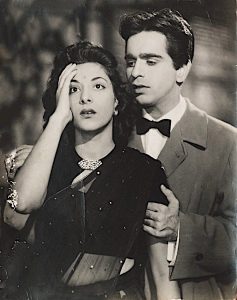 Sunil Dutt was on the radio and really wanted to interview his favorite actress Nargis. However, he could not say a single word to her when it was set up so it was cancelled. In a twist of fate, he worked with her in Mother India (1957), they subsequently fell in love and got married.
So here are 118 facts for you Bollywood ladies and gents or is it heroines and heroes? One for each year that the film industry has been active and a bonus one because we are kinda like that. We hope you learnt something new about the industry you love so much and don't forget to share the list with other film lovers who would love to put their knowledge to the test.