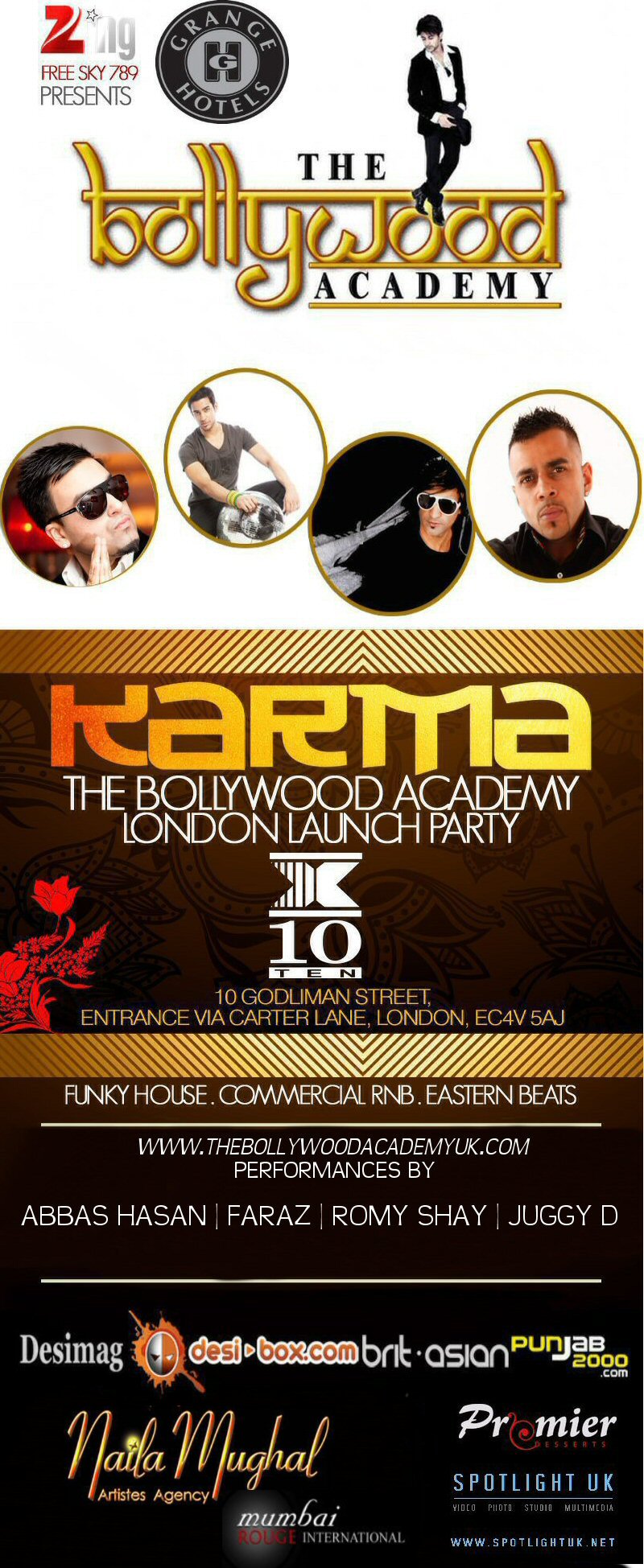 Due to the success of the Award winning Acting and Dance Academy in Birmingham, The Bollywood Academy in association with Bollywood, music and entertainment channel Zing, has now launched in Harrow London, and further branches in London will soon be opening.
All students, after completing a course at The Bollywood Academy, will get signed up with Naila Mughal Artistes Agency to participate on Films, Shows and Events Worldwide.
Naila Mughal  has worked in the Bollywood Industry for over a decade. Naila is renowned for her work as a Casting director, Film Production Manager and Events Manager and is very well connected to the Bollywood Industry. She has worked alongside many stars such as Shahrukh Khan, John Abraham, Arjun Rampal, Salman Khan and Kareena Kapoor amongst others.
To celebrate, Faraz Chohan, founder of The Bollywood Academy and Naila Mughal  have partnered up with Channel Zing and Entertainment specialists Voodoo Entertainment, to bring you this stunning event on the 4th November 2011 at  Club Ten, Grange Hotel St Paul's, 10 Godliman Street, EC4V 5AJ. Doors open 9.30pm. Media Press Conference will be from 9pm-10pm.
Faraz is a multi-talented dancer, actor, singer and teacher and has done over 3,000 shows all over the Globe. There will be live performances from the 'entertainer' Faraz Chohan himself along with his dance academy students.
Live Performances on the night: Faraz will be joined by sensational Canadian-born French-Asian pop music artist,  Abbas Hasan, who will perform his No.1 hit songs  'Sona', and 'Habibi'. Juggy D,  British Bhangra singer from Southall who's Album made it to the top 20 Best Seller at HMV & Mr Bollywood himself Romy Shay who recently dropped his debut single feat Shilpa Shetty!.
TV channel Partner Zing will also be present on the night with its crew. Think Bollywood, think Zing. Aimed at Bollywood lovers, Zing showcases entertainment with Bollywood at its core – featuring playlists comprising movie hits and classics, British Asian music, as well as behind the scene shows, Bollywood star exclusives and the UK's leading Bollywood magazine show with a uniquely British flavour, Brit's Bollywood. Available free on Sky 789 and Freesat 509.
Archana Kanade, Zing Channel Head, UK said, "Zing brings Bollywood to life with a packed line-up of events and interactivity, which give fans an opportunity to not only experience the Zing vibe but be a part of Bollywood itself."
Celebrities like Ameet Chana will also be attending the Launch Party and a host of DJ's playing all your favourite tracks. This is sure to be an absolutely amazing and unforgettable night to remember!
Website link: www.thebollywoodacademyuk.com