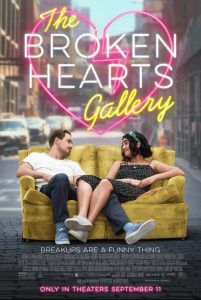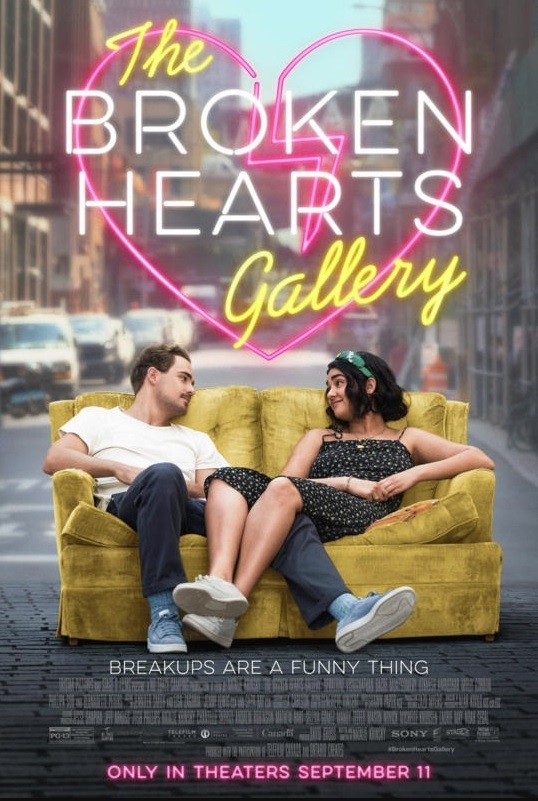 Romance Comedy fans rejoice, the genre is back at the movies with the new film The Broken Hearts Gallery. Directed by Natalie Krinsky, the film stars Geraldine Viswanathan, Dacre Montgomery, Utkarsh Ambudkar, Bernadette Peters, Phillipa Soo, Molly Gordon, and more.
What if you saved a souvenir from every relationship you've ever been in? The Broken Hearts Gallery follows the always unique Lucy (Geraldine Viswanathan), a 20-something art gallery assistant living in New York City, who also happens to be an emotional hoarder. After she gets dumped by her latest boyfriend, Lucy is inspired to create The Broken Heart Gallery, a pop-up space for the items love has left behind at Nick (Darce Montgomery) struggling hotel. Word of the gallery spreads, encouraging a movement and a fresh start for all the romantics out there, including Lucy herself.
To set the scene

It has been years and years since a good romantic comedy has played on the silver screen and finally we have a really, really good one. The Broken Hearts Gallery captures the magic of the golden age of rom-coms ala the Nora Ephron and Richard Curtis films. It harkens back to that romance, the comedy, the feeling and most importantly the development towards love and the will they or won't they and will they be happy in the end. It is a film I would have loved back in the When Harry Met Sally, Sleepless in Seattle days, to the epicness of Love Actually and loved it even more because it has been so long. This film fits right in that oeuvre and in some ways takes that genre of storytelling even higher.
This is in the vein of the classic romantic film, but it also a new story, because the underlying tale is about broken hearts, recovering, and letting go. That makes the story resonate even deeper. So many of the stories of the brokenhearted and their mementos of the relationships were so moving. Especially the champagne… tears! Also without giving anything away, when you add in the why Lucy started saving things the film comes together to be even more heartfelt than you ever imagined it to be. I really liked that it was not until almost the end that you found that reason out because it made you think about the story again and made you want to see it again having that in mind. Krinsky did a brilliant job bringing this all together.
Along with the moving, there is also a lot of funny, a lot of energy, and a lot of great moments. The pace did get a bit frantic at times, with one scene on another on another but overall it flowed. I laughed out loud several times and even more, I smiled throughout the entire film.
I smiled mainly because of the energetic and full of life and heart performance of Geraldine Viswanathan. She has this light to her that just sparks off the screen. Even the moments when she is broken-hearted you still feel her deep energy in her sadness. She absolutely made the movie. She is mad-cap in someways which I believe is what makes a rom-com heroine so good. She is Katherine Hepburn, mixed with Meg Ryan and a bit of Sandra Bullock in feeling and energy but at the same time she is totally her own and she is brilliant. I cannot imagine another actress playing this role. I do wish the director had let her have more of a slower pace sometimes because when she had those moments they were fabulous. This also may come down to editing. However, that is being nitpicky. The Broken Hearts Gallery is so good and so full of heart because of her! I cannot wait to see her in more characters.
Darce Montgomery as Nick was also fantastic. He was the perfect foil to Viswanathan's Lucy. He had this quiet desperation that you felt, but you also saw his energy and his enjoyment of Lucy. His eyes spoke volumes many times when he did not say much. The final grand gesture and the look on his face… yes, swoon! He felt real and not someone who was playing a guy who was lost, having trouble and pessimistic but coming into the light. He was Nick and it made the movie that much better.
The two of them together were absolutely superb. In their scenes together they had this flare of light sparking off each other. They felt so real in their interactions, you could see his amusement – you could see her come on Nick-ness! It was really so true. Overall, I really loved them as they went through their journey towards unbroken hearts.
The rest of the cast was also fabulous. As Lucy's two friends, Molly Gordon (Amanda) and Phillipa Soo (Nadine), were the best friends you would exactly imagine Lucy would have, full of odd quirks but full of support and love. Both performances were so outstanding. Also, applause must be given to Artura Castro as Marcos, he was understated but so, so funny that the movie would be less without his performance. Of course, and probably needless to say, Bernadette Peters was brilliant. The moment when she opened up to Lucy – it was so honest and true. She is just such a fine actress.
This is a movie that the world needs today. It is full of heart, full of lightness, full of joy, full of touching moments, full of laughter, and most of all in the end it is overflowing with all kinds of love.
The film is in theaters in North America now.