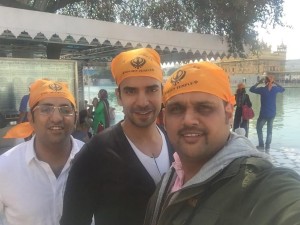 Director of Love Shagun, Saandesh Nayak and the cast of the film, Vikram Kochchar and Manit Joura recently visited The Golden Temple. They have been on an extensive tour of Punjab to promote the film. Having received a raving response, sources confirmed that the exhibitors have offered the makers 150 screens extra. The director and the cast were so overwhelmed with this response, they decided to give thanks and pay their respects by visiting the holy shrine.
Ever since its release, fans seem to completely smitten with Anuj Sachdeva's cute nerdy look!
Here's wishing the cast and crew all the success on the film!
Love Shagun is directed by Saandesh Nayak, produced by Isha S Nayak under the banner of  Saanvi Nayak Films. The film released on 26th Feb, 2016.