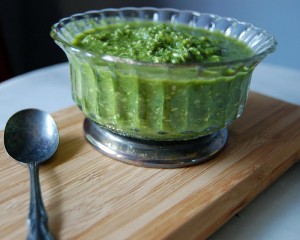 Mary's bright "grasshopper green" chutney is a Proustian unifying memory for Saleem and the trigger for his exploration of the past, "The taste of the chutney was more than just an echo of that long-ago taste – it was the old taste itself, the very same, with the power of bringing back the past as if it had never been away…Once again an abracadabra, an open-sesame: words printed on a chutney-jar, opening the last door of my life."
The "chutnification of history" is a way to retrieve and interpret memory. On the last pages of the novel Saleem describes this, with the same words as the movie's ending, "One day, perhaps, the world may taste the pickles of history. They may be too strong for some palates, their smell may be overpowering, tears may rise to eyes; I hope nevertheless that it will be possible to say of them that they possess the authentic taste of truth…that they are despite everything, acts of love."
Saleem's memories of his childhood and of home are wrapped up in his ayah Mary's green chutney throughout Midnight's Children. The bright green condiment is always on the table, and served with every meal, including breakfast. When Mary consoles the young Saleem in the hospital after the startling revelations of his "bad blood", she promises him "all the chutney in the world". On Saleem's lonely first night in his aunt Emerald's household, he has a photo of Mary and a jar of her chutney on his bedside table: his only comforts. And when Mary meets teenage Saleem at the Karachi train station when he returns from exile, the first thing Mary offers to do for him is to make his favourite chutney. And of course the discovery of Mrs. Braganza's bottled chutney is…well, momentous.  As Saleem says in his voiceover, narrated by Salman Rushdie, "Sometimes emotions are stirred into food and become what you feel. And sometimes people leak into each other, like flavours when you cook."
The chutney that is served in Midnight's Children would be made fresh every day, by hand: a stunning hit of fresh herbs spiked with green chiles and tart with lime juice. In India there are as many recipes for these kinds of homemade chutneys as there are cooks. We are offering a very flexible and easy recipe from Vimla Mehta, Deepa and Dilip's mother. A delicious family favourite. This chutney can be assembled in a flash, using a food processor, or ingredients can be minced by hand. Green chutney is always a welcome addition to a meal: with rice, as a dip for deep-fried pakoras or Indian breads, or as a condiment sauce for grilled meat or fish.
Fresh Green Chutney Recipe
Ingredients:
About 2 cups fresh coriander (cilantro) leaves and fine stems
About 1 cup loosely packed fresh mint leaves
2 to 4 green cayenne chiles (the long shiny green ones), coarsely chopped
¼ to 1 teaspoon dried red chile powder (if unavailable, use 2 more green chiles)
3 medium garlic cloves, peeled and chopped
1 tablespoon fresh pomegranate seeds
¼ to 1/3 cup freshly squeezed lime juice
1 teaspoon sugar
3/4 teaspoon sea salt, or to taste
¼ cup plain, full fat, drained yogurt (optional)
Method: 
Rinse the coriander and mint in cold water and then drain thoroughly. Place in a food processor along with all ingredients except lime juice and optional yoghurt. Process to a coarse paste. Transfer the mixture to a bowl and let sit until ready to serve.
Shortly before serving, add the lime juice, tasting as you do so, and mix well. Adjust salt if necessary. Adding the lime juice at the last moment keeps the green colour and the flavours sharp. If you want to smooth out the flavour and add richness, stir in the yoghurt.