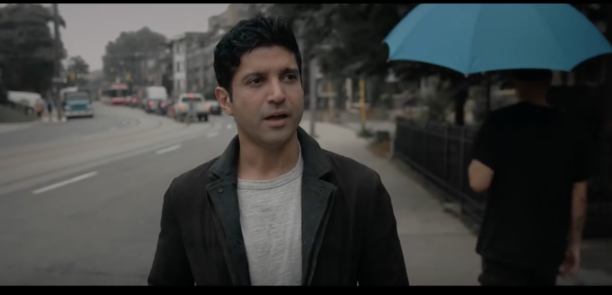 We first heard and loved the tune and now Farhan Akhtar has shared the video for his debut single, 'Rearview Mirror', the first single from his upcoming debut album Echoes, which will drop on January 25th.
Farhan says, "I wanted the video to reflect my own experience of moving on from a situation that seemed devastating into something new and hopeful. It's about passing on the sentiment of looking forward and embracing positive change."
The video follows three strangers as their stories interweave, from simply passing in the street to sparking life-changing outcomes, while Farhan sings. Accompanied by the euphoric track, the video visualises the song's narrative of reflecting on changing personal circumstances.
Farhan has written and recorded his deeply personal debut album. Echoes is the story of his life, a set of classic-sounding, self-written songs that reflect a childhood steeped in the greats of both Indian music and of western rock and pop. Recorded in Milan, the rich, melodic album was produced by Grammy-winning producer Tommaso Colliva (Franz Ferdinand, Jesus and Mary Chain, Muse).
A hugely influential figure in India, and major Bollywood star, Farhan's wildly successful career encompasses the roles of actor, screenwriter, director and producer. He has also written music for various Bollywood films including Bride And Prejudice and the critically acclaimed Rock On!! for which he also sang.
Farhan is also using his public platform for change, which includes him being the South Asia goodwill ambassador for UN WOMEN – The United Nations Entity for Gender Equality and the Empowerment of Women. He recently launched the campaigning organization in India, MARD – Men Against Rape & Discrimination, which seeks to change male attitudes and bring positive change to the role and respect of women in the sub-continent.
And now, with his tuneful, universal debut album, this gifted musician is ready to speak to people in a whole new winning way.