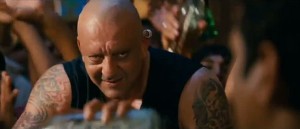 Ever since the launch of the Agneepath trailer, Sanjay Dutt's bald and mean look as Kancha Cheena has been in talks not only in B-town, but also had the film traders prophecying that this role might turn out to be another great milestone in the actor's career.
Sanju is very happy about the chance he got offered by producer Karan Johar and writer-director Karan Malhotra. "I was spellbound by the way Karan (Malhotra) conceived his Kancha Cheena and happy that I was getting a chance to show people what I was capable of as an actor," he beams, adding that at first he was wondering "how I could play someone so chillingly evil".
Well, he obviously could, and his co-star Hrithik Roshan is sure that Sanju's Kancha Cheena will be as unforgettable a movie villain as Amrish Puri's Mogambo (Mr India). A statement which makes Sanju smile: "Mogambo and Sholay's Gabbar Singh are my all-time favourite bad men," he assures. At the trailer launch he had named "Gabbar" Amjad Khan as his favourite villain actor.
Sanju also underlines Karan Johar's statement that this Agneepath will not be a remake but rather a tribute to Mukul S Anand's Agneepath (1990). It will be "more earthy, raw and grounded," he says. Some of the old characters like Mithun Chakraborty's role were dropped from the story while new ones like Rishi Kapoor's Rauf Lala were included. This new Agneepath will be a new interpretation of the Vijay-Kancha story, not a copy of the old one.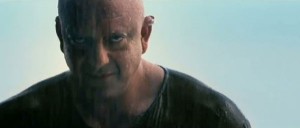 That's also why Sanju paints another Kancha Cheena portrait than the suave Danny Denzongpa in 1990, and the most obvious difference is Sanju's clean-shaven head. "We'd earlier thought of going in for prosthetics but when we reached Diu it was so hot that the make-up started to melt. That was a problem because it took three hours to put it on and two hours to take it off. So, I decided to go bald. And when I looked into the mirror after my session with the barber, I got a shock because I'd never had a mundan (tonsure) even as a child," he says and adds with a laugh that his twins Iqra and Shahraan at first were confused by their dad's bald look. But they soon got used to it, especially as Sanju spent every weekend at home during the long schedule in Diu. "It was a long ride after a physically gruelling schedule but the children are too young and I didn't want to disconnect with them for 60 days," he explains and adds, "Now they are wondering why small, prickly hair have suddenly sprouted". No doubt, Sanju is a very happy family man, and he knows whom to thank for: "Having Manyata as my wife is the best thing that could have ever happened."
The first look of Agneepath was launched on August 29 and was immediately creating waves. "With over 80,500 hits within 48 hours of Agneepath's trailer being uploaded on the official YouTube channel of Dharma, this is the first time that a movie trailer has generated so many views on a single site alone," Dharma Productions happily reported. Besides Hrithik's intensity, it was above all Sanju's evil and menacing look which grabbed eyeballs even on many other websites. Many people compared his look with Lord Voldemort and are looking forward now to the Hrithik-Sanjay fight on January 13, 2012.
For a whole week after the trailer launch, Sanjay Dutt was trending on Twitter in Mumbai. But surely not only because of the "Dark Lord of Bollywood". In those days people also got to see new promos of David Dhawan's Rascals starring Sanju, Ajay Devgn, Kangna Ranaut and Arjun Rampal. "We had a blast shooting for Rascals," Sanju says about his maiden home production which will be released on October 6, three weeks before SRK's Ra.One where he will be seen in a cameo. And not to forget the first witty promos for Bigg Boss 5 showing Sanju and Salman Khan in a playful mood. "The chemistry between Salman and me is evident in the promos," Sanju smiles. "He's like the younger brother I never had and I'm glad he's gone to the US for treatment. I pray that he returns soon, healthy and cured."
Seems like Sanju is a jack of all trades nowadays. But surely he finds his biggest happiness at home with his wife and his cute twins who will turn one year on October 21.