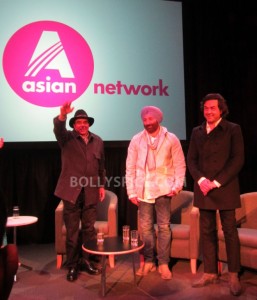 On Monday 12th November 2012, BBC Asian Network presenters Bobby Friction and Anushka Arora sat down for an intimate in conversation with the Deols in the BBC Broadcasting centre in London.
Legendry actor Dharmendra and his sons Sunny and Bobby Deol warmly spoke to audience members and the BBC presenters about working in the film industry, their relationship as a family and many other things.
The actors who where in England shooting the sequel to Yamla Pagla Deewana started of the in conversation by talking about the sequel to the film. Bobby Deol said, "YPD 2 is basically a franchise, it's not really a continuation of the first film. Basically Dharam Singh, Paramvir and Gajodhar are still the same."
Bobby went on to tell the audience why they chose to shoot in England saying, "We planned to shoot the film where people would associate with the characters and a lot of us are living in England so we thought of shooting in England."
On shooting in the UK Sunny Deol told the audience, "There is so much love and warmth you can feel it over here. That is basically why we are here. London has been seen so many times over and over again in so many films so we thought of moving up to Midlands."
The Deol's then went on to talk about their relationship with each other and were full of love and praise for each other. They shared that they had not let the stardom that was always around them affect them with Bobby saying, "What's good about our family is we have seen everything growing up in front of us and it has never affected us. For me my Dad has never been an actor, he has been a hero in my real life because I look up to him."
Dharmendra ji added, "We all believe in humanity first, rest is later, artist, star whatever it is. I believe in humanity, they follow me. Humanity is above everything. A good human being will be remembered forever."
Sunny Deol pointed out that living in an extended family has helped to keep their feet firmly on the ground saying, "We are all a joint family. Grandfather, Grandmother, aunties and so many relatives have always been together amongst ourselves that the have all rubbed on you somewhere down the line."
"The life has been give and take from everywhere. There are so many of us around each other that we really do not know who we are, we just feel we are a family.  We never think what you ask us about stars and anything, it doesn't exist for us."
Bobby Deol lovingly spoke about how he does look up to Sunny as a father figure saying, "He has always been like a father figure. It's funny because when his son, the older one, comes up and he is a little troubled I say, "Look your getting upset about that, I have been through that I am his brother" (laughs).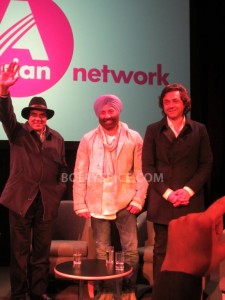 "He has always been there to look after me, he has always gone out of his way. In fact when my first film was being made, no brother will put his work aside and start concentrating on his younger brothers work, he did that. He didn't shoot for almost a year, and no-one does that and I am really blessed."
Bobby Friction and Anushka Arora asked Dharmendra ji whether he imagined he would achieve the success he did when he came to Bombay.
"No I never thought. But it was difficult to come to Bombay. My father was very much against me, he used to shout at me and I had stopped the idea of coming to Bombay, but luckily there was a Filmfare talent contest in 1958 and I filled the form and sent my photograph, audition came and I was selected. This is how my journey started, this is destiny actually otherwise I would have been ploughing in the fields."
Sunny Deol went on to reveal before he started his career he joined the Old Rep Theatre in Birmingham to help him get out of his shyness and because no one knew him in England. The actor said, "being Dad's son life is not normal, either they treat you nicely or treat you horrible, they don't treat you balanced, so that's why I came to England over here nobody knows me and I would be able to do what I wanted to do. Basically I am shy and I wanted to get over that and that's why I came over here and got back and did the first film."
Bobby Deol shared that the best part of watching his father when he went out was the reaction of fans. He said, "I used to see people meeting him and his fans didn't meet him as they were looking at an actor, they used to look at him as a brother or a father. The love in their eyes was totally different."
"Even to date when I see other actors around with my Dad, people meet the other actors in a very different way, but when they see my Dad there is more love and affection. That's what I wanted to be able to get from the people as how they love my Dad. I have been lucky, I have been blessed, that they love my family so much thanks to my Dad. Whatever we are today is thanks to my Dad."
Another question that was put to Bobby Deol was how he felt about his first film. The actor said, "I was excited I had always wanted to be in movies. You are nervous, excited. It was so much fun doing the first film, your best memories will always be the first film because everything was new, everything was a first time and it was a great time."
Speaking about his feelings for his brothers first film Sunny Deol told the audience "We just wanted to see that everything was good, everything was the best. I was very confident about the film and everything. I was very sure that this film was going to be successful."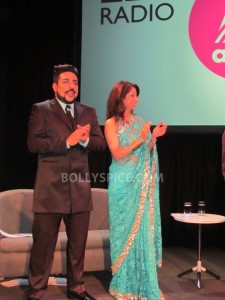 Sunny Deol went on to reveal he is planning to make a sequel to the film Ghayal, saying, "I am developing it, hoping to shoot the film next year and bring it across. The first film itself has left a great deep impression in people so one has to live up to it. A sequel is going to be there."
The audience also had a chance to put questions to the Deols. One question put to Dharmedra was whether he feels the industry has changed.
"Well that time our stories where predictable, even then people would go and see it, they knew the situations and still they would clap for that. More emotions. Now things have changed a lot. We have started believing in fast food, so we are making fast movies."
Speaking about whether he has any ambitions left to achieve. Dharmendra said,  "There is never end of ambition and it shouldn't be. Life is to go on. There should be excitement, feel like doing this and this, otherwise it is too boring."
He added, "You should always have some positive things. Ambitions, I wanted to be an actor so I become, now I want to be one up so I should be known for more and more years, it goes on, it never ends. You can conclude and make it whatever you feel like."
Sunny was asked whether he will be directing another film with the actor revealing, "Yes definitely I will but I have not thought of it as yet. But I will be directing."
When asked about their favourite female co-stars the Deol's shied away from answering but Dharmendra ji did reveal Bobby Deol used to carry a picture of Jaya Bachchan in his pocket saying, "I can tell you about him (points to Bobby), his favourite was Jaya Bachchan now, she was Jaya Bhaduri that time. When she acted with me in Guddi, he used to carry her photograph in his pocket. He was small. I remember that!"
The in conversation ended with the Deols thanking fans for their support across the years with Bobby Deol saying, "I am really overwhelmed. I am very happy to be here with all of you all. I would like to thank all of you all for loving us so much and giving us the strength we need to be here as actors on screen and I wish you all the best in life, whatever you want to do I hope you all achieve it, your family everyone and thank you so much for everything."
The full in conversation is available to watch on the BBC Asian Network website now with highlights from all the in conversations available to watch on TV (UK only).