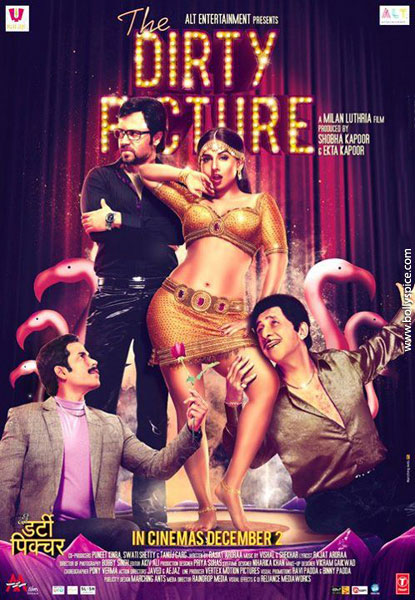 The Dirty Picture is the upcoming biopic of sensual 80s screen siren, Silk Smitha, starring Vidya Balan, Emraan Hashmi, Naseeruddin Shah and Tusshar Kapoor.
When a film is called "The Dirty Picture" and is  set in the 1980s, a decade not entirely reknowned in Bollywood for films filled with good taste and high artistic aspirations –  you know there are going to be certain expectations of the soundtrack.
It was the era of  Disco Dancer and Ilzaam, a decade when Bappi Lahiri's infectiously cheesy disco anthems ruled the airwaves; an era (like now) when Bollywood also often looked South for inspiration, resulting in surprisingly saucy, glitz laden epic dance numbers in films like Himmatwala.
With The Dirty Picture soundtrack Vishal-Shekhar have essentially created a time-machine to transport the listener back to the full-on filmi glory of the early Eighties.
The track that captured everyone's attention with the trailer, Ooh La La, kickstarts the album. Combining both cheesy disco pop and vaguely Southern inflected beats, Ooh La La firmly cements a retro Eighties feel with its cute oldskool disco synth effects that kick in halfway through the song. The persistent percussion – handclaps, a variety of drums,  is infectious, and vocals from Shreya Ghoshal and Bappi Lahiri add a touch of authenticity – plus as they trade verses they sound like they are having an absolute blast singing! But if there's one thing you'll remember from this song, it's Shreya's  delivery of the lyrics – at one point gradually becoming more and more sensually breathless until she's actually panting. Dirty Picture indeed!
An alternate mix of the song Ooh La La (Dhol Mix) is included on the album – presumably for those wanting a dancefloor friendly version. The original is pretty dancefloor ready as it is, but the Dhol Mix (as the name suggests) amps up the bhangra factor a little bit, kicking up the dhol in the mix, and modernises the synth effects to make them a little more Noughties, a little less Eighties.
Ishq Sufiyana is exactly what the title suggests: a Sufi inflected love ballad. The  arrangement, characterised by driving percussion and luscious, soaring strings, is kept fairly simple to allow focus on the gorgeous, confident voice of vocalist Kamal Khan. The melody is absolutely lovely.  I think this one is a slow burner of a track that will get under your skin the more you hear it. An alternate version of the track, Ishq Sufiyana (female), voiced by Sunidhi Chauhan (who shows off her vocal range and flexibility!) also appears on the album.
Honeymoon Ki Raat sounds like a song picturised in a cheesy 80s nightclub or hotel room – and it has all the cheesy pun lyrics and synth effects to go with it: e.g "kamadev ka sutra". It's not a terrible song, but it's almost over the top in how cheesy and in your face it is  – almost going for an 80s disco James Bond vibe –  and that won't be to everyone's liking. It's definitely a successful recreation of a certain kind of 80s film song – the kind that depends heavily on the picturisation for context and success. Sunidhi Chauhan proves she's a chameleon in her vocal delivery – her vocals here are a touch husky at points, a touch breathy, delivered like a nightclub vixen.
Middle Eastern influences and a breathy spoken word intro give way to a thumpingly hypnotic beat and insane, double entendre-laced lyrics in Twinkle Twinkle. Shreya Ghoshal channels her sauciest side and is joined by Rana Muzumder who livens up the second half of the song all too briefly. Infectious and addictive, this song is over way too soon, and I can't wait to see how it's picturised!
Cheesy disco-pop and sly raunchiness combine in The Dirty Picture soundtrack – a short, but supremely evocative Eighties recreation. It's frothy, it's fun, and above all, it's faithful to the era.