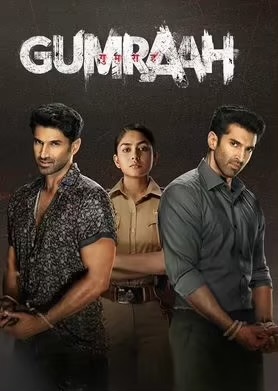 Gumraah
Starring Aditya Roy Kapoor, Mrunal Thakur
The trick of enjoying Gumraah is two-pronged: go with zero expectations, and if you haven't seen the original Tamil film Thadam, you would be hooked to the story of identical twins (told apart in the Hindi version by one of them wearing printed shirts) who meet in a police station as prime crime accused after one of them snuffs out a wealthy suburban guy , apparently to steal his 20 lakhs.
But hang on! Nothing is as simple as it seems. Not that Gumraah revels in unnecessary complications. It is a neatly done, nominally engaging whodunit crime caper where the fun quotient remains uppermost. The topping never loses it tangy flavour, and that's what keeps our interest-level perked up right till the end.
Oh, one more thing: unlike several recent crime thrillers that start off well and come to a deadend at the climax, Gumraah doesn't lose it way towards the finale. It remains clearheaded and uncluttered to the end. There is a sense of mischief in the police procedural as one of the twins "plays" the female cop Shivani Mathur .
I am not saying it. She is.
Mrunal, by the way, seems to have waltzed into a role of a tough female cop tailormade for Radhika Apte. We don't know where Shivani comes from. Or where she will go after the film is over. Throughout the bracing police procedural director Vardhan Ketkar focuses on creating an immediacy and a fresh energy rather than leaning too heavily into the Thadam. Consequently the remake exudes a sense of renewed momentum.
The saga of two identical twins who move in separate directions has been done to death. Gumraah reawakens interest in the Ram Aur Shyam genre without making the twins illustrative . Both Arjun and Ronny in Gumraah have their grey areas . Both are forced to a corner where they must tackle the demons of their past, and both comes across as flawed human beings capable of murder.
That's what makes Gumraah a notch more engaging than expected. Aditya Roy Kapoor works hard at giving the two characters a distinct identity. He is a competent actor waiting for a more than competent director to take him into the big league. In the meantime there is Gumraah. It doesn't lose its way. And that, given Bollywood's recent track record, is saying a lot.