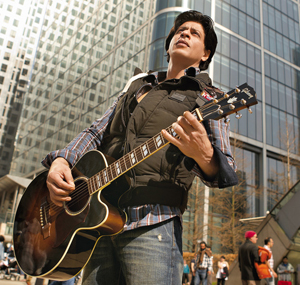 They say dreams maketh a man. If one person has adequately proved the idiom to be totally correct, it is Shah Rukh Khan. From a nobody in the past to possibly the most recognizable face of Bollywood today, he has certainly come a long way. The story of his accession to the throne of Bollwyood has been discussed million times and is well-known. What is still intriguing is the manner in which he has influenced the face of Hindi Film Industry in a career spanning two decades. His contribution to the Indian cinema is what must be acknowledged on his birthday.
In a post-liberated India high on economic reforms, emerged an actor who could portray obsession with utter conviction and style. This contrasted with the orthodox presentation of heroes in Hindi movies in the past. It broke the set rules. Suddenly the negative attribute of a lead actor became the flavor of the season. Darr and Baazigar is where SRK challenged the norms of Hindi cinema. Although Anjaam failed but till then a bold statement had already been made by the future Baadshah of Bollwyood-SRK. Amidst all this,he could guarantee a heartfelt portrayal of a loser who would eventually emerge as the winner. Kabhi Haan Kabhi Naa remains one of the most effervescent performances of SRK in his career.
Then came the movie that changed the definitions of romance, imparted it a new meaning. The nation went in a tizzy as thousands flocked outside Cinema Halls to catch the now eternal love saga of Raj and Simran. DDLJ not only turned SRK into a formidable and bankable star but also made him the darling of the nation.This movie can be considered iconic as it merged the NRI sensibilities beautifully with the rootedness of Punjabi culture. It provided the nation with a new love anthem that would be unparalleled till date. Such is the sheer importance of it that as of today it is the benchmark for any modern love story. SRK's romance with the female audience began then and is strong even today as DDLJ completed its 17 years.
SRK did many films thereafter, some great love sagas viz. KKHH, Kal Ho Na Ho, Veer Zaara, RNBDJ, classics like Swades and Chak De India, challenging roles like Rizwan Khan of My Name Is Khan. His next Jab Tak Hai Jaan is scheduled for a Diwali 2012 release. But the essence of being SRK is in his ever energetic self. He is like a kinetic energy particle that sometimes may hit the wrong mark but wherever it hits,it does make an everlasting impression. Beneath the flamboyant and confident exterior lies a child who still misses his parents and loves his family immensely. That marks his key to success.
One may not be exaggerating if one calls him India's first true globally loved star who excites fans in Mumbai and Berlin alike. Hindi Cinema has lived an era of romance that got lost in 70's and 80's through his arms that spread wide open to embrace all the love and happiness around him. That he has done only romantic outings is also a myth. An obsessed lover, a man on vengeance spree, an inspirational coach ,a man suffering from Asperger Syndrome who wants to spread love and peace,a NRI scientist who returns back home after seeing the plight-SRK has done it all. The plethora of roles he has served is exceptional. But yes it is true his romantic avatar is what the world loves. His romance bears the signature of a classic playing the octave of an opera so soothing that the heart feels a solace in the woods of life. His on-screen charisma captivates the imaginations of his fans and treats them to myriad emotions. In many senses, he is the modern India's true iconic star who has helped shape up Bollywood and furnishes changes in its evolutional trend from time to time.
Here is wishing the Superstar a great Birthday and thanking him for the love that he spreads through his movies. Have a great birthday King Khan (from the epiglottis)!