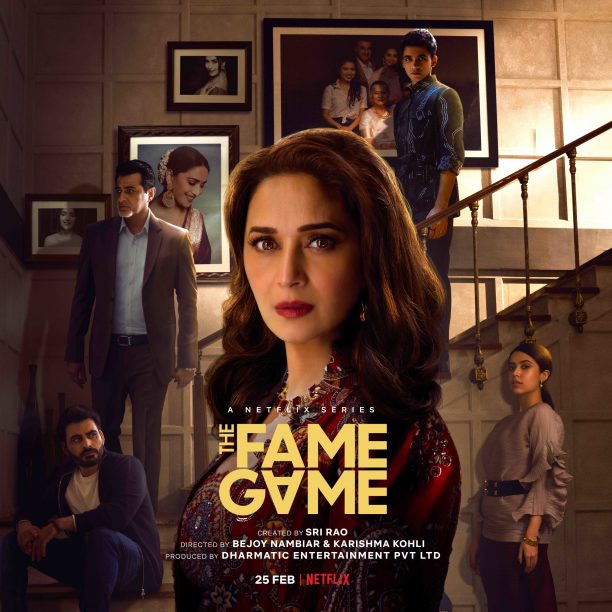 The Fame Game(Netflix, 8 Episodes)
Starring Madhuri Dixit, Sanjay Kapoor, Manav Kaul, Rajshri Deshpande
Directed by Bejoy Nambiar
Rarely do all the components of a webseries, creative and otherwise, come together as fluently as they do in The Fame Game, earlier title more appropriately as Finding Anamika. This IS a series about searching for the superstar Anamika Anand played by superstar Madhuri Dixit, the last of the iconic Bollywood actresses who emerges from her cocoon of self-exile with a performance suffused with subtle flourishes which tell us why she is Madhuri Dixit.
Call her by any another name, Anamika Anand will do. She is still that consummate superstar with that enigmatic smile which tells us everything and gives away nothing.
The other star of this intriguing often enchanting thriller is Sri Rao's writing. Across the 8 episodes Rao leaves not a single loose end for us to mourn and carp over . Nothing happens here without reason. Least of all, Anamika's disappearance at the beginning of the show.
As the skeletons from the cupboards of all those who are ostensibly close to her come tumbling out in no hurry and in undulating waves of tempered revelation, the full picture of the consummate superstar's persona comes together…or does it come undone at the end? We really can't be sure. Because finally what we are left with is more questions than answers. We really don't know Anamika Anand any better at the end than we did at the beginning.
Is that the show's fatal failing or biggest triumph? Is that Madhuri Dixit or Anamika Anand? Iconic songs like 'Channe ke khet mein' and 'Maar dala' are referenced to create a deliberate confusion between the superstar we see on screen and the one playing her.
This is a very strong role for a female hero. Madhuri Dixit does full justice to it. She merges the public diva in the private persona of the unhappy wife(married to a jerk played with conviction by Sanjay Kapoor), and concerned mother of two growing children who have their own very difficult issues as celebrity kids.
Muskkan Jafery and Lakshvir Saran are excellent as Madhuri/Anamika's troubled children Avi and Amyra. While one is wrestling with his sexuality the other is trying to prove she is more than star kid.
The are actually two strongly-etched female heroes in The Fame Game. While Madhuri's Anamika Anand goes missing the compelling Rajshri Deshpande steps in as Shobha Trivedi the investigative office. I wish the writing had not gone into the cop's personal life. The subplot of Shobha's love life is reminiscent of ACP Khan's closeted crisis in Ram Madhvani's Aarya.
Writer Siri Rao understand the pain behind the sham of the entertainment business. He never judges his characters, no matter how deeply and fatally flawed they might be. Even Madhav(played with chilling deep-focus by Gagan Arora) , Anamika's fanatical fan who claims she is his long-lost Aaai(mom), or Anamika's self-serving brash mother(Suhasini Mulay with a gorgeous collection of sarees), or Billy (Kashyap Shingari) her faithful but slippery hairdresser who finally turns out to be not so trustworthy after all, and Manish Khanna(Manav Kaul), her favourite costar and long-standing love interest, are never scrutinized for their spineless action.
Things sometimes get really ugly in The Fame Game. At a press conference 'superstar' Manish Khanna slaps a reporter and all hell breaks loose. If this incident reminds you of a certain actress's run-in with the press, then hang on. This is not the series about film folk that cannibalizes Page 3 gossip to titillate . Its motives in digging out the grime behind the glam are far less salacious . It digs deep into the dirt drawing out dark secrets that are not the least seductive. Just tragic and saddening.