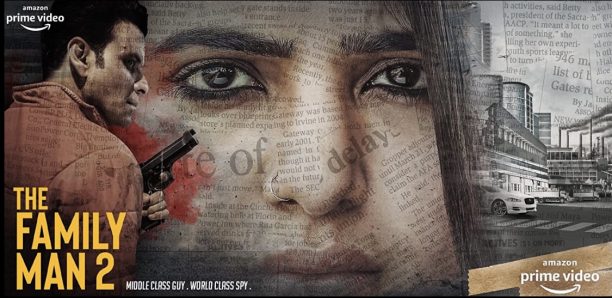 The Family Man Season 2(Amazon Prime; 10 Episodes)
Starring Manoj Bajpai, Samantha Akkineni, Priyamani, Sharib Hashmi
Directed by Raj-DK, Suparn Varma
Good to grow! The new season of Family Man escapes The Curse Of The Second Season. I mean, gawd, look at what happened to Mirzapur 2. The Family Man 2 is a lean, mean, sinewy, sexy, dramatic, and topical piece of work that shows a natural organic growth, from season 1. Though it runs into 10 episodes there is not an ounce of flab, as the sprawling yet taut narrative moves across a luscious labyrinth of global terrorism(helmed by the chilling presence of Samantha Akkineni) and domestic warfare.
Ah, domestic strife! Our unlikely hero Srikant Tiwari is still at it. His wife(played by the underused Priyamani) is still sulking and his children Vedant(Atharv Tiwari) and Dhriti(Ashlesha Thakur) still think their father is a bit of a fool. Little do they know.
Incidentally, or maybe not so incidentally, this time Srikant's daughter has a pivotal part to play in the plot's emphatic action. Can't reveal much. But the way her role shapes up will takes FM fans by surprise.
This season, the action moves to Chennai where Rajalaxmi, a.k.a Raji and her rebel friends are planning a massive attack. The most gripping sequences in the entire narrative spectrum recur each time Akkineni's Raji is on screen. She is ominous in her silences. You know when she erupts there will be pay hell to pay.
The story of her stint as a fearless soldier in Sri Lanka and a cowering sexually harassed civilian in Chennai and …well , whatever happen as the plot explodes into a show of strength between Srikant and his team's Task Force and the rebels, has a life of its own. I would love to see a feature film based on Raji's character.
Manoj Bajpayee's Srikant is a character of immeasurable possibilities. He is hopelessly naïve with his family and devilishly sharp at work. And his partnership with J K Talpade(Sharib Hashmi, brilliant back-up) accommodates some of the series' most entertaining episodes. Apart from a miscarried joke when both of them inadvertently end up in lock-up with a female cop(Devdarshini) mistaking Srikant's desperation for abuse, this partnership sparkles with wit and street wisdom.
There is also a delightful linguistic battle between Srikant-Talpade and their Tamil colleagues in Chennai. The writing never overruns into the subplots. The focus shifts from the main event only as long as the shift doesn't damage the concentrated energy of the rapidly imploding plot. Often-times, the humour is sly to the point of being invisible to the inattentive viewer. To cite an example , at one point the Hindi and Tamil speaking members of the TaskForce fight over a song on the radio. The Tamil chap keeps switching off the Hindi song. The irony is, the Hindi song playing on the radio is 'Sach mere yaar hai', sung and lip-synced on screen by South Indians.
Super-skilled writing and an alert narration that catches the drama even as it falls, make this a constantly watchable sequel with actors from every generation pitching in with performances that sweep the storytelling forward into a sinfully engaging swoop of adventure and drama. Indeed the only good that comes out of crime against mankind such as terrorism is that it yields some terrific art, instant or otherwise.