Starring Ruslaan Mumtaz, Chetna Pande
Directed by Amit Kasaria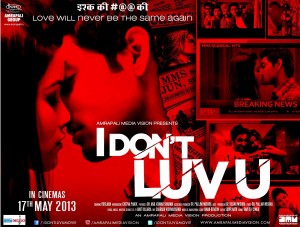 The trouble with a well-meaning film such as this is it cannot take the story and characters to their logical conclusion and somewhere ends up 'tale'-diving at crucial junctures in the plot.
To begin with, we are introduced to Yuvaan and his college friends in Delhi whose only past time is chasing dreams, preferably wet, and in short skirts. The ogling, gawking, giggling, nudging winking references to campus courtship, though neatly filmed by cameraman Saurav Vishwakarma, occupies much too much space in the first hour of the story when we we are told, with far less subtlety than needed, that Yuvaan is an incorrigible flirt.
Yuvaan says he  believes in "sex at first sight" and he isn't joking. Later when he gets into a sexual situation with a girl, he jumps off his bedroom windowsill. This guys needs a shrink for his hard-ons.
Enter the NRI beauty, all sweetness and kindness played by newcomer Chetna Pande. Now here's where the plot needed to get piping hot. We wait to see Yuvaan soften the innocent short-skirted campus queen, a sort of Delhi University version of Rani Mukherjee in Kuch Kuch Hota Hai, and push her to do things she, and he would regret later.
Instead the film goes into long-winded explanations on how Yuvaan doesn't really mean any harm even when he ends up making sexual advances towards the trusting girl. Where the script should have shown Yuvaan as a young sexually over-active lout who takes advantage of the guileless girl it instead shows Yuvaan too as a victim and places all the blame for the MMS scandal on the over-zealous electronic media for over-sensationalizing the recorded clipping that "accidentally" gets on Yuvaan's phone and " accidentally" leaks out.
Though the efforts to portray the perpetrator as a victim are way too feeble and unconvincing the film does make some hard hitting comments on the excessive scandal-mongering of television channels.
The predicament of a hapless unsuspecting girl whose intimate clipping with her boyfriend gets leaked out, was far more poignantly put forward in Anurag Kashyap's Dev D. I Don't Luv U  tries to balance out too many moral issues and ends up neither here nor there. Nonetheless tackling a theme as provocative as a sex scandal is not easy. The film tries to weave a tender gentle love story around an MMS scandal. Thought provoking but not salacious, the film derives a modicum of credibility quotient  from Ruslaan Mumtaz and Chetna Pandey's sincere performances.
Ruslaan does the emotional scenes far more fluently than the campus flirt act. That's the problem here. The film takes up a sexual theme. But its heart is just not in it.