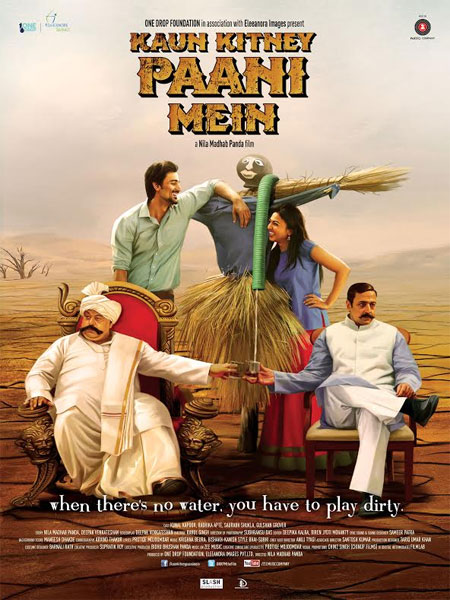 It's not easy to sculpt a satire out of the raw material of misery. In a wretchedly poor part of Odisha there once lived a low-caste lover-boy who swoons over the zamindar's daughter and pays with his life for his misplaced ardour.
From this melodramatic starting point director Nila Madhab Panda (I Am Kalam) weaves an intriguing gentle fable of class differences where water is the precious bartering commodity. So we see an over-the-top prostitute being given pouches of water as her price for …ummm…. service rendered. And we see a derelict and obese zamindar drinking whiskey in lieu of water and when quizzed whether he'd like his drink with water or soda, Saurabh gives his man-Friday the kind of shriveling glance that could destroy a whole village of infidels.
Shukla as the doddering relic of a rapidly evaporating feudal order is in splendid form, as usual. He reminded me of Chabbi Biswas in Satyajit Ray's Jalsaghar….Derelict pathetic and slightly ridiculous with his fake moustache and barren acres of land.
There is an unexpected bout of humour in the proceedings , as Shukla's city-educated son Kunal (long time no see) Kapoor comes home to get his father's water-starved village back on its feet. What ensues is a tongue-in-cheek rendering of Romeo & Juliet with Kunal's character penetrating a neighbouring enemies' village to woo the local politician's daughter.
The relationship grows with a kind of life-affirming naturalness, thanks to Kunal Kapoor and Radhika Apte's ability to create a credible togetherness between the couple.
Director Nila Madhab Panda shoots the growing fondness between the pair amidst the bustle of raucous rustic characters many of whom are played by stiff unconvincing actors. What works are the central performances. Saurabh Shukla all slimy and flatulent suggesting a dismaying decadence, Gulshan Grover the progressive village politician, a little amusing in his earnestness but nonetheless convincing, Kunal Kapoor, wry and devious, Radhika Apte tender trusting and passionate.
There are many passages in the storytelling where the water-centric politics between two warring villages gets submerged in the elaborate network of prototypical comicbook illustrations on the exploiters and the exploited who are in turns, leery and cowering depending on which side of the class-divide they stand. The climax is woefully inadequate and clumsily brought on and does little to gather the principal characters' thoughts together.
But the film works largely because the director injects tenability into his four main characters. Kaun Kitne Paani Mein is a heartwarming satire on the water scarcity executed with care and compassion. The film is shot in rural areas of Odisha where we can actually sense the parched mood of the famished humanity.
This ​is ​a small film with a big heart. Not devoid of flaws but none of them fatal.