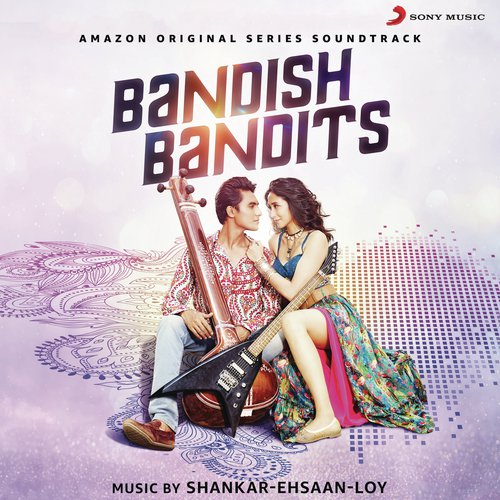 Amazon Prime Video in association with Sony Music Entertainment India recently launched the much-loved soundtrack of Amazon Original Series Bandish Bandits. Marking the digital debut of the extraordinary music composer trio Shankar Mahadeva, Ehsaan Noorani, and Loy Mendosa, the album has received universal acclaim with the songs trending across major music services and mediums. SEL's versatile album, includes contemporary and classical music, through an eclectic mix of classical, folk, pop and fusion tracks created specifically for the show. Some of the powerful vocals of the album include those of Shankar Mahadevan, Armaan Malik, Jonita Gandhi, Mame Khan, Shivam Mahadevan, Shreeya Sondur, among others.
"The music of Bandish Bandits has played a huge part in the success of the series. Audiences have loved the fact that it seamlessly weaves itself into the story and keeps them immersed in it till the very end." said Gaurav Gandhi, Director and Country GM Amazon Prime Video, "That's what takes this beautiful story about two people from different worlds and turns it into an epic tale of traditions, family values and love. Shankar Ehsaan Loy are true masters of their art and the magic they've woven into the show through their music is spell binding. And Sony Music India have been great collaborators, enabling the soundtrack to get the wide reach it deserves. We are delighted to have had the opportunity to work with them, on a soundtrack so unique and timeless that people are bound to remember the music long after they've watched the show."
Sanujeet Bhujabal – Senior Director Marketing & Syndication at Sony Music India said, "In this new reality, we are seeing significant changes in the way content is consumed. There are strong emerging trends in the Indian Music landscape with the growth of OTT Originals shows and the role of music in it. Sony Music India has always sought to take a leading role in spotting global trends and so we are delighted to join with Amazon Prime Video in getting music from their Original Shows to digital music services worldwide. The music of Bandish Bandits by Shankar Ehsaan Loy, which is part of this association between Amazon Prime Video & Sony Music, is climbing the charts and getting a lot of love from music fans."
The album continues to get a lot of love from fans across audio streaming services with both Sajan Bin and Chedkhaniyaan being featured in top 10 on the hugely popular 50 Most Played Hindi Playlist on Amazon Prime Music and Spotify Top 200 charts. The Bandish Bandits album is also among the top #6 most played albums on radio as per National Aircheck & Sajan Bin ranked at #11 on Ormax Heartbeats Chart.
The show is streaming on Amazon Prime now! Highly recommended!