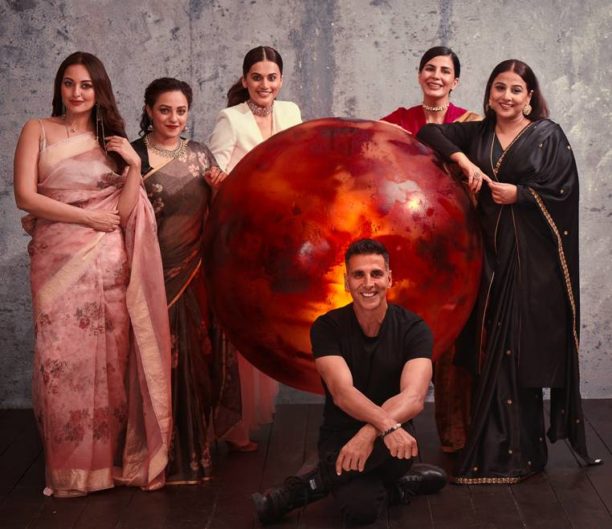 The highly anticipated Mission Mangal is the incredible true story behind India's mission to Mars. Directed by Jagan Shakti, the film stars Akshay Kukmar, Vidya Balan, Sonakshi Sinha, Taapsee Pannu, Kirti Kulhari, Nithya Menen, Sharman Joshi and H. G. Dattatreya.
Mission Mangal tells the true story of Rakesh Dhawan (Akshay Kumar) and Tara Shinde (Vidya Balan) together with a team of brilliant scientists successfully sent a satellite to Mars in their very first attempt, a mammoth feat achieved by no other nation.. The film is a tale of ordinary people doing extraordinary things and inspiring generations to dream big and achieve the impossible.
We have your first song 'Dil Mein Mars Hai' and we have to say it is a fun one! Composed & Produced by Amit Trivedi, and sung by Benny Dayal & Vibha Saraf we get a bit of sneak peek into the lives and the world of Mission Magnal with a fun background beat!
Produced by Fox Star Studios and Mission Mangal is slated to release on India's Independence Day on 15th of August 2019.
In case you want to sing along, like we did while listening here are the lyrics!
Lyrics:
Manzil door door door hai
Mushkil paas hai
Phir bhi khaab khaab khaab mein
Twinkle stars hain
Chaand ko kar ke rahenge
Aaj overtake hum
Poora chance hai
3.. 2.. 1.. boom!
Dil mein Mars hai
Kyunki Dil mein Mars hai
Apne Dil mein Mars hai
Udne ki pyaas hai
Dil mein Mars hai
Om mangalam mission mangalam
Space mangalam shuttle mangalam
Cool mangalam swag mangalam
Hash mangalam tag mangalam
Dream mangalam vision mangalam
Count-down ignition mangalam
Om mangalam mission mangalam
Telescope dhaari, Swaahaa!
Apne brain brain brain ki
Hai kaarastaani
Hum toh dhoondh dhoondh dhoondh lein
Fire mein paani
Fire mein paani
Apne desh desh desh mein
Sab kuch mumkin hai
We don't need need need need
No meherbani
No meherbani
Thode fail fail fail hain
Phir bhi pass hai
Fullto mood mood mood mein
Hum bindass hai
Chaand ko kar ke rahenge
Aaj overtake hum
Poora chance hai
3.. 2.. 1.. boom!
Dil mein Mars hai
Dil mein Mars hai
Apne Dil mein Mars hai
Udne ki pyaas hai
Dil mein Mars hai