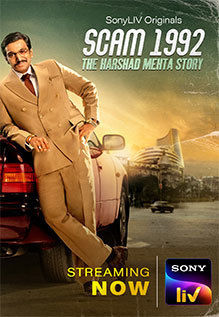 Scam 1992 The Harshad Mehta Story (SonyLIV , 10 Episodes)
Starring Pratik Gandhi, Sharib Hashmi, Shreya Dhanwanthary, Hemant Kher
Directed by Hansal Mehta
There is a certain desperate grace in the Indian workingclass' existence that most filmmakers are unable to capture. Even Hrishikesh Mukherjee and Basu Chatterjee where seldom able to capture that quality of sublimity in the squalor.
Hansal Mehta's narrative, based on the infamous Harshad Mehta Dalaal Street scam, is not afraid to get its feet wet in the mud. He looks at his Gujarati characters with a certain respect and admiration without excessively edifying them. The journey from the cramped two-room apartment to the sprawling glass-encased affluence of Harshad Mehta and his family is delineated with vigorous authenticity.
That the director is a Gujarati and his leading man too is a Gujarati goes along way into constrictive an energetic yet calm edifice of middleclass ambitions and how far an individual is willing to stray from him home territory in pursuit of big bucks.
There is an early sequence on the road where Harshad while driving with his brother Ashwin(Hemant Kher) suggests massive financial mal-appropriation. The brother protests feebly to begin with and then quickly acquiesces to the monstrous illegal plan.
The sense of a moral bankruptcy is never put up for scrutiny in Hansal Mehta's interpretation of a life that was iconized by the whole nation until he was exposed. As Harshad Mehta, actor Pratik Gandhi remains rigidly in character. There is no attempt to make the scamster heroic. Nor does the performance wag its finger at the character's wrongdoings.
While remaining true to journalist Sucheta Dalal and her co-writer Debashish Basu's book, Hansal's deeply authentic series explores Harshad's family, his relationship with chief players of the stock exchange in more depth and detail. What Hansal has done is to open up the Harshad Mehta saga , denuding it of any admirable aura but nonetheless retaining the basic dignity of a saga that changed the way the Indian middleclass looked at money.