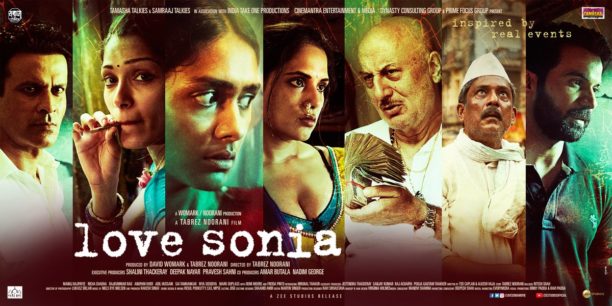 Directed by Tabrez Noorani, the hard-hitting film Love Sonia, inspired by real events is a breathtakingly honest and real look about the world wide sex trafficking epidemic. The film has a strong ensemble cast including Freida Pinto, Manoj Bajpayee, Rajkummar Rao, Richa Chadha, Anupam Kher, Adil Hussain, Sai Tamhankar, Sunny Parwar, Demi Moore, Mark Duplass, Noorani is introducing Mrunal Thakur as well as Riya Sisodiya. Love Sonia first premiered at the prestigious London Indian Film Festival to immense praise and applause and now the film is scheduled to release in India on 14th September 2018.
Love Sonia is the story of a young Indian village girl, Sonia. Her life changes irrevocably when she is entrapped in the global sex trade while trying to save her beloved sister Preeti. Struggling to free herself from small-time pimps, Sonia does not realise they are merely the foot soldiers of a ruthless, powerful army with its reach around the world. As she becomes aware of the enormity of the odds against her, Sonia is sustained by a fragile dream that is worth surviving for. Battling with a strength she didn't know she had, her searing journey spans three continents and a lifetime of experiences that no young girl should have. Sonia is determined not to become one of the 800,000 women and children who are victims of the international sex trade industry every year.
While the film was at LIFF Stacey was able to conduct in an in-depth interview with the director about how the film came to be, the actors and so much more! It is a must read! Check it out here.
Stacey also spoke to star Mrunal Thakur . This incredible interview really takes you inside Love Sonia. If we do say so ourselves this is one you have to read and a film you must see. As she said, "I hope that through Love Sonia we can save girls."
Also check out what Freida Pinto had to say in this amazing chat about this brilliant and important film that she says had to be made.
Our review from LIFF by Johnathan Howell said, "Make the time to find out what happens to Sonia in the quest to save her sister. You won't regret it."