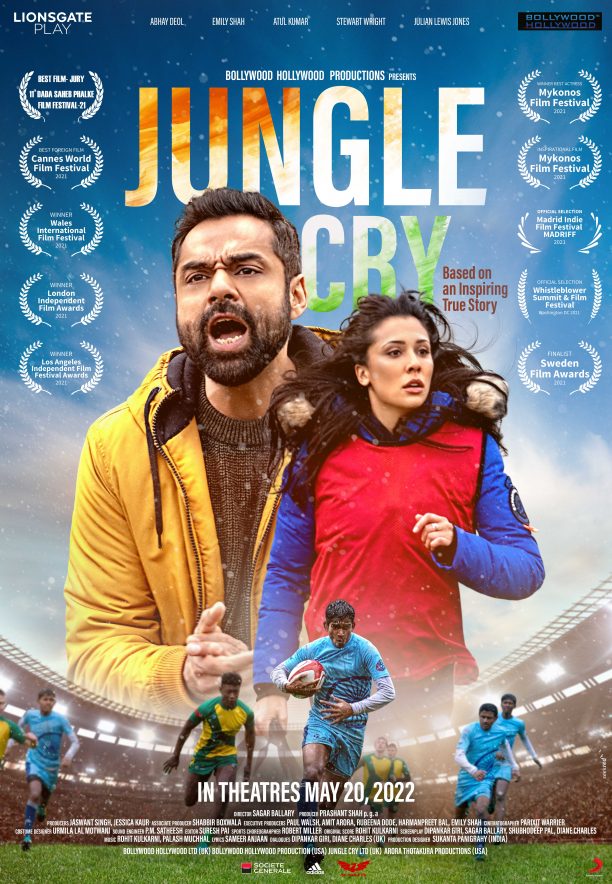 Releasing on May 20th in theaters and on June 3rd on Lionsgate play is the Rugby biopic Jungle Cry. Directed by Sagar Ballary (Bheja Fry), the triumphant true story features Abhay Deol (Hero, Line of Decent), Emily Shah (Fortune Defies Death), Atul Kumar (Manto), Stewart Wright (Doc Martin, Doctor Who) and Julian Lewis Jones (Invictus, Justice League).
Jungle Cry is the incredible true story of 12 orphaned boys from India, from Kalinga Institute with no clue about rugby. They trained hard to master this epic sport and within just 4 months, went on to become the roaring "Jungle Cats", winning the under-14 Rugby World Cup Championship in Wales in 2007.
Here is the fabulous trailer
Also featuring cameos by some of the top names in the sport, including world famous rugby referee Nigel Owens, Wales and British Lions fly half Phil Bennett and Colin Charvis, former captain of the Wales National Rugby Union Team.
Abhay Deol said, "In the land of cricket, where there is hardly any noise about Rugby, 12 young children from rural India made history. With this film that defines nothing is impossible, I hope to have honoured the players' dedication and commitment to the sport and the country. We are excited to bring 'Jungle Cry' to audiences and share with them the journey of these heroes who made a mark in the sporting history of India – but were never spoken about."
Get ready to roar cheers at this inspiring story when Jungle Cry hits cinemas near you.