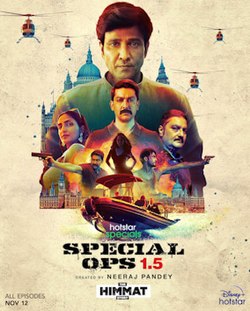 Special Ops 1.5(Disney + Hotstar, 4 Episodes)
Starring K K Menon, Aftab Shivdasani, Vinay Pathak, Adil Khan
Directed by Neeraj Pathak, Shivum Nair
Strong stuff, this. The writing is skilful if not completely convincing. The plot takes us to a number of foreign countries and the action sequences in Ukraine are first-rate.
Hats off to Neeraj Pandey and his co-director Shivum Nair for respecting the audiences' intelligence. This is an intelligent nosedive into the world of Intelligence. Special Ops 1.5 neither underestimates our proclivity to grasp the unspoken, nor does it spoonfeed us with surplus information.
What we see is not what we get. Not quite. There are invisible layers of deception in the espionage drama as we are taken into a backstory to find out what made the RAW agent Himmat Singh what he is. It's a stroke of luck for Himmat Singh that he is played by the ever-reliable K K Menon. The actor has not changed one bit over the years. He can still play a character so intensely self-aware he seems unaware of the camera.
But why oh why, the wig? Just because the story moves back in time? I think the wig distracts from what is otherwise a performance and a series that keep us invested for the entire playing-time of 4 episodes. Also, why is every episode named after a Gulzar film? Except for one line in Episode 3 where a character unnecessarily says, "Tumhara kuch saamaan mere paas pada hai" the episodes have nothing to do with Gulzar style or content.
What they have plenty of is, intelligent performers playing well-rounded characters. K K Menon's Himmat Singh is the plot's lynchpin and Aftab Shivdasani too is very likeable as Himmat's more restrained partner. Both Menon and Shivdasani have aged well. Their collective wisdom stands this spiked spy drama in good stead. Their bonding goes a long way in making their action sequences look sizes larger, more impressive and believable than what we normally see.
The plot is about ummmm, honeytraps. You know, when pretty women ensnare big-shots in the government for confidential information? Well, there are two honeytrappers in this series. The one played by the Russian actress Maria Riaboshapka is drop-dead gorgeous. I'd be willing to reveal my piggybank's secret code to her. Poor Vijay Vikram Singh, playing the trapped defence personnel, is sufficiently seduced and stewed. I totally get it.
Ms Riaboshapka has a kickass hand-to-hand action sequence with Maninder Singh, played by Aadil Khan, in Episode 3(THE episode where all the action is). This is all the bang-for-bucks we need to get invested in this season of Special Ops which again has Kali Prasad Mukherjee and Parmeet Sethi as vaguely annoying personnel carrying on an investigation into Himmat Singh's covert operations.
The other honeytrapper in the plot is played by an actress named Aishwarya Sushmita—yes,that's her name.She figures in a lot of scenes in foreign countries, sometimes carrying guns, sometimes shopping bags. But always frowning in bewilderment wondering why she is where she is, and for what purpose.
The excellent Vinay Pathak is the one doing all the talking. I had a technical problem with Pathak's narrative: he seems to be privy to much more information that his character has access to. How does he know about the conversations Himmat had with his ally Vijay(Shivadasani) and his chief adversary Maninder(Aadil Khan)?
There is also a shocking twist to Himmat's romantic angle with a journalist Anita Sharma(Shiv Jyoti). Come to think of it, nearly everything important to the plot happens in the third episode entitled 'Lekin' where the characters Achanak play a Hu-tu-tu in a Mausam of exacerbated tension. In comparison, the fourth episode moves Aandhi-clockwise, the midair collision with the villain ending on a stifling note.
Special Ops 1.5 is not without its flaws. It sometimes seems to bite more than it can chew, leapfrogging from 'sexpionage' to personal betrayals. But somehow always landing on its feet. Yup, this one works.