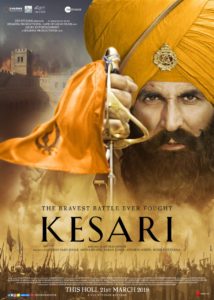 The much awaited trailer for Kesari is out and has left audiences enthralled. After sharing glimpses of the battle of Saragarhi in three teasers that were released last week, the trailer, which is packed with action, drama and emotion gives audiences an insight into the bravest battle ever fought.
The Kesari trailer begins with Akshay Kumar saying, "A Britisher, once told me, I am a slave and only cowards are born in India. Today is the day to give him a reply." Just a few seconds later, the viewers can see thousands of Afghan soldiers running towards Akshay's character Havildar Ishar Singh, the leader of the Sikh regiment. The trailer then takes the audience into the middle of the epic battle of Saragarhi. All who experience the trailer for 'Kesari' will be left with the urge to find out how these 21 brave Sikh soldiers fought against 10,000 Afghan soldiers to safeguard their land from invasion.
Akshay Kumar looks convincing as a leader of the Sikh soldiers, who can be seen roaring like lions in the midst of combat with weapons in their hands and rage in their eyes. The trailer captivates and fascinates with fearsome action scenes, spectacular sword fighting techniques, and intense dialogues. The trailer also introduces the female lead of the film Parineeti Chopra, who is filled with pride as Akshay Kumar heads for the battle.
Akshay Kumar took to his Twitter handle to share the trailer of the movie. He wrote, "An incredible true story of valour, sacrifice and bravery – told like never before! #KesariTrailer out now"
Kesari is an unbelievable true story based on the Battle of Saragarhi, 1897. Touted as one of the bravest battles ever fought, 21 courageous Sikhs countered 10,000 invaders. These saffron clad warriors fought valiantly against all odds and changed the meaning of bravery. This Holi, celebrate the spirit of bravery & sacrifice with Kesari.
The trailer has already hit over 5 million hits in just a few hours!
Kesari in theatres 21st March, 2019.
Starring Akshay Kumar and Parineeti Chopra. Directed by Anurag Singh. Produced by Hiroo Yash Johar, Aruna Bhatia, Karan Johar, Apoorva Mehta, Sunir Kheterpal and Co-Produced by Amar Butala. Written by Girish Kohli and Anurag Singh.