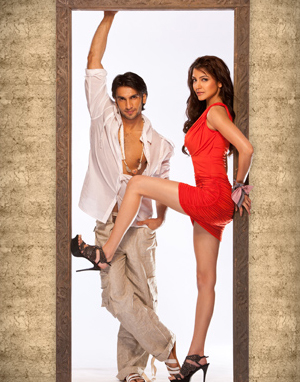 Anushka Sharma could not have asked for a better debut three years ago. She was chosen to play the leading female role in Aditya Chopra's Rab Ne Bana Di Jodi, produced by Yash Raj Films opposite superstar Shah Rukh Khan after auditioning for the part. She has since then continued to work with India's legendary studio Yash Raj Films and gave the audience another two successful films; Badmaash Company and Band Baaja Baaraat. Sharma also worked in Patiala House with Akshay Kumar, her first and only venture outside Chopra's production house so far.
Band Baaja Baaraat was a special in her career as she garnered very positive reviews for her performance in the film. The project also marked the foray of rising star Ranveer Singh and director Maneesh Sharma in the Indian film industry. After the tremendous success of BBB, the trio have united again for Ladies vs. Ricky Bahl. Sharma will be seen in a new and sexy avatar in the film. The 23-year-old young Indian actress took out time to speak to BollySpice about her character in the film, her experience working with Singh and Sharma again and much more.
Tell me what your character in Ladies vs. Ricky Bahl is about?
I play the character of Ishika Desai. She is a sales girl in Mumbai who is very smart and very intelligent. She is someone who wants to earn a lot of money in life and simultaneously is very ambitious too. My character is a bit like a chameleon as she keeps changing her colours depending on the kind of customers she is dealing with, so that she can sell them more stuff. She is quite smart and a con woman in her own right.
What is the film all about and what is your role in the story?
Ladies vs. Ricky Bahl is a story about this guy called Ricky Bahl, who keeps conning women for a living. He cons these three girls and they decide to take revenge. In the process of taking that revenge he encounters my character Ishika Desai. After meeting my character in the film, a match begins between the two of them.
What is the premise of Ladies vs. Ricky Bahl?
A con-woman trying to con a conman and a conman trying to con a con-woman, that is the premise of the film (laughs).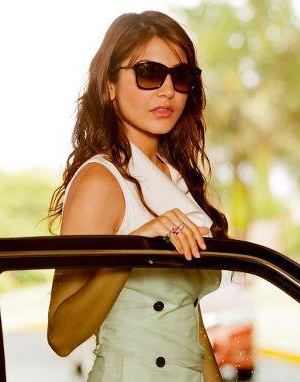 Why did you say 'yes' to the film? Was it the script, the director or…?
There were lots of things, actually. First and foremost, the script obviously, after that of course, after Band Baaja Baaraat I am again working with Maneesh Sharma, who gave me the role of Shruti Kakkar and has now given me a different character in this film. He made sure that this character is completely different from my character in BBB and that is, what is exciting. The world of this film is so different from BBB, that it's just challenging and I like that.
How was it working with Maneesh Sharma again? Has he changed from when you worked with him on his debut film?
Of course, he has. I think he is one of India's best directors right now. You know what it is, whether he is making an urban film or a very slick film, he will always keep the film rooted and the characters are very rooted as well. That's what makes him special as a director.
Like Maneesh, Ranveer Singh, the main lead in Ladies vs Ricky Bahl also made his debut with you in Baand Baaja Baaraat. Has he changed after stardom and has he changed as an actor?
He has changed as an actor. I think he has become better. But he has definitely not changed as a person. He is still the same, lovely to work with and a friend of mine. He has a lot of passion for his work and is a very hardworking guy.
Parineeti Chopra, Aditi Sharma and Dipannita Sharma play the three girls Ricky Bahl cons in the film. What was it like to work with them?
Dipannita, Pareeniti and Aditi, all three of them are rightly cast in the film. They are exactly like that in real life and that adds a lot of freshness to the film because they are playing roles which are similar to them which bring a lot of reality to the film. It was great working with them.
Who do you think out of these three girls, has the most potential to make it big in Bollywood?
All three of them, I think. They have done a very good job and I am sure you will enjoy their performances when you see the film.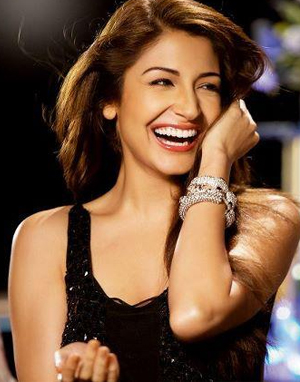 You made your debut with Yash Raj Films and are still working closely with them. How has the journey been so far?
The journey has been wonderful. It is completely unexpected that I have reached here and that I have become an actor. I completely enjoy what I do. God has been very kind. The people have been very supportive and I have received a lot of love and appreciation right from my first film. Today, I am in a place where I am working with a lot of better directors, bigger production houses and getting a lot of good scripts, so I think it's a good phase in my career and I am fully enjoying it.
The music has become really popular already. Which is your favourite song from the original soundtrack of the film?
My favourite songs are Thug Le and Jazba.
A lot of people have been talking about the video of Thug Le which has been choreographed by Vaibhavi Merchant's sister Shruti Merchant. How was it working with her as she is a newcomer?
I think Shruti is one of the best choreographers we have right now in this country. It's her debut but if you see the song, the choreography is amazing. We haven't seen such choreography and videos in a long time and the way she has put it together and the kind of energy she has brought into the song is fantastic. She has done a great job.
People are also amazed to see your slim figure in the song and in the promos. How did you attain the perfect body for this film?
I have always been this thin, so I don't know what the big deal is right now. I have always been like that right from my first film and people are only surprised because they could not see my figure properly, they could barely just see my wrist in that movie. I have done nothing special for this movie. I only make sure to go to the gym every day. I work out five to six times a week. I also eat a very high protein diet every two hours and lead a very healthy lifestyle and stay away from bad habits.
Ladies vs. Ricky Bahl will have a red carpet world premiere and open the Dubai International Film Festival on the 8th December, followed by a worldwide release on the 9th December 2011.