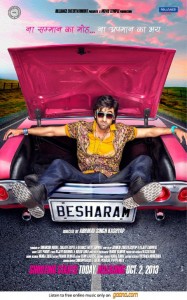 Ranbir Kapoor has proved himself time and time again and with each new film, this fine actor just keeps getting better and better! After the commercial success of both Barfi and Yeh Jawaani Hai Deewani, fans are excited to see what Ranbir brings new to the silver screen! Ranbir Kapoor's next big release Besharam, directed by Abhinav Kashyap, is slated to release this October!
We have some exciting news about Ranbir in Besharam. Not only will he be sharing screen space with his parents, Neetu Singh and Rishi Kapoor, in the film for the very first time, but the family will appear together in a promotional song for the film too. A source told the Times of India that the shooting for this song will commence in the next couple of weeks.
We are eager to find out more about the Kapoor's family venture together in Besharam, and interesed to see whether the concept of bringing Ranbir's parents together will attract a far bigger audience than expected? Indeed, husband and wife Rishi and Neetu have appeared in over ten films together, however, with it being the first appearance alongside Ranbir there is much anticipation and excitement brewing!
We will be sure to bring you all the cool news about Besharam so watch this space!