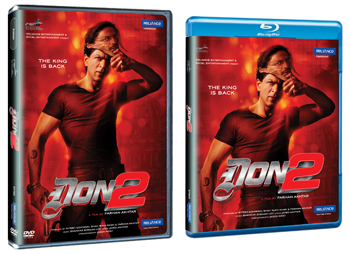 Reliance Home Video & Games has released Don 2 on Home Video. Viewers can now enjoy the film on Blu-ray, DVD and VCD.
Presented by Excel Entertainment and Reliance Entertainment Don 2 is an action crime film directed by Farhan Akhtar and co-written by him along with Ameet Mehta and Amrish Shah.
It is a sequel to the 2006 film, Don: The Chase Begins Again and stars Shah Rukh Khan and Priyanka Chopra in lead roles while Om Puri, Lara Dutta and Kunal Kapoor play supporting characters; Hrithik Roshan appears in a cameo appearance.
Having conquered the Asian underworld, Don (Khan) now has his sights set on European domination. In his way are the bosses of the existing European underworld and all law enforcement agencies.
The action shifts from Kuala Lumpur to Berlin as Don must avoid assassination or arrest, whichever comes first, in order for his plan to succeed.
The film marks Farhan Akhtar's return to direction after a gap of nearly five years. It was filmed in India, Thailand, Germany, Malaysia and Switzerland.
The movie has been widely appreciated for its action, direction and cinematography with Shah Rukh Khan receiving accolades for his performance.
Don 2 went on to break multiple box-office records in India and overseas, including highest opening day grosser ever on a non-holiday Friday and the highest grossing Bollywood film overseas in 2011.
The film has been specially re-edit for the Home Video format & includes footage not seen in the theatrical version.
The DVD comes in a special two disc edition offering bonus material which provides the viewer with insight into making of the film. The DVD also contains an exclusive music video for Mujhko Pehchaan Lo track.
Don 2 is available on Blu-ray (Rs.799), DVD (Rs.299) and VCD (Rs.115).
Don 2 Blu-ray, DVD & VCDs are available across all leading home entertainment stores.