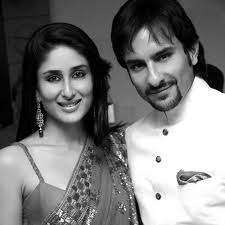 B-Town is buzzing with excitement for what is sure to be one of the most anticipated weddings this year. Bollyspice reported to you previously that Saif Ali Khan and Kareena Kapoor would tie the knot on October 16th of this year. And while this rumour had put an end to much speculation, Saifeena have once again caused a stir by insisting they may wish to postpone the wedding till December.
Saif's mother, veteran actress Sharmila Tagore laughed off these rumours and said, "I am giving a warning to Saif. I am confirming that the wedding will take place on October 16th." (Source: NDTV)
Saif , however, told PTI, "I have not fixed a date for the wedding yet. It is going to be a year end wedding."
Not only is the exact date for the wedding remaining elusive, but the location and venue for the wedding are not yet confirmed by Saif or Kareena. Although earlier in June, Sharmila had said Pataudi Palace in Pataudi village would be the venue and location for the wedding. The most recent rumour suggested the wedding would take place in London, when Sharmila Tagore was apparently overheard informing someone the venue may be shifted to London.
Saif went on to dismiss the London rumours by stating, "The wedding is not happening in London for sure. Rest all the details about the wedding I can't talk as it is our private matter. It is personal." (Source: NDTV)
Due to Saifeena being an A list celebrity couple, the wedding will for sure be number one on the list for all media. This may be why Saifeena are not confirming a date or an exact location for the wedding. Mother Sharmila however, seems comfortable sharing details, "the venue will be Pataudi or Mumbai. With Tiger passing away, we want a very quiet wedding. Saif Miyan is the busiest man on the planet. He wants to do the wedding in Pataudi but apparently Kareena's parents want it in Mumbai." (Source, NDTV)
The most recent reports to surface suggest Bebo has got cold feet and called off the wedding, could this be because she is scared of her career being affected once she becomes a married woman?
It is no secret that Aishwarya Rai Bachchan was at first the original Heroine but was then after dropped after she announced her pregnancy. Although Kareena is no longer involved in Sanjay Leela Bhansali's Ram Leela, her cold feet may have stemmed from Bhansali's comment of how; "no married heroine" will play his Juilet. (Source: NDTV)
Although the couple who have been together for five years are going strong, it seems Bebo is contemplating the quality of projects which will be offered once she is married. When asked about her marriage plans at the recent launch of the Heroine trailer, Bebo told reporters, "We should just wait for Saif to give an official announcement on the date. Right now I am focusing on my film."
It appeared that Kareena was settling with Saif's family well, as she was reportedly going to wear her mother in law's wedding attire. Sharmila confirmed to NDTV, "Kareena will be wearing the royal clothes and the jewellery that I wore. But there is a lot of work to be done still."
Looks like they have plenty of time to get all the work done, if rumours are true, it seems highly unlikely any wedding will take place this year. However, one thing is for sure, all the rumours seem to be building up further anticipation for the Saifeena wedding. This will be Saif's second marriage after having married Amrita Singh in October 1991 with whom he has two children, son Ibrahim and daughter Sara.