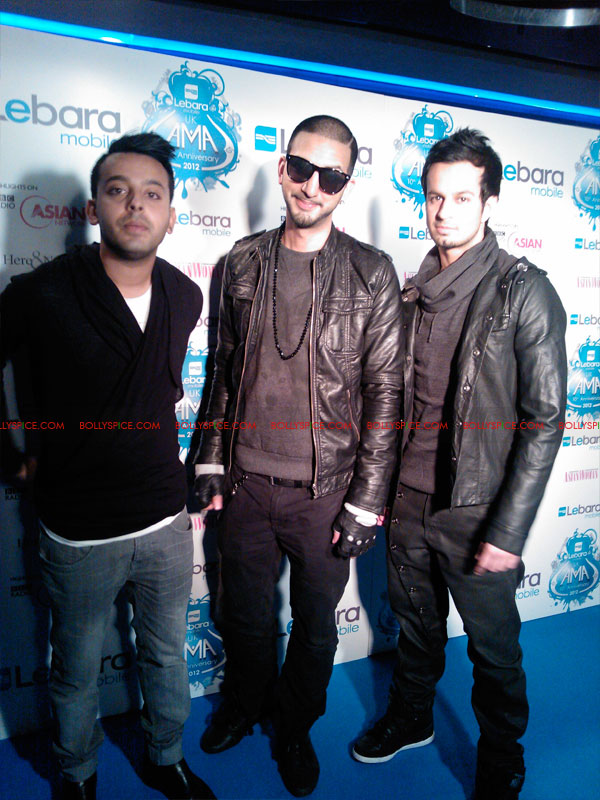 The Lebara UK Asian Music Awards Voting Launch Party took place in Merah, London on Tuesday 6th December and Bollyspice.com where there to bring you all the news from the blue carpet.
The glitzy launch party, which was hosted by BBC Asian Network radio presenter Tommy Sandhu, saw stars such as Bally Sagoo, Preeya Kalidas, Ash King, Mumzy Stranger and director Gurinder Chadha walk the blue carpet.
With performances by Brit Asian artists Mumzy Stranger, Junai Kaden and Tasha Tah it gave us a sneak peak at what we can expect from the 10th Anniversary Awards ceremony that is set to take place on 22nd March 2012 in Wembley Arena.
The founder of the UK AMA, Abs Shaid, revealed to the media why he set up the AMA's. He said, "I set up The UK AMA 10 years ago as I felt there wasn't an award ceremony that acknowledged Asian culture and music." He went on to say, "The event has been an integral platform to showcase the best British Asian talent. Wembley Arena is our biggest venue yet so thousands will get to come to the awards."
With International UK artists such as Alesha Dixon, Sugababes, Taio Cruz and Chipmunk attending previous years Abs Shaid hinted at an even bigger artist set to attend the event in 2012. He said, "We've already got a very special Asian music collaboration planned with a UK chart topper and our headline performer is absolutely huge in both the Asian and non-Asian music scenes."
We caught up with a number of stars as they walked down the blue carpet. Mumzy Stranger revealed to us that he would "love to work with Yash Raj" on a Bollywood collaboration.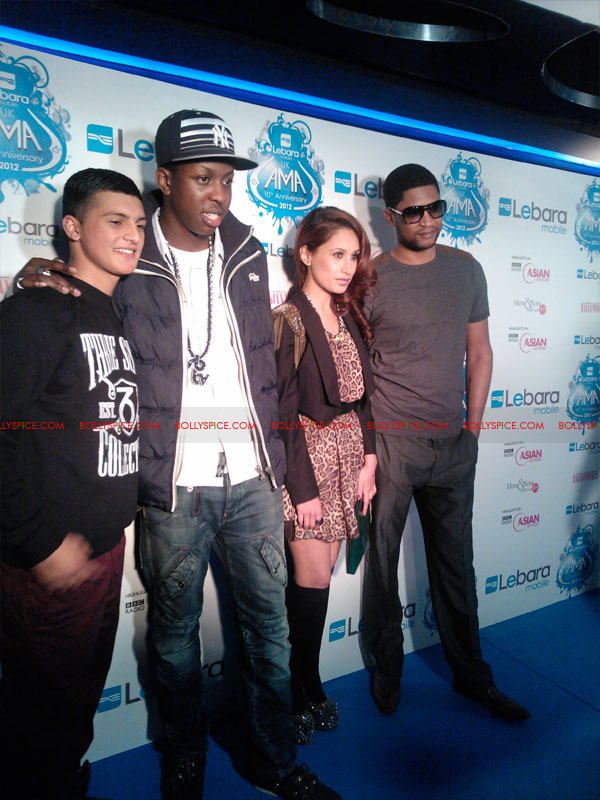 When asked which international star the Asian music artists would love to collaborate the stars gave us a number of names. Foji Gill told us, "I would have loved to work with Michael Jackson but unfortunately that is not possible." He went on to reveal a crush he had on 'Kylie Minogue' and stated that for that reason he would love to work with the Australian pop singer. Mumzy and Menis revealed that they would like to work with "Kanye West."
The question that got the stars thinking was what piece of information would their fans and followers be surprised to know about them. Menis revealed to us that he has a love for 'mangoes,' or as he said, "I have a mango fetish." Foji Gill revealed he has "the opposite to a foot fetish." Foji told us that he does not like people "touching his feet."
We also asked the stars which Bollywood actress would they love to star in a music video with. Swami Baracus said it would be "either Bipasha Basu or Katrina Kaif," fellow artist Menis was spoilt for choice and said he would "have them all in it," whilst Mumzy Stranger chose leading lady "Kareena Kapoor".
We also caught up with new artist Tara Priya who was in London for the release of her first single Rollin' and was flying back to the states the next morning. The San Francisco based singer has a refreshing sound that combines vintage soul music and poetic lyrics. We asked Tara which Bollywood music director would she love to work with, she told us, "I would love to work with A.R. Rahman."
The nominations category is now open for you to cast your vote for your favourite Asian music artist. Visit www.theukama.com for more details.